We all look forward to the day when we can hang up our briefcase, tool belt, or any other work-related items to take advantage of the carefree lifestyle of a retiree. We've worked hard for many, many years and, whether retired or semi-retired, now it's time to revel in everything the Naples lifestyle has to offer and that begins with the social membership offered at your luxury community.
Most of the luxury home communities in Southwest Florida offer a wide range of luxury amenities, but few offer the variety that The Club at Mediterra extends. Here is a breakdown of everything you will enjoy when you become a resident and member in four easy membership options:


Golf Membership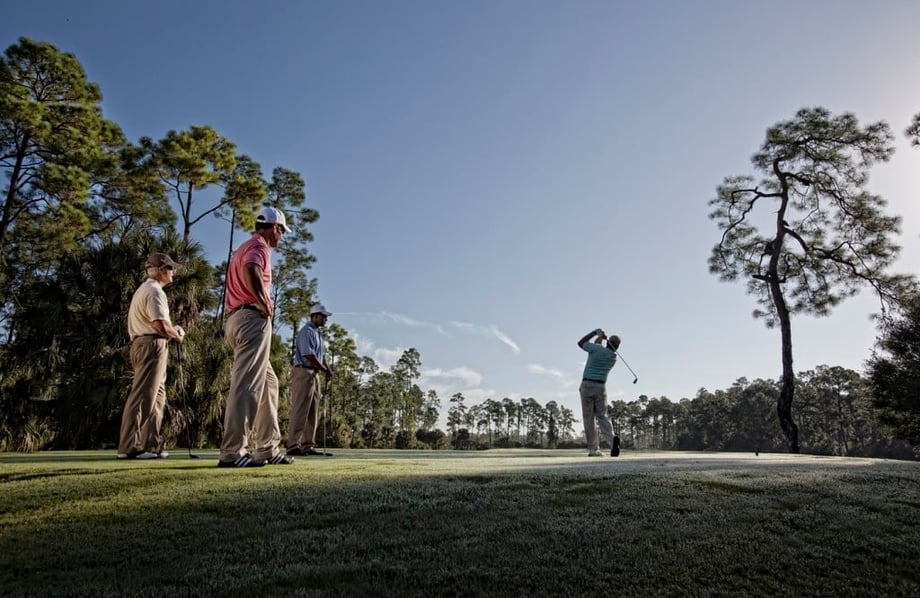 Golf members have the luxury of experiencing all that Mediterra has to offer year-round with full Sports, Beach, and Clubhouse access and unlimited golf without greens fees. Membership opportunities in Mediterra are limited to just 250 members per course to ensure tee time availability for members. Currently, the waiting time for a golf membership is around 60 months when you purchase an existing home in Mediterra.


Limited Golf Membership
To be placed in the queue for a full golf membership, members join as Limited Golf Members. The Limited Golf Membership provides access to our entire complement of amenities with unlimited afternoon golf starting at 1 pm and six morning tee times from November through April. Golf over summer is unrestricted. Additional morning rounds can be enjoyed by making tee times 24 hours or less in advance. This membership is currently wait list only.


Sports and Beach Membership
The Sports and Beach Membership extends the same dining and beach club luxuries as the Lifestyle Membership but adds a few extras to keep you fit and active. These include:
Full Beach access
Full Clubhouse access
Full Sports Club access (Fitness Studio, Fitness Center, Spa, Pool, Sauna, and Sports Cafe)
Championship Tennis Programs
All Lifestyle & Social Clubs
Bocce Programs
Pickleball Programs
Tennis Pro Shop Member Pricing
Golf Pro Shop Member Pricing
Limited Golf Access
As a Sports and Beach Member, you may play six rounds of golf in season (November 1- April 30), including rounds played as a guest of a Golf member. During the summer (May 1- October 31), you will be able to play unlimited rounds of golf on Mediterra's two Tom Fazio-designed championship golf courses, but are subject to greens fees. In addition to golf rounds, you will also have unlimited access to the driving range and golf learning center, offering the latest in technology and instruction all year long.


Lifestyle Membership
Lifestyle Members can enjoy dining at the Clubhouse and Beach Club. Also year-round, starting at 1 pm is full access to the Driving Range and Fitness Center/Pool. During summer (May 1-Oct 31), Lifestyle Members enjoy six rounds of golf, unlimited driving range, unlimited racquet sports, and no restrictions at the Beach or Fitness Center/Pool.
---
Download our brochure to learn more about Mediterra or schedule your tour to experience the luxury for yourself.