At Mediterra Naples, the choice for an active and healthy lifestyle is yours with multiple luxury amenities designed to make fitness fun, including a tennis program that is recognized as one of the best in the country.
Our luxury home community's tennis program begins with eight award winning Har-Tru tennis courts, the two-court Tennis Colosseum, and a rounded court. These courts are framed by flowered terraces with brick walls, ornamental landscaping, a pergola, ivy-covered walls, and lighting and grass-tiered stadium seating for up to 500 spectators. This court not only allows for more physical playing room, but it also allows Mediterra to host larger tennis matches, like USTA events. The two-court Tennis Colosseum was also designated as the top new outdoor tennis facility in the country by the United States Tennis Court & Track Builders Association and Tennis Industry magazine. It was further honored during the 32nd annual USTA Outstanding Facility Awards Program, which recognizes excellence in the construction and/or renovation of public and private tennis facilities.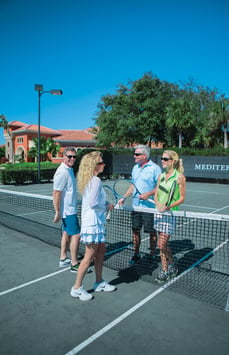 Our comprehensive tennis program was created to be complete, friendly, and fun. Whether you are just learning the game, introducing your children/grandchildren to the sport, or taking part in some friendly competition, the tennis program has a game for you with a regular schedule of events, including daily complimentary round robins, clinics, cardio tennis, traveling teams, and a Club Championship that attracts more than 80 players and ends with a celebration, awards, and acknowledgements. You can also focus on your game with private and semi-private lessons, extra practice at the ball machine, or by getting a video analysis of your play to refine your skills.
If you're interested in trying a new sport, the luxury home community also features a pickleball program. The Club at Mediterra recently installed three Pickleball courts to offer yet another alternative to an active and healthy lifestyle. Each court has a Laykold masters' gel surface with oversized perimeter areas so each court stands alone without interfering with play on adjacent courts.
After finishing up practice, a high intensity game, or working up a sweat on the pickleball courts, Mediterra Sports Club members can freshen up in the locker room and showers and then visit the Full Service Pro Shop to shop for the latest tennis fashion and equipment.
Contact us to schedule your tour of Mediterra Naples and choose the lifestyle that suits you at one of America's Healthiest Clubs, a designation that ranks it among the top 10 percent of private clubs for its commitment to fitness and wellness for members and staff. While you're here, schedule an appointment with one of our friendly and knowledgeable sales executive to find your perfect home among the luxury custom homes by London Bay Homes. Available home sites for your new construction home can be found in select neighborhoods, with a number of opportunities existing for new model homes designed and constructed by America's Best Builder, London Bay Homes, and furnished by the award-winning team at Romanza Interior Design. Both single-family and maintenance-free villa neighborhoods are available, and each can be fully customized to fit your needs.