Living in beautiful Southwest Florida certainly has its perks, but if you have stuck around for the summer you may have had a chance to experience the rain showers we have grown to love. That rain storm that came out of nowhere will more than likely end in about five minutes and you can go on to enjoy the rest of your day with a slightly higher level of humidity. However, we do experience a hurricane now and again and although technology has allowed us to receive better forecasts with more time to prepare, part of our responsibility of living in Southwest Florida is hurricane awareness and preparedness. Let's get ready for a wonderful season by making sure you and your Mediterra home are protected for peak hurricane times.
Protecting Yourself
The best way to protect yourself and your family is to stay ahead of the weather. Watch weather reports carefully so you can be one of the first to know what's to come. For the most part, we'll experience the sunny weather to which we are all accustomed, but if a hurricane is on its way, you'll want as much time as possible to prepare.
The next thing you'll want to do is have a communication plan. Sit down with your spouse, children, or any other members of your household, to discuss how you will be in contact with each other should you be in different areas when the storm hits. This is also the time to discuss any evacuation plans. Watch news reports to see if you are in an evacuation area and find where the nearest emergency shelter is located. If you have any out-of-town friends or family, give them a call to see if they would be willing to share their home with you instead of going to the shelter. Once that has been established, determine the best route to their home or the shelter, as well as a backup route in case your evacuation route has been jeopardized by the weather. You also want to prepare any evacuation plans for your pets so they can be safe during the storm.
Finally, you will want to put together a hurricane kit. This kit will include many things that will keep you comfortable if the storm keeps you at home for a day or two, you lose power temporarily, or you find yourself away from home. Your kit should include:
Non-perishable food (enough to last at least 3 days)
One gallon of water per person per day (enough to last at least 3 days)
Additional water for food preparation and sanitation
First-aid kit (include at least three days' worth of any prescription medication you may need, as well as aspirin or non-aspirin medication, insect repellent, and itch-relief cream)
Personal hygiene items and sanitation items
Flashlights
Battery operated radio
Extra batteries (include all of the sizes needed for every device)
Waterproof container with cash and important documents, such as your personal family records, homeowner's and flood insurance policies, and an inventory of valuable household goods
Manual can opener
Lighter or matches
Books, magazines, or any games that will keep everyone entertained (remember: prepare to not have any electricity just in case)
Special needs items: baby supplies and pet supplies, if applicable
Cooler and ice packs
This is a basic kit that will keep you prepared during a storm. For a more extensive kit, you can add a generator, charcoal grill (with a supply of charcoal), duct tape for temporary fixes, hand tools, and a fire extinguisher.
Protecting Your Home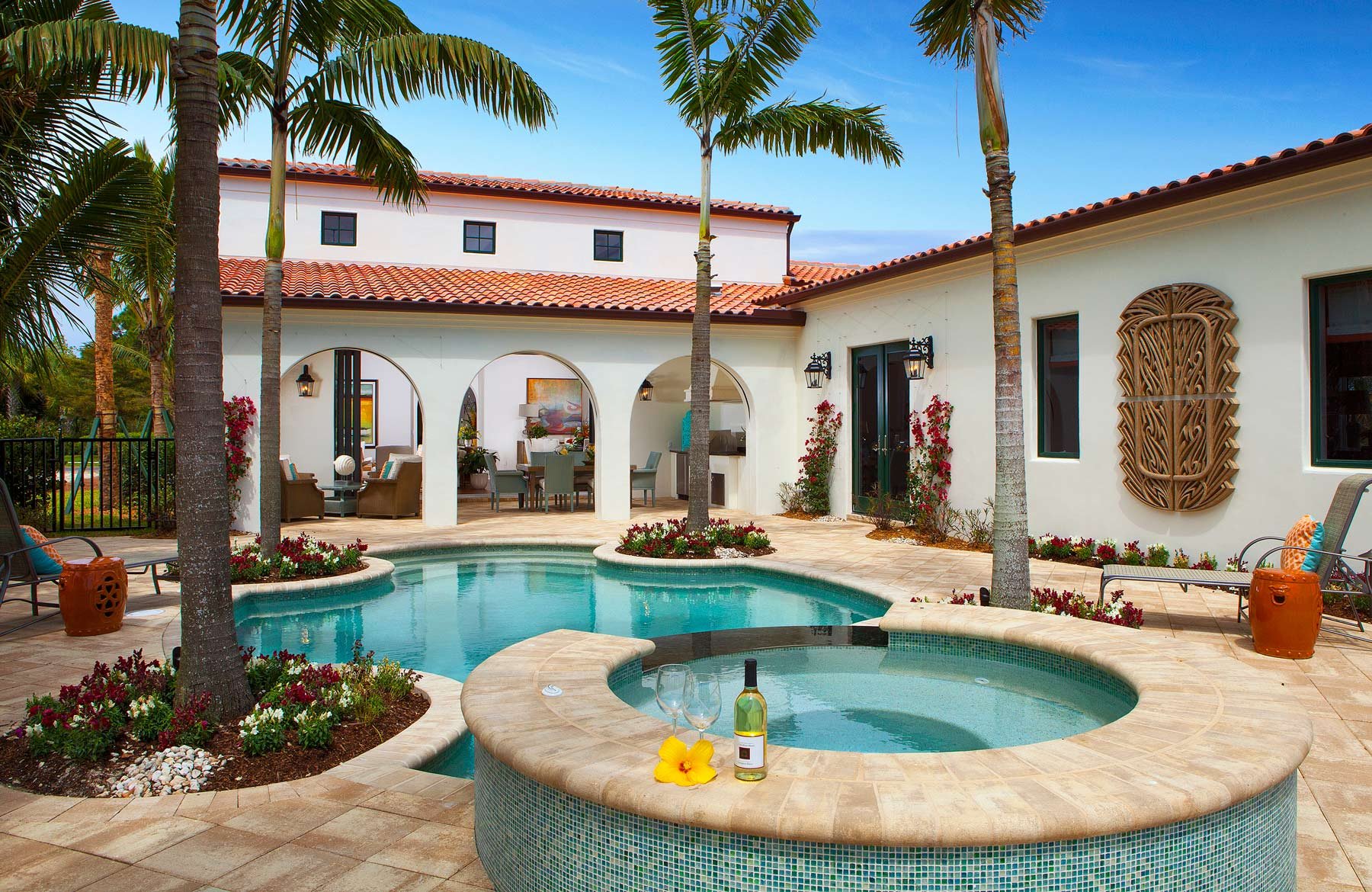 Now that we have you situated and ready to tackle any storm, let's make sure your luxury custom home is properly secured as well. Hurricanes usually bring high winds, lots of rain, and possibly flooding, so make sure every vulnerable part of your home is protected.
Windows: Cover your windows with either hurricane shutters or wood. Back in the day, many people thought tape was enough and although tape will keep the shattered glass from getting everywhere, it will not protect your window from breaking. These precautions should be extended to all glass entryways, including skylights, sliding glass doors, French doors, etc.
Doors: Be prepared to brace the doors from within your home should the winds get too strong. It is also a good idea to strengthen garage doors with retrofit kits.
Roof: Your roof is the most vulnerable part of your home when it comes to high winds. If possible, secure it by placing straps or clips from the roof to the structure of your home. It may also be a good idea to have your roof inspected ahead of time to determine if reinforcement is necessary.
Outdoors: Make sure all trees and shrubs are trimmed and pick up any debris that may have scattered throughout your yard. It is also a good idea to clear rain gutters and anchor any large objects that cannot be brought indoors. Anything that can be transported should be brought indoors for safe-keeping. Lawn furniture, toys, garden tools, grills, garbage cans, decorations, or anything else that is not tied down should be brought inside so it does not get blown away or used as a projectile.
The most important thing to remember when protecting yourself and your family from a hurricane is to be prepared. Following this guide is a great start to hurricane awareness and preparedness, but if you'd rather leave it to the professionals, there are many home watch companies that can organize the steps needed to keeping your home safe. Our preferred Naples custom homebuilder, London Bay Homes, offers all of these services for their clients with their Home Watch and Estate Management programs. Contact us for more information on their services.