There's nothing like enjoying the glorious rays of summer and the cool breezes of our winter, especially when you moved to Southwest Florida to escape the harsh winters of the north. So make sure you are well equipped to soak up the sun with a spectacular outdoor living area.
A properly designed outdoor living space makes for a perfect sanctuary for you and also serves as a great place to enjoy some outdoor fun and entertain guests by extending your home's square footage in a functional and fun way. From simple items like an outdoor fire pit or a calming waterfall to bigger luxuries like a summer kitchen or a pool and spa, these are just some of the ways the custom outdoor living spaces in our Mediterra homes will allow you to fully appreciate our beautiful weather.
Pools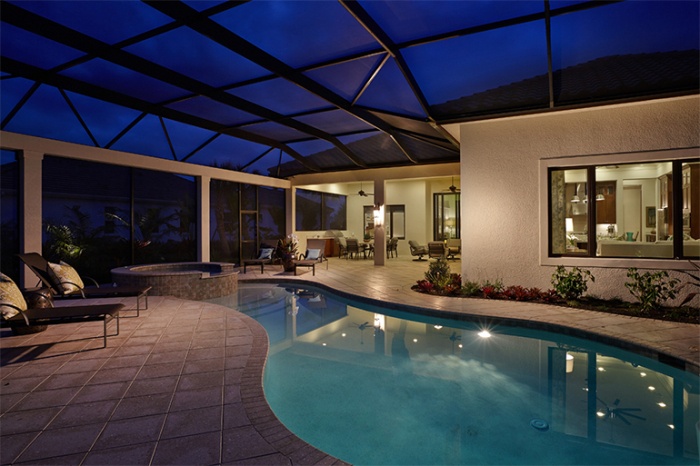 The addition of a pool to your backyard is probably the best way to enjoy summer as it provides a fun way to cool down and get some exercise in the process. Just think Olympic-worthy lap times or competition-rich chicken fights. The Clara in Cabreo at Mediterra shows just one of the sparkling pools created by London Bay Homes and their pool and outdoor living design company, Acquatico. Acquatico also makes beautiful and soothing spas like the ones found in the Bettina and Eloro model homes to ease tense muscles under the stars, but some may prefer to leave that for our Florida winters.
Fountains/Waterfalls
If the spa is not enough to melt your stress away, fountains and waterfalls are also perfect ways to unwind with the tranquil sounds of lapping water and the visual enhancement they provide to the area. In a previous Barbera model home, a water feature was added to a courtyard for a quaint outdoor area suitable for quiet activities like reading or taking in the sounds of nature.
Kitchens
No outdoor activity is complete without knowing you are going to indulge in some delicious food afterward. After all, isn't that what summer is all about? Your backyard BBQ will be picturesque in a beautiful summer kitchen complete with a grill, refrigerator, and sink like the one found in our Girona model home. You'll also get to cut your mess in half by not having to cook inside and haul your final delicacies outdoors.
Dining Areas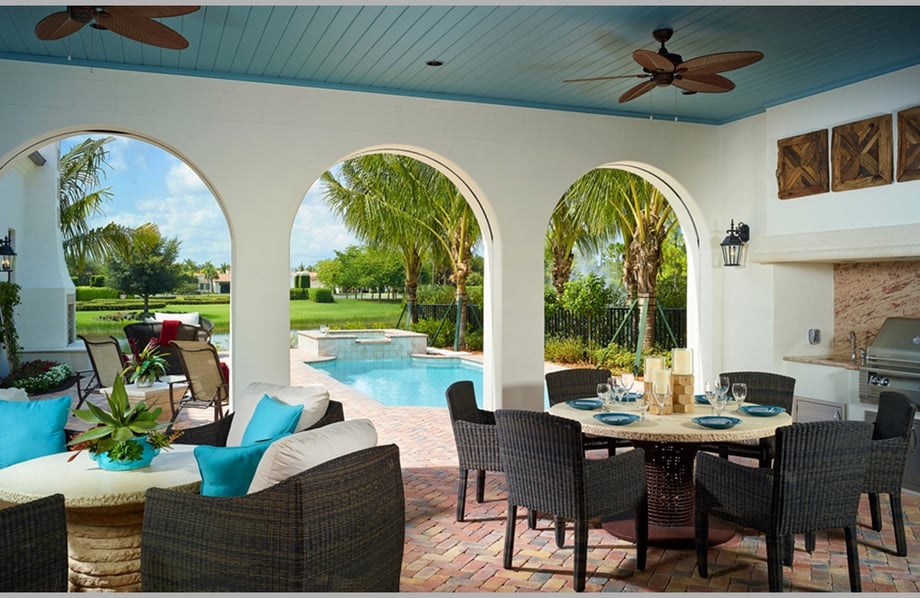 An outdoor dining area pairs well with that practical summer kitchen we were just discussing by providing a nice area to feast. The Capriano at Mediterra also serves up an outdoor dining area fit for a happy couple or a beautiful family. Great food and no cleaning up water tracks from the sliding glass door to the kitchen? Sign me up!
Sitting Areas
If you are not swimming a few laps in the pool or noshing on yummy treats, you can still take advantage of your outdoor living space by adding a comfortable sitting area. Here you can entertain guests with great conversation or snuggle up in a comfortable chair to read a book or listen to music. Just think of everything you can do in an indoor living room, then take it outside. This is also a great way to unplug and enjoy more traditional and natural forms of entertainment. The Girona and Capriano models show wonderful examples of outdoor sitting areas.
Mediterra offers move-in ready homes in Southwest Florida with exquisite outdoor living areas. Find your dream home by perusing our Available Homes section and scheduling your tour.