Start your day with a relaxing walk through the Parterre Gardens, meet friends at one of the many fitness classes available, get warmed up for the day on a treadmill or bike, or just stretch your way to fitness with a yoga class. At Mediterra, the choice for an active and healthy lifestyle is yours.
Related Blog: The Club at Mediterra - Where Unique Luxury Amenities Can Help You Choose Your Active Florida Lifestyle
The team at our Naples luxury community decided years ago that it would be their mission to create a fitness program that was versatile and exhilarating, allowing their members to become fit and healthy in an environment that facilitated the process. With the help of our friendly, knowledgeable, and professional staff, as well as exceptional programming, the Sports Club at Mediterra has evolved into a truly active lifestyle community that provides all of the members with something healthy to do every day.
*Images taken before social distancing guidelines.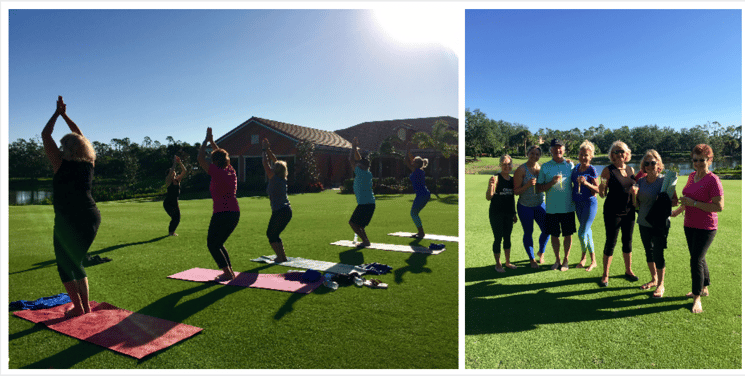 It starts with the Club at Mediterra's fitness classes, ranging from Yoga and Zumba to Crossfit, Spinning, Titleist Performance Institute Certified Golf specific programs and many more, with at least 33 classes per week. The Mediterra Sports Club also hosts specialty classes once a month, such as Booty Barre, Yoga at the Beach Club, and even a Yamuna Body Rolling class, which uses specially-designed exercise balls to roll and stretch your body and work your muscles.
For an individual workout routine, members can use the club's state-of-the-art equipment, including bikes by Expresso and treadmills, stairmills, and adaptive motion trainers from Matrix. The Mediterra Sports Club also offers the MyZone monitoring system to use in classes. MyZone is an innovative heart rate-based system that monitors heart rate, intensity, calories, and time using a Physical Activity Belt and a simple, color-coded guidance system that provides the necessary feedback to guide and motivate members. Statistics are displayed on a big screen TV so members can track their progress and team members create fun member challenges to motivate and reward members for their hard work.
Aside from the Club at Mediterra fitness programs, Mediterra also features outdoor activities to get your muscles moving. Golf lovers have the two Tom Fazio-designed golf courses that are woven along nature preserves, lakes, and wetlands to make them as beautiful and they are playable. Membership opportunities are limited to just 225 members per 18 holes to allow for abundant tee times and members can also refine their game in the Golf Learning Center, which offers the latest in technology and instruction.
If you're in the mood for tennis, Mediterra has you covered with seven award winning Har-Tru tennis courts, including a two-court Tennis Colosseum and a unique rounded court surrounded by grass-layered stadium seating; a comprehensive tennis program designed to be complete, friendly, and fun; and special events such as social mixers, junior tennis camps, clinics, and tournaments. These elements have allowed our Naples luxury community to earn the designation of top new outdoor tennis facility in the country by the United States Tennis Court & Track Builders Association and Tennis Industry magazine and be honored during the 32nd annual USTA Outstanding Facility Awards Program, which recognizes excellence in the construction and/or renovation of public and private tennis facilities.
Residents of Mediterra Naples also enjoy the Club at Mediterra's Bocce program, which began in 2010 and has grown to more than 500 members, providing a hub which connects sports and golf members in a fun, social atmosphere. Mediterra members of all skill levels take part in Bocce with the use of the Naples luxury community's beautiful, nationally recognized 'Bocce Garden' facility, set beside the Sports Club. The Bocce Garden features two 'Har Tru' sub-surface irrigated courts built by famed court designer Tony Ritzman and residents can revel in Mixed, Men's, and Women's leagues for tournament play. Recently, Mediterra also added three new Pickleball courts and a Pickleball program that they are optimistic will reach the popularity of their Bocce program.
These luxury amenities are a few reasons why Mediterra has propelled into becoming one of America's Healthiest Clubs, ranking in the top 10 percent of private clubs for its commitment to fitness and wellness. Download our brochure to learn more about our Naples luxury community and the countless Florida lifestyle amenities it offers.