Come to Mediterra, where you can experience luxury living among the lush landscape of the most exclusive and sought-after address in Naples, FL. From luxury amenities to long-lasting friendships, the choice is yours at Mediterra.
When you live in Mediterra, you live in a world of luxury, quality, and elegance from the moment you pass through our gates. It's why we have been named CBIA's Community of the Year multiple times and received three Distinguished Emerald Club awards. We have also been named No. 1 community in Florida for retirees by Best Retirement Destinations, received the 2013 Aurora Award for Best Residential/Mixed Use Land Development in the Southeast Region, and were named one of the 50 Best Golf Communities in America by Golf Digest, in addition to many other designations. Experience everything Mediterra has to offer by taking a look at each feature that makes us an all-inclusive luxury home community.
Lush Landscape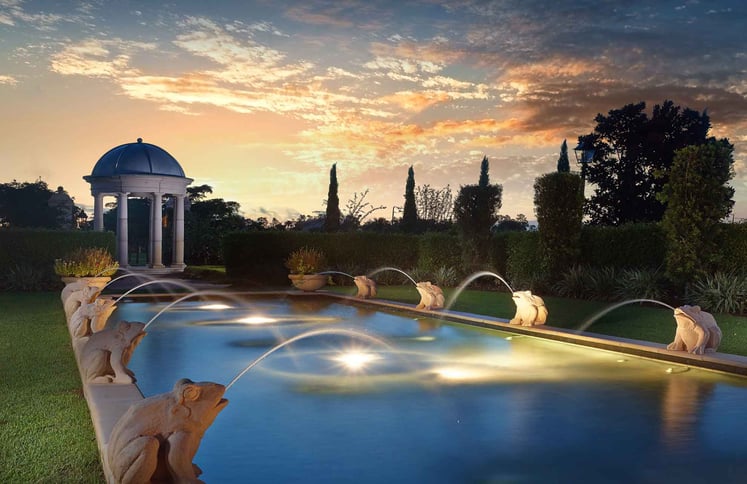 Mediterra is a 1,700-acre master-planned community designed for no more than 950 homes. It features 1,000 acres of preserves and lakes scattered throughout the property and interlaced through the lush landscape are eight miles of trails and pathways and three uniquely themed parks featuring sculpted formal gardens, natural wetlands, and a children's play area. This world of beauty is maintained by a homeowners' association that is self-sufficient and provides all residents with confidence and peace of mind that their community will maintain the fresh and vibrant look to which they are all accustomed. Aside from the open areas of the community, well-maintained landscape and a common architectural and design theme for the luxury custom homes will uphold this high-quality standard.
Luxury Custom Homes
Mediterra only partners with knowledgeable and reputable Naples custom homebuilders to ensure every home maintains the design scheme of the community. As Mediterra's preferred builder, London Bay Homes, offers many luxury villa and estate floor plans that are all fully-customizable to reflect your unique style and personality, while still maintaining our standard. If a One-of-a-Kind home is what you have in mind, their in-house team of architectural and design experts will develop a home that will be as unique as you are. You can view our Mediterra homes for sale to see the high-quality custom homes built by London Bay Homes and available in our luxury home community.
Country Club Living
The Club at Mediterra features a newly renovated 32,000 square foot Clubhouse that offers fine and casual dining by an expert staff that not only recognize you by name, but will also remember your favorite type of wine. The Tavern at Mediterra offers casual dining with gourmet brick-oven pizzas, seasonal salads, and open-air grilled entrees by a popular lounge with a fire pit. The Grille Room offers usual, fine, and healthy cuisine ranging from delicious soups and seasonal salads to exquisite gourmet sandwiches and first-class entrees. A recent expansion of the Club at Mediterra updated the interior design of the main dining room, expanded the Club Lounge and kitchen, and introduced al fresco dining options, an exposition kitchen, and a chef's table. The Club's professional staff also keeps everyone entertained with a regular schedule of unique activities.
In addition to dining and activities, the Club at Mediterra also features the Sports Club, which allows members to get fit and healthy in a welcoming environment with friendly, knowledgeable, and professional staff, as well as exceptional programming fro fitness classes to individual exercise on state of the art equipment. Currently, the fitness center offers 33 group fitness classes per week with more than 300 members participating throughout the week. Members can take part in anything from Yoga to Zumba, Crossfit, Spinning, and Titleist Performance Institute Certified Golf specific programs. The list goes on and even includes a Beginning Fitness class for those just starting out on their exercise regime. All of these active programs will allow you to enjoy an active and healthy lifestyle and have even allowed Mediterra to be recognized as one of America's Healthiest Clubs.
A Golf Community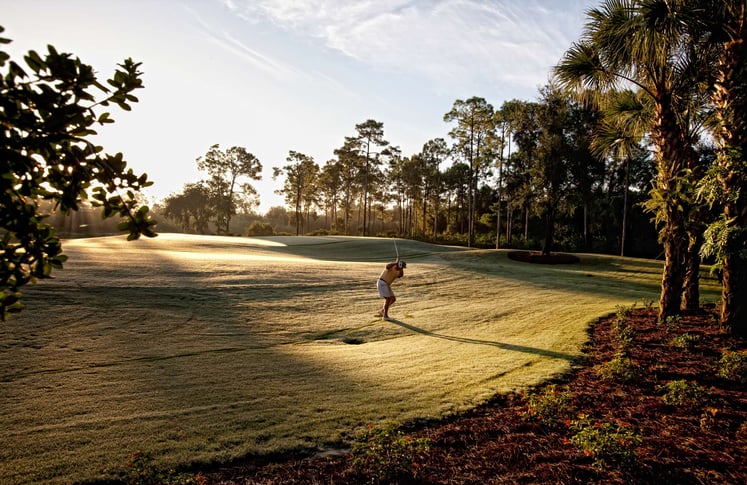 Two Tom Fazio-designed golf courses flawlessly weave in and out of the Mediterra grounds to allow them to blend in with the nature preserves, lakes, and wetlands surrounding them. This design makes the golf courses as beautiful as they are playable, as does the environmentally friendly emerald-green turf. This specifically premium platinum paspalum grass is known for improved playability and durability, adding to your Mediterra golf experience.
Membership opportunities in Mediterra are limited to just 225 members per 18 holes to ensure tee time availability for members. Currently, the waiting time for a golf membership is one year when you purchase an existing home in Mediterra. However, Mediterra has reserved a number of golf memberships for prospective homeowners that purchase a new construction home. Find your new dream home and have instant access to your golf membership opportunity.
Well-Rounded Tennis Program
As part of the Sports Club, Mediterra also offers a well-rounded tennis program utilizing its seven Har-Tru tennis courts, the two-court Tennis Colosseum, and a rounded court. These courts are framed by flowered terraces with brick walls, ornamental landscaping, a pergola, ivy-covered walls, and lighting and grass-tiered stadium seating for up to 500 spectators.
Mediterra's growing tennis program includes a host of educational and conditioning programs, from cardio tennis and daily clinics to league and club championship tournaments for advanced players. The tennis program also offers private and group lessons with video analysis to help strengthen and perfect your game, as well as social mixers and junior camps. The top-rated tennis program is so well-planned that Mediterra has been recognized by the U.S. Tennis Association as being an Outstanding Private Facility.
Unique Bocce Program
As one of the most unique and innovative amenities available at Mediterra, the bocce program was created in 2010 to add to the luxury home community's already amazing list of member activities. Now, the bocce program has grown to more than 500 members, providing a hub which connects sports and golf members in a fun, social atmosphere. Mediterra members of all skill levels take part in Bocce with the use of the luxury golf community's beautiful, nationally recognized 'Bocce Garden' facility, set beside the Sports Club. The Bocce Garden provides the perfect setting to enjoy a beautiful sunny day on the two 'Har Tru' sub-surface irrigated courts built by famed court designer Tony Ritzman, but is lit for night play until 10:00 pm. The sport is so popular that Mediterra has Mixed, Men's, and Women's leagues for tournament play.
A Private Beach Club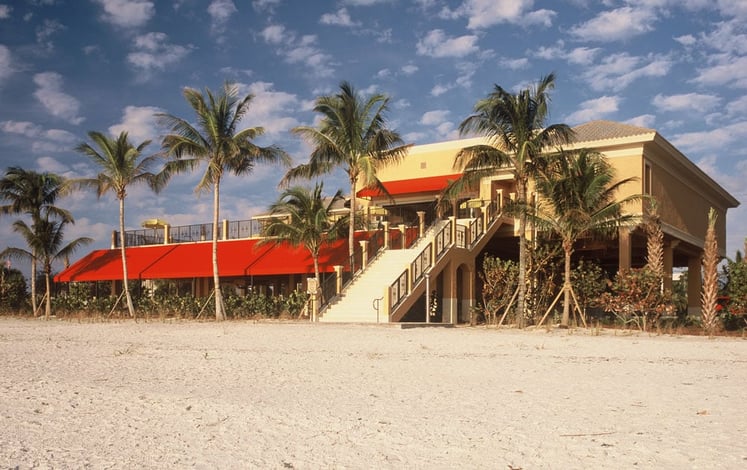 Many Naples new home communities can boast of a golf course, clubhouse, and some other amenities similar to Mediterra, but only Mediterra combines all of those luxury amenities with a 10,000 square foot, two-story private Beach Club. The member-owned Beach Club sits on 200 feet of private shoreline on the beautiful Gulf of Mexico where residents can enjoy a beautiful day on the beach while being catered to by a friendly and professional staff. The Beach Club has an elevated swimming pool with a sundeck and valet service for beach chairs, umbrellas, beverage and food menus, and any other luxury akin to beach resort living.
The 10,000 sq. ft. Mediterra Beach Club is also prepared to cater to your palate through casual indoor or outdoor dining overlooking the ocean with Mediterra's signature fine cuisine. Enjoy a perfectly prepared lunch while scanning for dolphins frolicking in the water or watching the steady stream left behind high-speed boats coasting along the horizon. You'll always feel at home here as the Beach Club waitstaff continues Mediterra's tradition of calling every resident by name.
If you're looking for a luxury home community that has it all, you've found it at Mediterra Naples.