The holidays are here and we already have our stretchy pants ready for the feasts that will be laid out before us. But before we start eating, there are still a lot of items we need to check off our to-do list and one of them is setting a proper dining room table for your holiday events.
Whether your guest list is restricted to a few family members or you are inviting family and friends from far and wide, the holidays are an opportune time to set a welcoming formal dining room table to add that special touch to the festivities. Let's start off with the proper way to set a table and we'll then expand to include centerpiece and decorating ideas to make your holiday festive and bright.


The Proper Way to Set Your Dining Room Table
Depending on the number of courses being prepared for your dinner, there are a number of ways to properly set a table. The most basic format is centering a charger and placing a large plate on top of it. If you will be serving soup to start, you can place the bowl on top of the large plate with the napkin rating in between the two. If you are not, you can place your napkin on top of the plate. Large plates should be preheated for warm food.
The bottom of your silverware should be aligned with the bottom of the charger and should be spaced out. The dinner fork should be closest to the plate on the left side with the salad fork (if you're having salad) on the left side of the dinner fork. The dinner knife should be placed to the right of the dinner plate with the beverage spoon to the right of the knife and the soup spoon to the right of the beverage spoon.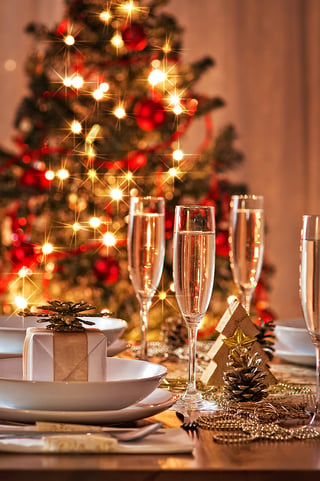 Once the basic setting is established, begin to add the other plates and necessary glasses. Salad or bread-and-butter plates should be placed above and to the left of the large plate (above the forks) and stemware is set above and to the right of the large plate. The water glass should sit above the knife, a wine glass is placed to the right of the water glass, and a cup and saucer can be placed to the right of the wine glass.
If you are using place cards, they should be placed on top of the napkin. Traditionally, you should put the name of each guest on the card, but you can also personalize each one with a special note or anecdote for each person, or you can add holiday-related questions to each one to speak interesting conversation among your family and friends.
You're almost ready for you and your guests to dig in, but let's add some flair to the table first.


Decorating the Dining Table in Your Mediterra Home
Just as with the interior design of your Mediterra home, there are innumerable ways and decorations you can utilize to make this particular space your own this holiday season. The easiest place to start is the tablecloth. If your plates are a solid color, then feel free to use a tablecloth with a pattern or texture, or find a tablecloth with a standout shade, like a gold or bright red tablecloth. If you want a formal setting, stick with white, ivory, ecru, or pastel shades for your tablecloth. Either way, your tablecloth should accent your dinnerware and your cloth napkins should match your tablecloth.

Your napkins can be neatly folded and placed perpendicularly on your dinner plate, or you can also find fun and creative ways to add a little bit of decoration to each one. Don't just use traditional napkin rings, but affix a gold-painted acorn, mini pumpkin, Christmas tree, gift box, or anything else you can think of that goes along with your theme. This little design touch should accent your main centerpieces and table decorations.

Now, for the easiest way to decorate your dining room table: centerpieces. The more traditional centerpiece is a floral arrangement that can easily be ordered from your local florist or can be done at home. The best thing about centerpieces is that they can be as extravagant or as simple as you'd like them to be, but try to keep them low to encourage conversation among guests. The last thing you want is to have people craning their necks around tall vases to speak to the person on the other side of the table. And you don't just have to stick to flowers. Thanks to apps like Pinterest, we are finding that almost anything can be used as an adequate centerpieces if done correctly. One of our favorites is taking a vase, a cube, or even a long wooden box and adding noble fir, Western red cedar, seeded eucalyptus, and variegated holly, then accenting it with ivory pillar candles and adding holiday-specific knick-knacks such as pine cones, pumpkins, tallowberries, mistletoe, Christmas balls, reindeer, or just about anything. The vase, cube, or box is then placed in the middle of the table for a vintage and elegant decoration.
---
These are just some of the ways we get ready to celebrate the holidays in our Mediterra home. With the help of our luxury partners, we make sure our homes for sale are ready for any occasion. Contact us today.