When a golfer first contemplates purchasing a golf membership in the luxury home community where they live, the cost of the membership versus its benefits is one of the first things they consider. Do I play enough to take advantage of the full membership? Do I want to play the same course over and over? Will it be cheaper just to pay to play on a public course? While all of these questions are certainly worthy of your consideration, there are many benefits to having a private golf club membership and those benefits don't always come down to price.
Improving Your Game
This benefit is a no-brainer. We can't all be Tiger Woods, Phil Mickelson, Paula Creamer, or Michelle Wie, but we can certainly play and practice enough to get us on our way. Having a private Naples golf club membership will allow you to try every angle on your swing as many times as you would like until you find the perfect pitch or full-swing. Yes, you can play per round on public courses, but the challenging and rewarding private golf courses in Naples will provide a greater chance of improving your game. Plus, with a private membership, there will more tee-time availability since private clubs have fewer members and you will also get access to great practice facilities.
Getting a Workout and Easing Tension
Not everyone is up for a run on a state-of-the-art treadmill, but keeping your heart and lungs healthy and burning some calories should still be a priority. Chances are, if you enjoy playing golf, you are going to love what it does for your body. A study done by the Rose Center for Health and Sports Sciences in Denver found that, on average, a golfer burns 721 calories carrying a bag, 718 calories pushing a cart, 613 calories using a caddy, and 411 calories riding in a cart while playing nine holes of golf. That translates to a happy heart that is pumping its way to increasing blood flow, lowering your risk for heart disease, and decreasing "bad" cholesterol. Since you enjoy the game, taking part in this low-intensity sub-aerobic exercise will also decrease your level of stress for added heart and overall health benefits.
Social Benefits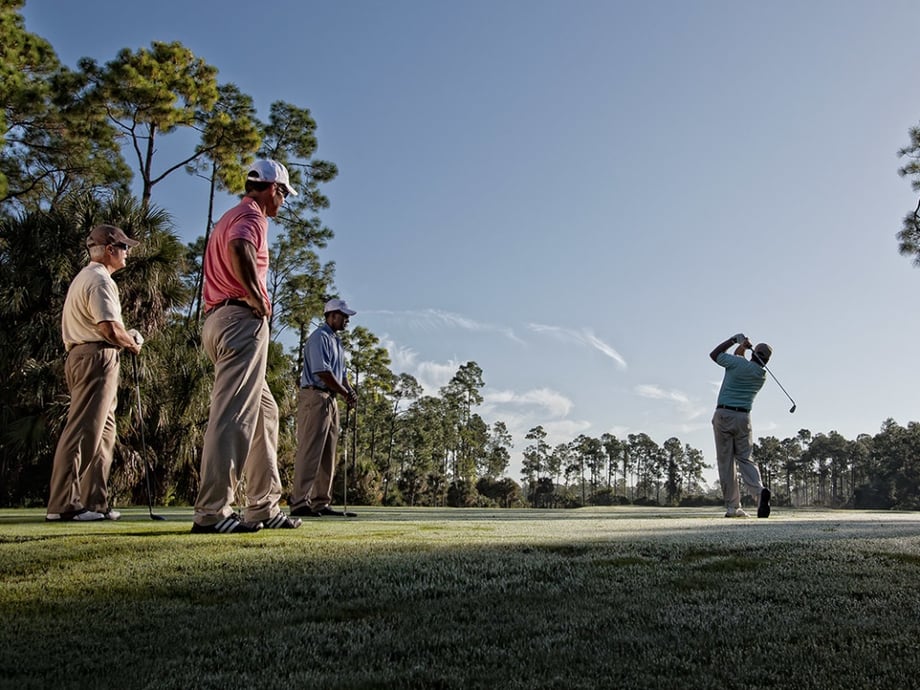 If you're not playing with colleagues or potential clients, then you'll likely be hitting the greens with friends to enjoy a nice round of golf on a beautiful Florida day. When you're a member of a private Naples golf club, your circle of friends will surely increase every time you get on the golf course or enjoy a quick lunch or drink at the adjoining clubhouse. The more you play, the greater the chances of finding other members that share your love of the game. These newly acquired friends may sit at the same skill level as you do or they may even be able to share some tips to improve your game.
What If I Don't Play That Often?
If you find that your schedule doesn't allow you to get out on the golf course as often as you'd like, many Naples golf communities offer social club memberships that are more affordable than a full golf membership, but still allow for some playing time on the course. These memberships will still provide access to all of the practice facilities and will also provide access to the clubhouse.
What If I Play Too Often?
Is there such a thing when you enjoy the game? The better question may be whether or not you will get bored playing the same course over and over. If you have researched the area, golf course, clubhouse, and community, then you'll know if you like the course and will enjoy playing it often. Many courses take years to become familiar to you and once that happens, you can change your approach on every hole to improve your game further. The goal to finding the perfect golf course that will keep you entertained for years is finding one that is challenging yet rewarding and designed by a respected and knowledgeable designer.
One more thing that may ease your mind is that private golf clubs normally enjoy reciprocal relationships with other clubs in the area. If you think you may get tired of playing the same course repeatedly, inquire about whether or not the golf club you're thinking of joining has those types of relationships. If they do, the club will typically call the other club to set up a convenient tee time for you.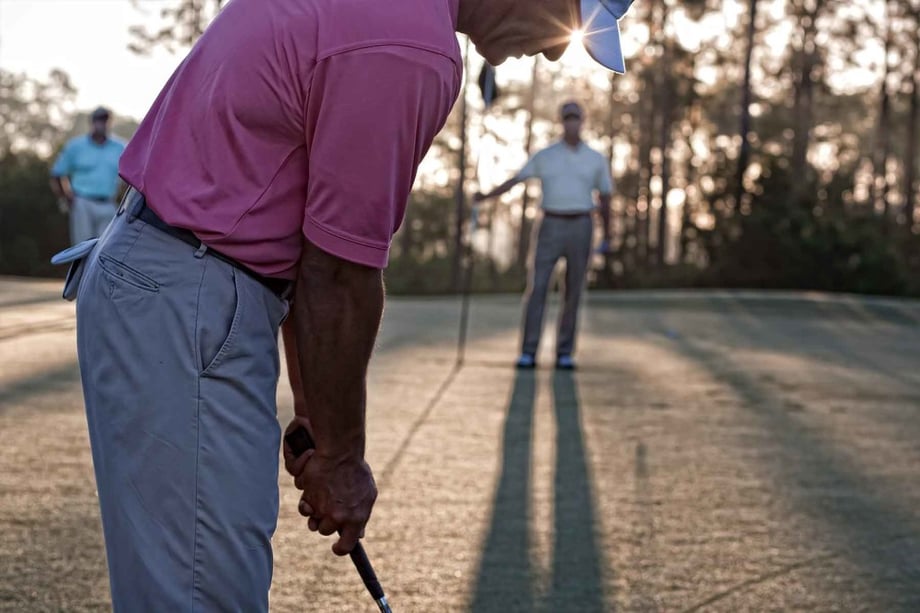 Have all the information you need to start researching Naples golf communities? Mediterra offers everything you want in a golf club community, as well as beautiful luxury homes to call your own. Mediterra golf members have a choice of playing on two Tom Fazio-designed golf courses that are as beautiful as they are playable. The courses were designed to blend in with the nature preserves, lakes, and wetlands surrounding them and are so distinctive they make up the world's first 36-hole golf facility to be certified as an Audubon International Silver Signature Sanctuary. Members can also take advantage of the Golf Learning Center which offers the latest in technology and instruction.
Membership opportunities in Mediterra are limited to just 225 members per 18 holes to ensure tee time availability for members. Currently, the waiting time for a golf membership is one year when you purchase an existing home in Mediterra. However, Mediterra has reserved a number of golf memberships for prospective homeowners that purchase a new construction home. Find your new dream home and have instant access to your golf membership opportunity and the exquisite new improvements to the Tom Fazio golf courses. Mediterra's preferred builder, London Bay Homes, has built many of Southwest Florida's finest homes and was chosen as America's Best Builder in 2008. Celebrating 30 years of continued excellence, this Naples custom home builder offers many luxury villa and estate floor plans that are all fully-customizable to reflect your needs and wants. If a One-of-a-Kind home is what you have in mind, their in-house team of architectural and design experts will develop a home that will be as unique as you are.
Download our brochure to learn more about Mediterra or contact us to schedule your tour.