The first features that may come to mind when you think of moving to Florida are the blue skies highlighted by the sun's rays, warm welcoming breezes, and the award-winning white sandy beaches scattered on our coastlines. Once you arrive, you'll be pleasantly surprised to discover that there is so much more Florida can offer, including the lovely and peaceful city of Naples.
Naples, Florida has been named the happiest, healthiest place to live in the United States for four years in a row by the Gallup-Healthways State of American Well-Being: Community Rankings. The study showed that residents of this west coast jewel in our Sunshine State have the lowest levels of stress in the country, report little depression, and eat healthy on a daily basis. Many of the residents interviewed like their daily activities, enjoy an intellectually lively culture, and learn or do something interesting every day.
So what is it about Naples that makes it such a great place to live? From lounging on our award-winning beaches and working on your golf game on some of the best courses to dining in innovative restaurants and so much more, here are just a few reasons why you will want to move to our little slice of paradise.
1. Experiencing Sand and Surf on White Sandy Beaches
More than 10 miles of pristine and clean white sandy beaches span the Naples coastline with the warm waters of the Gulf of Mexico inviting you to take a refreshing dip. Named one of the Top 25 Beaches in the U.S. during TripAdvisor.com's Travelers' Choice Awards, our Naples beaches offer something for everyone, whether you're spending your days soaking up the sun (remember your sunscreen!) or reading your favorite book, or taking part in the many sun and fun activities offered on many of our beaches, like collecting sea shells, kayaking, snorkeling, and much more. Coasting through or fishing in the pristine waters of the Gulf of Mexico is also an option as Naples boasts many full-service and specialized marinas, bait shops, and tackle shops. Select luxury home communities have access to bays and channels to connect to the ocean on your private boat, so you can spend the day out on the water, relaxing or catching some tarpon, snook, redfish, and many other species of game fish. Mediterra residents can enjoy the luxury of being out on the water thanks to their very own member-owned and private 10,000 sq. ft. Beach Club just a short drive from the community. Here, residents can enjoy a beach resort living experience close to home with 200 feet of private shoreline.
2. An Abundance of Golf Courses From Which to Choose
In 2013, the Naples-Marco Island metropolitan statistical area ranked number one nationally for its abundance of golf holes, having 1,530 holes for a population of 324,424 according to the Golf Facilities in the US 2013 report by the National Golf Foundation. In total, Naples features more than 80 championship golf courses, most of which are private and housed within luxury home communities and each possessing its own rewarding features. For example, Mediterra boasts two Tom Fazio-designed golf courses that are as beautiful as they are playable and are designed to meld with the nature preserves, lakes, and wetlands of our luxury home community. Self-titled the "Golf Capital of the World," Naples is sure to feature many golf courses that will both entertain and challenge you and your closest friends, family members, and business associates.
3. Reveling in Nature
Located near the Everglades National Park, the largest subtropical wilderness in the United States, Naples Florida takes pride in its natural surroundings with many organizations, groups, and protected areas dedicated to keeping our love of nature alive. These include the Corkscrew Swamp Sanctuary, Big Cypress National Preserve, Florida Panther National Wildlife Refuge, Picayune Strand State Forest, Conservancy of SW Florida, Naples Botanical Gardens, and of course, the aforementioned Everglades National Park. With so many natural attractions, it's no wonder many of our Naples residents enjoy spending an afternoon reveling in nature.
4. Fine Dining and Exquisite Shopping Opportunities
Dining and shopping easily go hand-in-hand in Naples as many areas include both casual and fine dining and unique shopping experiences. Fifth Avenue and Third Street South are two popular streets in Old Naples where you can relish in scrumptious eats and boutique-style shopping. Venetian Village, featuring more than 45 waterfront shops and waterside restaurants; Waterside Shops, where the finest names in luxury retail and fashionable lifestyle stores are set amid a lush landscape of 30,000 tropical plants and flowering shrubs; Mercato, offering 12 notable restaurants and more than 20 upscale retailers; and Coconut Point, a picturesque outdoor mall featuring over 140 stores and a wide range of dining options are other prime examples of where you can find the best restaurants and shopping in Naples and the surrounding areas.
5. Culture and Entertainment
When you're not lounging on the beach, hitting the greens, enjoying a delicious meal, or taking advantage of our stylish stores, Naples residents can enjoy culturally entertaining attractions like watching a play, listening to music, or admiring beautiful artwork in places like the Naples Players, Opera Naples, Gulfshore Players, or Artis-Naples, among many other entertainment venues. The Greater Naples Chamber of Commerce says there are 58 non-profit arts groups and cultural destinations in Collier County alone and more than 75 art galleries and artist studios. More than 1,000 arts and cultural events are scheduled every year and most of them are complimentary, so you can enjoy the sights and sounds of local, regional, and national artists and musicians year round.
6. Opportunities for Living or Investing in Naples, Florida Luxury Homes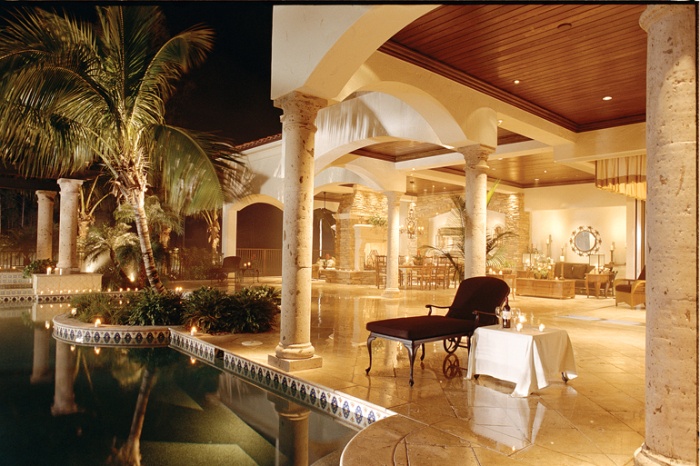 If you're going to experience all that Naples has to offer then you are going to need a place to stay. Luckily, Naples has some of the most beautiful homes located in award-winning luxury home communities or on scattered home sites throughout the area. Mediterra offers many luxury custom homes built by Naples custom homebuilder, London Bay Homes and each one is fully-customizable to meet your needs and lifestyle. Florida is also one of the most tax-friendly states in the country for retirees; there's no state income tax, estate tax, or inheritance tax.
Of course, investing in a Naples Florida property isn't far-fetched either. In 2014, Florida gained 202,000 net migrants, leading all states in domestic migration gains for the first time since the years 2000 to 2005, according to the United States Census Bureau. William Frey, a demographer at the Brookings Institution, analyzed the Census data and determined that the senior migration rate reached 5 percent, returning to levels previously achieved before the recession. In 2015, Florida added more people than California, marking the first time in nearly a decade. Its gain of 365,703 people pushed it past the 20 million mark. All of these figures make for considerable opportunities to buy and sell in Naples Florida.
All in all, you'll travel to Naples for the weather and beaches, but you'll stay for the overall feeling of happiness, well-being, and luxury associated with our beautiful city.