Searching for a new home requires not only finding the right floor plan, but also finding the right luxury home community that incorporates amenities fitting for your unique lifestyle. What luxury amenities do you seek in your future home?
According to the National Association of Home Builders (NAHB), there are a few amenities that are the most popular among many age groups. Their study, Housing Preferences of the Baby Boomer Generation, gathered information from more than 4,300 prospective home buyers that fit into four categories: seniors (born before 1946), Baby Boomers (born between 1946 and 1964), Gen-Xers (born between 1965 to 1979), and Millennials (born after 1979). Their study revealed that, regardless of age, there were three amenities that were the most coveted: A suburban community, close proximity to a park area, and access to walking/jogging trails. Other amenities ranked by all four age groups were a swimming pool, a lake, and an exercise room.
A study done by real estate advising company, Robert Charles Lesser & Co., echoed some of the results in the NAHB study. According to Lesser & Co., green space and paved trail systems for walking, running, and biking were the No. 1 and No. 2 community features most desired by prospective home buyers. Other amenities that made the list include outdoor, resort-style pools, exercise rooms and equipment, and natural (unpaved) trail systems for hiking and walking.
Are you starting to see the pattern? All of the elements of a healthy and active lifestyle are among the favorites in luxury amenities and Mediterra has them all, and a few more that will make you want to schedule your tour of our luxury home community. Discover your favorite by reviewing our list of the most popular luxury amenities at Mediterra.
Beautifully Themed Parks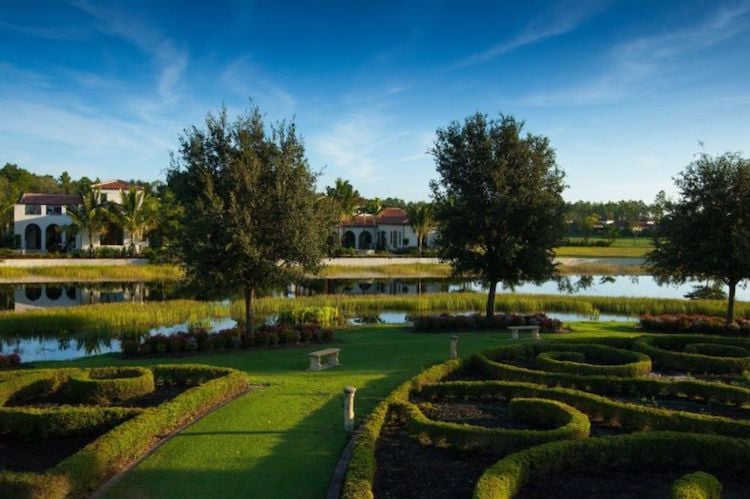 Mediterra offers 1,000 acres of preserves and lakes blended with luxury homes from Naples custom home builder, London Bay Homes. Among the natural beauty found in our award-winning community is three themed parks. Parque Celestial highlights astrological elements that make for a lovely stroll; Parterre Garden offers formal, sculpted gardens to relax with a good book or a picnic with family or friends; and Calusa Play Park is an interactive children's park with an active play area with grassy hills, play equipment, a basketball half court, and a story-telling circle with a raised seat-wall and low bonfire pit.
Paved and Unpaved Trails
If you'd prefer to enjoy the sunshine and warm breezes of Florida while getting, or staying, in shape or you just like to take long walks to clear your head, Mediterra features eight miles of trails and pathways that lead around the community, including to the aforementioned parks where you will be able to take a breather and enjoy the sights and sounds of nature.
Fitness Areas
The Sports Club at Mediterra hits the mark with its resort-style swimming pool and its exercise room with state of the art equipment. The Sports Club also offers the MyZone monitoring system to use in its fitness classes, and there are plenty of those. Mediterra Naples offers 33 group fitness classes per week with more than 300 members participating throughout the week. Members can take part in anything from Yoga to Zumba, Crossfit, Spinning, Titleist Performance Institute Certified Golf specific programs, and many more.
Residents of Mediterra can also utilize the Naples luxury community's tennis program, with seven Har-Tru tennis courts, the two-court Tennis Colosseum, and a rounded court, and its innovative Bocce program, with two 'Har Tru' sub-surface irrigated courts built by famed court designer Tony Ritzman.
Golf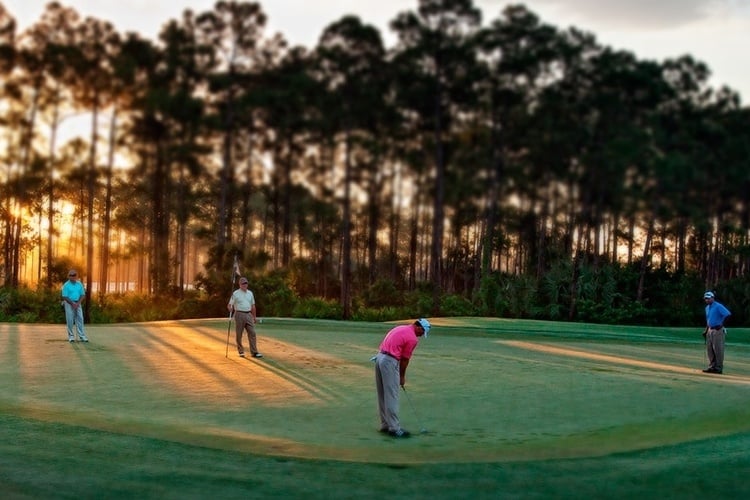 Residents at Mediterra are able to choose between two Tom Fazio-designed golf courses that are as beautiful as they are playable. Each course was designed to harmonize with its natural surroundings, creating a rolling picture of lush beauty and tranquility while you're enjoying a day out on the greens. Members can also take advantage of the Golf Learning Center which offers the latest in technology and instruction to improve their skills before heading to the course. Golf membership opportunities are limited to just 225 members per 18 holes to ensure tee time availability for members. Although the waiting time for a golf membership is currently one year when you buy an existing Mediterra home, London Bay Homes has reserved a number of memberships for prospective homeowners that purchase a new home in our Naples luxury community.
A Clubhouse with Perks
Having a clubhouse wasn't part of the top community amenities on the studies provided, but it is always a plus when you are looking for a comfortable and luxurious place to dine, socialize, or find a new hobby. Mediterra's 32,000 square foot Clubhouse offers a full calendar of social events to keep guests entertaining, as well as fine and casual dining by an expert staff through the main dining room, Club Lounge and Kitchen, Grille Room, and the popular Tavern, where guests can enjoy gourmet brick-oven pizzas, seasonal salads, and open-air grilled entrees by a popular lounge with a fire pit.
A Private Beach Club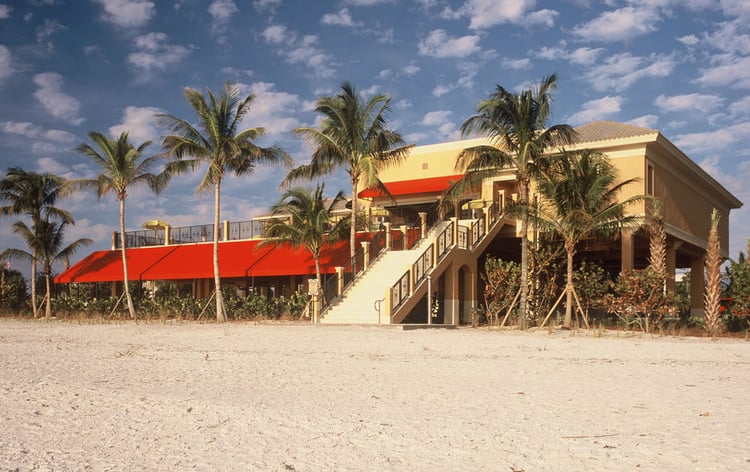 Located on the beautiful white sandy beaches edged by the Gulf of Mexico, the Mediterra Beach Club is a 10,000 square foot, two-story private club reserved for Mediterra residents only. It sits on 200 feet of private shoreline and offers an elevated swimming pool with a sundeck and valet service for beach chairs, umbrellas, beverage and food menus, and many other necessities for an enjoyable beach day. The Beach Club also features casual indoor and outdoor dining overlooking the Gulf of Mexico.
Schedule your tour to experience the luxury amenities offered in our award-winning luxury home community.