Discover the bliss of effortless living with Mediterra's luxurious maintenance-free villas in Southwest Florida. By removing the burden of the maintenance of your home, Mediterra allows you to reclaim your free time to enjoy the abundant activities in and around the invigorating community of Naples. Explore, shop and dine in style while Mediterra takes care of the rest.
Once you are maintenance free, enjoy Naples' Top Attractions
With Mediterra's maintenance-free villas, you have abundant time to enjoy the incredible community of Naples. Below we have listed the top attractions and activities that are not to be missed.
Relish in Florida sunsets at Naples Pier
Visit the top city landmark, Naples Pier, where endless sunsets fill the skies and the warm sea breeze creates a sense of paradise. The Pier never closes, so feel free to enjoy a sunset long into the evening. With great dining nearby, a trip to the Naples Pier is sure to turn into a delightful evening.
Indulge in beautiful sand beaches
A day in Naples is not complete without a trip to one of its stunning beaches. Two favorite beach spots are Delnor-Wiggins State Park- an all-natural beach with glorious nature trails, and Naples Municipal Beach and Pier. Delnor-Wiggins State Park is the perfect escape from the city and provides a true oasis. The Naples Municipal Beach and Pier is near town and is ideal for an afternoon stroll or for some midday sunbathing.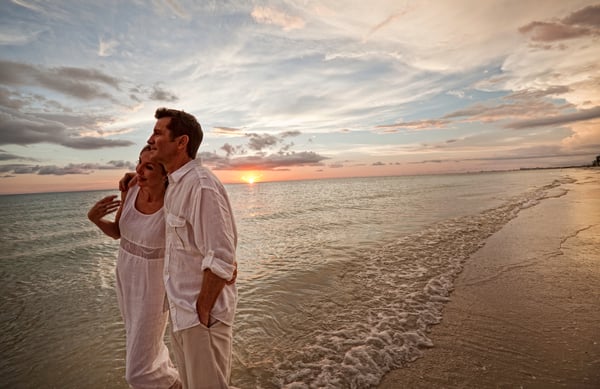 Discover Abundant Wildlife and Nature
Offering a wide variety of nature preserves and national parks, Naples provides a variety of ways to enjoy the exquisite nature that shares this great community. Florida Everglades National Park, Big Cypress National Preserve and Ten Thousand Island National Wildlife Refuge preserve vast acreage of environments that range from sea and estuary to marshlands and hammock forests. Tours are available to show guests these spectacular areas.
Explore the Naples Botanical Gardens
Featuring 170 acres including an exquisite Caribbean Garden complete with a dramatic waterfall feature, the Naples Botanical Gardens offers a vast area to explore. Indulge in giant lilypads, gorgeous tropical plants and the 250-variety plumeria collection. Designed to impress and delight, the Botanical Gardens is the perfect place to spend an afternoon enjoying the surrounding natural beauty.
Journey through Everglades National Park via Boat Tour
Take an awe-inspiring trip through the Everglades on one of the National Park's boat tours. Everglades National Park offers tours of the Mangrove Wilderness multiple times daily, and is an expedition not to be missed. Delight in incredible flora and fauna and enjoy spectacular wildlife while drifting on an intimate boat. A knowledgeable guide will indicate points of interest and answer any questions while navigating the vessel through the heavily shaded wetlands. For more information call 239-695-2591.
Revel in the arts at Artis Naples
Formerly known as the Philharmonic Center for the Arts, Artis Naples is dedicated to both visual and performing arts. Enjoy the Philharmonic Orchestra, Miami Ballet and an abundant calendar of entertainment events. During the winter, Artis Naples welcomes a popular Broadway series, and throughout the year opens its doors to traveling comedians, opera, and orchestras- totaling in more than 400 events yearly. Delight in the elegant atmosphere of the center and create a perfect evening out in Naples with Artis Naples. For more information call: 239-597-1900 or 800-597-1900.
For the best Jazz performances, visit Alto Live Jazz Kitchen
The hot, new addition to the downtown Naples' nightlife scene, Alto-Live Jazz Kitchen provides a classic jazz club atmosphere inspired by the late, legendary Zanzibar Blue in Philadelphia. Enjoy great food and fantastic music nightly with jazz greats and other live entertainment groups of three or more performers. Be sure to order some of the creative small plates that will satisfy the palate while you enjoy the exquisite performances. For more information call 239-261-2586.
Dine at the elegant Bay House Restaurant
If you love live jazz music and other genres of music, you will love the Bay House Restaurant. Known for its musical selection and wonderful seafood dishes, the charming Bay House Restaurant is a Naples favorite. Featuring polished decor and expansive views of the wild Cocohatchee River, the Bay House offers everything to create the perfect evening in Naples. Listen to live music, eat great food and revel in the beautiful views as you spend an enchanting evening on the river. For more information call 239-591-3837
Languish at the beautiful Bayside Seafood Grill and Bar
Featuring an upstairs dining area that boasts incredible views of Venetian Village, Bayside Seafood Grill and Bar is the perfect location to enjoy a cocktail amidst a glorious setting sun. The downstairs Cafe venue is ideal for an early or late supper complete with exquisite live performances by a pianist on Friday and Saturday nights. If you are looking for a casual, open-air setting, visit the Upper Deck Bar, which also offers live entertainment. No matter what kind of dining experience you are craving, the Bayside Seafood Grill and Bar provides the perfect atmosphere. Enjoy the well-rounded menus and delicious cocktails to cap off a lovely day in Naples. For more information call 239-649-552
Fulfill your retail therapy with exquisite shopping
Outlet mall shopping is a favorite Naples pastime. Indulge in sprawling complexes like Miromar Outlets and Naples Outlet Center to find the best prices on all your favorite brands. For elegant boutique shopping head to Olde Naples- 5th Avenue and 3rd Street South- for fine clothing and artisanal selections. Another shopping hub that must be explored is Bayfront Naples, a bright upscale assortment of high-end shops and restaurants that overlook the sparkling waters. Naples offers plentiful options sure to excite even the most experienced shopper.
Discover Mediterra's Maintenance Free Living
One of the best Naples, Florida golf communities, Mediterra is an ideal location to discover an unparalleled luxury lifestyle. Featuring rich amenities, including championship golf courses, Mediterra provides an oasis in which to enjoy the beauty of Florida. In particular, their maintenance-free villas allow homebuyers to indulge in living without worrying about the upkeep required for a luxury villa. Discover the easy life with Mediterra's maintenance-free living at the Lucarno and Cabreo neighborhoods.
Inspired by the timeless, natural beauty found in Northern Italy, Lucarno features sparkling lakes, glorious gardens and majestic fountains for residents to enjoy. Creating a new concept in luxury villas that blends the splendor of Naples with the intimacy of Old World Italy, Lucarno's unique lakeside homes are sure to inspire and delight. Five individual floor plans with extensive design options ranging from 2,500 sq. ft. to over 4,000 sq. ft. are available to homebuyers.
Cabreo, the newest luxury neighborhood in Mediterra, offers three brand new model villa homes. Starting at 2,800 sq. ft. to 3,248 sq. ft. of living space, these model homes are exquisite and offer sparkling lake and nature preserve views that perfectly compliment the rustic Mediterranean style of the community.
For more information visit our website and embrace the freedom of maintenance-free villas.