With summer peeking at us around the corner through dark-tinted glasses, many of us are getting ready to head to the white sandy beaches of Naples FL to soak up some sun and engage in a little rest and relaxation. For residents of Mediterra, that means hopping over to the Mediterra Beach Club for a luxurious and private waterfront experience, or if sun and fun doesn't need to come with sand, residents can also find their summer bliss by opening their wall-to-wall sliding glass doors and breathing in the fresh air from their grand outdoor living space.
One of the luxuries of living in an award-winning luxury golf and beach community is that each home is equipped with a beautiful outdoor living space in which to appreciate the Florida sunshine. The outdoor living spaces of the Mediterra homes by London Bay Homes are always a top priority in the design and build process and each has key elements to ensure every day in your backyard is a day of laughter and relaxation. From simple items like an outdoor fire pit or a calming waterfall to bigger luxuries like a summer kitchen or a pool and spa, these are just some of the ways the custom outdoor living spaces in our Mediterra homes will allow you to fully appreciate our beautiful weather.
A Place to Put Up Your Feet
A comfortable sitting area is a must-have in your outdoor space if you enjoy reading a good book or chatting with some friends while listening to the lovely sounds of nature and getting some fresh air. The perfect outdoor living room should have a comfortable sofa or a few comfy chairs in which to sit and relax, and it should also be devoid of the technological distractions that haunt us on a daily basis. Just unplug and relax.
A Place to Think
Speaking of unplugging and relaxing, if you find that your life seems to be in fast-forward and you just want to find some time to think and be calm, your outdoor living space can serve as the perfect setting to do just that. Our homeowners are opting to include a separate seating area in their outdoor living space that includes a water fountain, a waterfall, or even a fire pit to calm their nerves and ignite their passion for living. Just think of a small space with tranquil sounds of lapping water or the flickering flames of a fire pit and find yourself already willing to unwind.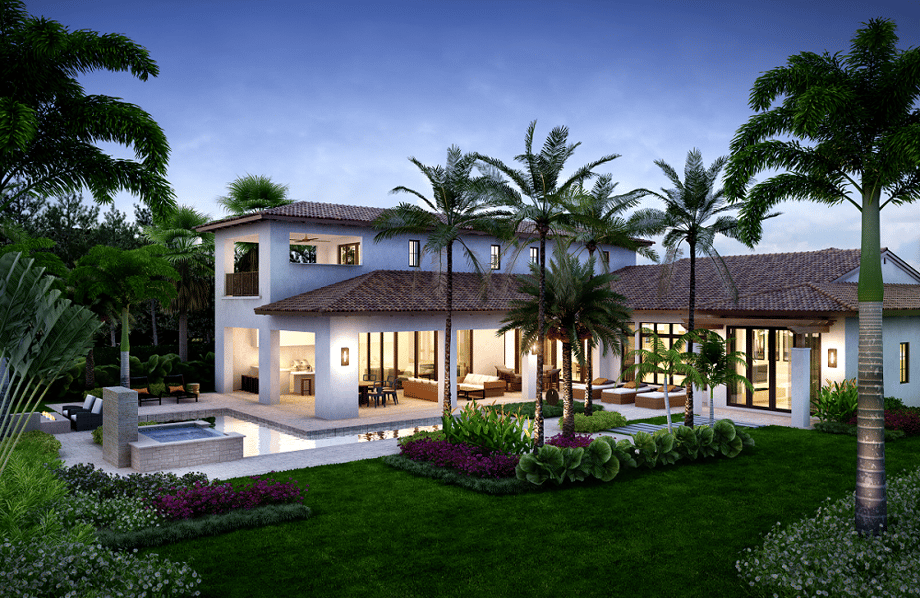 A Place to Cook
Who wants to go in and out of the house to check on the food cooking in the kitchen when you can grill some delicious burgers, steaks, salmon, or veggies on a top-of-the-line grill? Certainly not us, which is why many of our Mediterra homes offer a summer kitchen complete with grill, refrigerator, and sink. Show off your culinary skills while still be able to mingle with your guests and enjoy the any benefits of being outside in nature.
A Place to Eat
Did you think we would cook up a delicious meal and have our guests eat it on their laps? The ultimate outdoor space should include a dining area for your family and guests to enjoy their food without having to go back into the house or perform a balancing act with their plates. Your outdoor dining area can play up the fun colors of summer that you may not normally have in your home to complete the outdoor experience. Just make sure you keep the pests away with mosquito repellant candles, backyard torches, or citronella or marigold plants for some all-natural bug repellants.
A Place to Dive In
An outdoor living space in Southwest Florida cannot be complete without a custom pool and spa, which is why our luxury homes come equipped with just that. Currently, all of our Mediterra homes for sale feature a custom pool and spa by London Bay Homes and their pool and outdoor living design company, Acquatico. Imagine yourself floating along the crystal blue water of your sparkling pool while lunch is on the grill and the sun and breezes are inviting you to stay awhile longer. Give in to the temptation, but remember to wear sunscreen!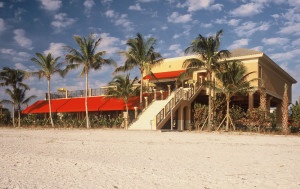 Our Mediterra homes are not the only place to soak up the sun and fun. All Mediterra residents get the pleasure of taking advantage of the private Mediterra Beach Club and its 200 feet of private shoreline located on the beautiful Gulf of Mexico. The 1.3 acre property is located just a short drive from Mediterra and includes everything Mediterra residents need to enjoy a glorious day on the beach. Those residents that enjoy the view, but would rather leave the salt water to the fish, the Mediterra Beach Club also features a second-floor heated pool with a sundeck overlooking the expansive and magnificent coast. The professional and friendly staff is always on hand to provide concierge services akin to luxury beach resort living, like bringing towels, chairs, or a refreshing beverage from the full-service bar. The 10,000 sq. ft. Beach Club is also prepared to cater to your palate through casual indoor or outdoor dining overlooking the ocean with Mediterra's signature fine cuisine.
Contact us to schedule your tour of our Mediterra homes, or download our brochure to learn more about Mediterra.