Just over 5,000 square feet of air-conditioned space allows for an award-winning combination of unique architecture, stunning interior design, and the quality you've come to expect from a home in Mediterra Naples. Delve into what made this custom home by London Bay Homes an easy choice for the Southeast Building Conference's (SEBC) Grand Aurora Award for Best Single Family Detached Home over 4,000 square feet during the 39th Annual Aurora Awards.
The Catalina luxury estate home is located in the heart of Mediterra Naples: the Cortile neighborhood. Cortile is a luxury maintenance free villa and estate home neighborhood and the Catalina represents one of the few remaining opportunities prospective residents have to live in this coveted Mediterra neighborhood.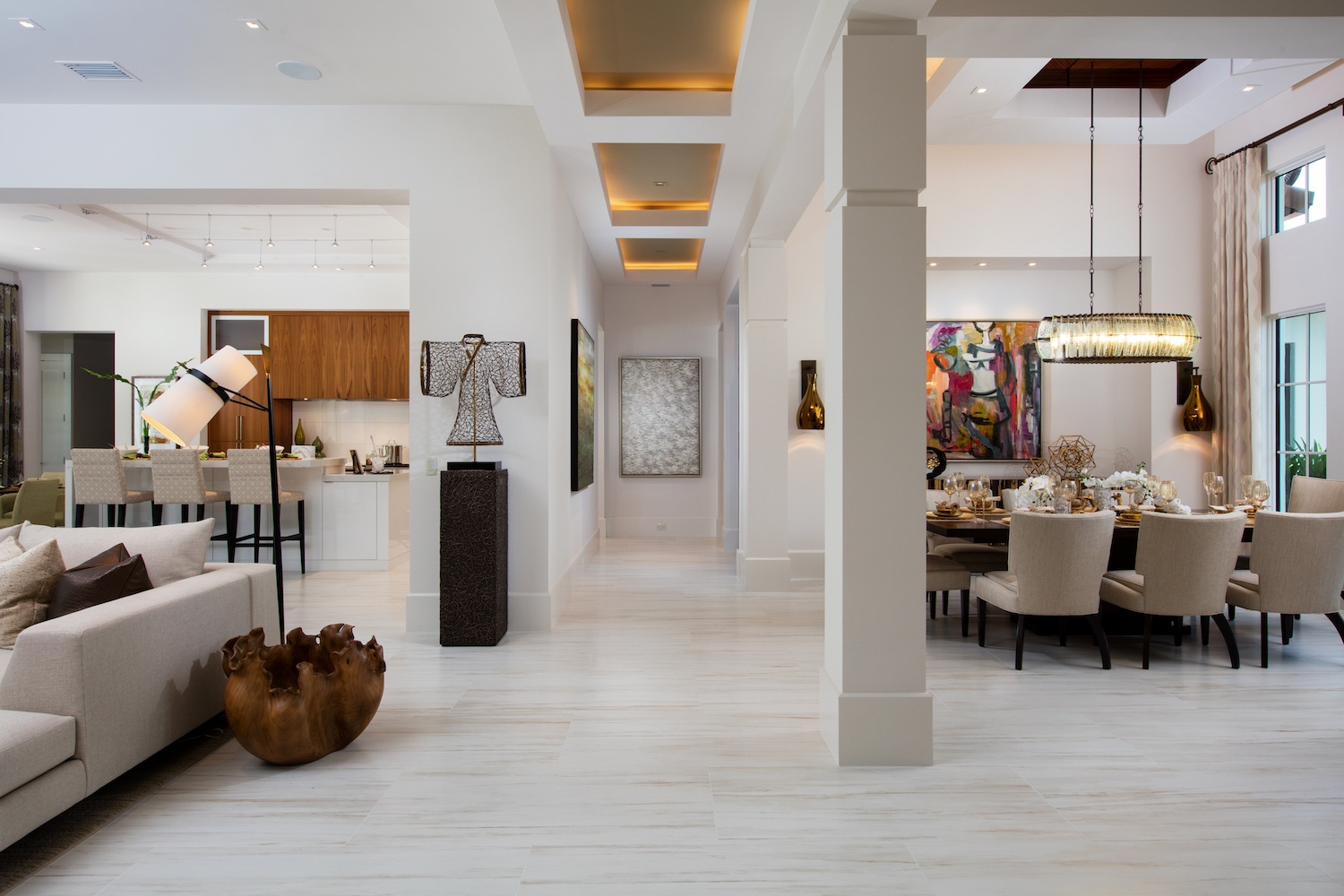 The home begins with an expansive floor plan that blends the great room, island kitchen, and café for an airy open space design. This space, as well as four bedrooms, five bathrooms, a formal dining room, bonus room, loft, and guest suites with en-suite bathrooms, are all part of the home's 5,288 air-conditioned square feet. Romanza Interior Design elevated the floor plan with an asian-inspired contemporary interior design blending rustic and eastern influences that are punctuated by Asian-inspired accessories and shapes. The designers selected furniture styles with clean and modern lines, a mix of finishes, including wood, glass, marble and metal, as well as textural and tactile elements to incorporate a full-bodied design. Taupe, brown and off-white shades provide neutral backgrounds to allow the deep bronze, plum, and shades of green to take center stage in the design.
The master suite is located on the first floor and is located in a private wing of the home. This relaxing utopia will allow you privacy and luxury with sliding glass doors that open to a private patio with a landscaped cedar trellis and a private garden. An outdoor shower enclosed by screen walls and an aluminum trellis juts outside of the master bathroom completes the space.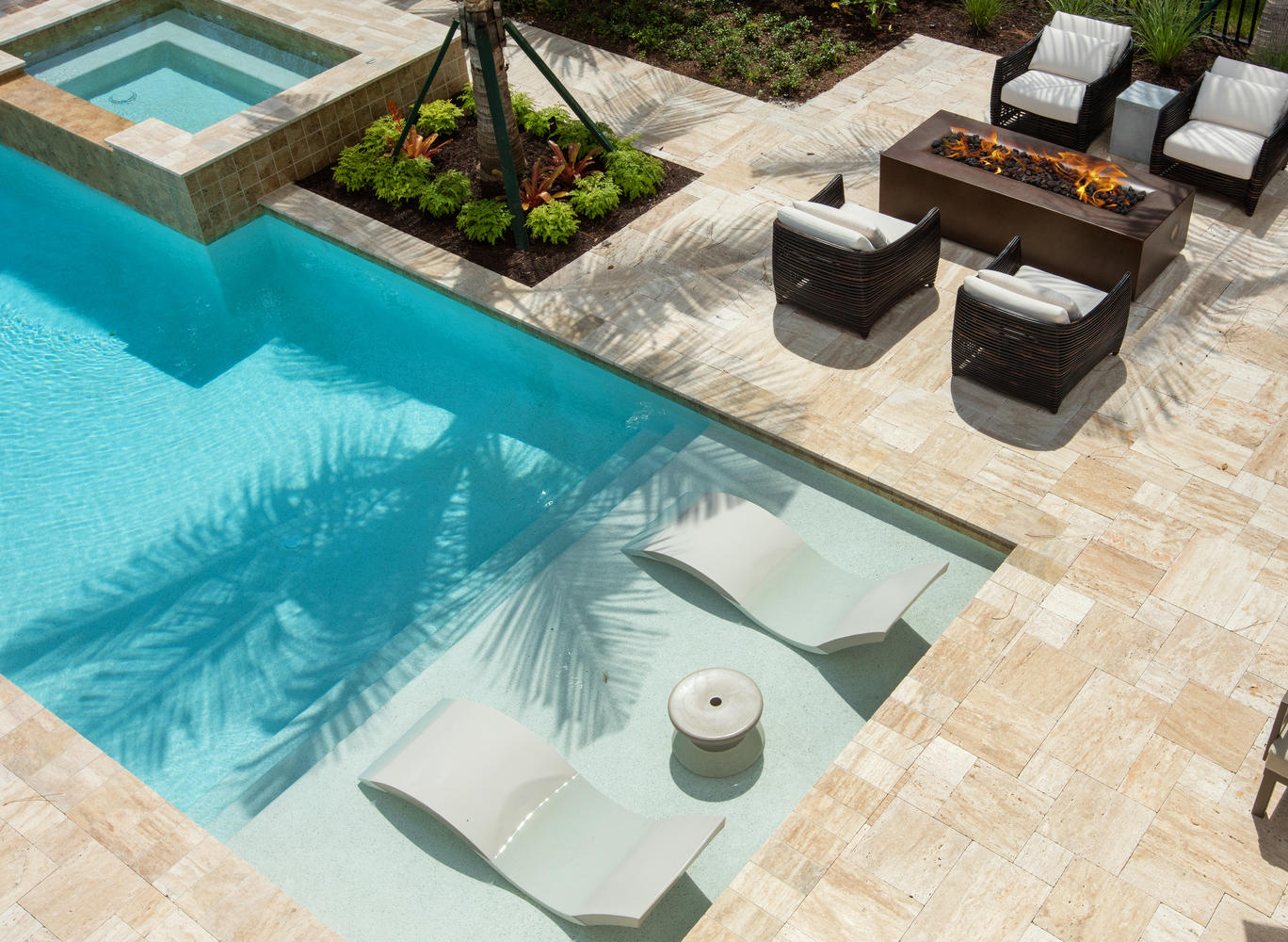 If you head back towards the café and the bonus room located near it, you'll find zero-corner pocket sliding glass doors that lead you out to a 950-square-foot outdoor living space complete with a resort-inspired linear pool, a sun shelf, a raised spa with spillover, wraparound dining and sitting areas, and a summer kitchen with an island bar. These features are everything you need to spend your day lapping in the luxury of a gorgeous Florida afternoon with al fresco dining and a refreshing swim in your custom pool. You can also breathe in the fresh, meditate, or do some yoga in the "destination" sitting areas accented with sculpture and zen-like water sounds set further back in the yard.
You can gaze upon the outdoor living space, as well as the lush nature preserves and golf course views of the home from the second floor of the home where you will find a "sunset overlook" balcony right outside of the loft. The balcony also has an outdoor fireplace to create a peaceful and private relaxation spot for reading, napping, or looking at the stars.
"The Catalina model is a large home that has an exceptionally livable floor plan," said Jennifer Stevens, Senior Design Director at Romanza Interior Design. "We chose to place art pieces in the great room to create a gathering space that flows easily to a beautifully designed outdoor living area, pool, and covered outdoor dining and conversation areas. There's a poolside space with a fire pit and seating. The combination of the great room, seating at the island in the adjoining kitchen, and the outdoor living area offers an ideal setting for entertaining. The first-floor bonus room and the upstairs club room offer perfect spaces for relaxing and television viewing. There's a sunset terrace with a fireplace off the club room. This is an ideal floor plan for people who enjoy visits from out of town family members and friends. The lighter wall tones, the 24 by 48-inch porcelain tile flooring in the living areas, and the warm, rich contrasts provided by the art and accessory selections contribute to the home's open feeling."
One of our favorite pieces selected by Romanza Interior Design is the dining room's suspended floating ceiling detail with wood accents, modern starburst mirror, and teardrop-shaped, mercury gold glass wall sconces, as well as the iridescent mosaic glass tile in the master bath. Choose your favorite design aspect when you schedule your tour of the beautiful, award-winning Catalina luxury estate home in Cortile at Mediterra Naples.