The beaches in Naples, Florida are gorgeous and alluring. Perhaps it's the soft, white sand that stretches for miles, the calm water, or the warm breezes skimming the Gulf of Mexico. Or maybe what draws you is their pristine beauty as you walk along a gentle shoreline free of rocks and seaweed.
Whatever your reason for a visit, the stunning beaches in Naples, Florida won't disappoint. Here are a few of the best local spots.
Barefoot Beach Preserve County Park
If you've been dreaming of surrounding yourself by unspoiled nature, there's no better place to do so than Barefoot Beach. Located on one of the last barrier islands to remain undeveloped, it boasts over 342 acres of scenic beauty.
The preserve offers safe swimming, plentiful fishing in not only the gulf, but mangroves and tidal creeks, and a one-mile long nature trail that is ideal for exercise or shell hunting.
Lowdermilk Park
Lowdermilk Park is situated in Central Naples within one of the loveliest residential districts in the city. This clean, well-maintained beach offers lots of modern amenities to go with the sun and surf.
With sand volleyball courts, picnic tables, a great snack bar, concession stands, and eight palapas (open-sided structures similar to huts, with roofs made of dried palm leaves) for rent, there's something for everyone.
Lowdermilk has plenty of parking and if you arrive early in the morning, you'll be treated to a vision of sea turtles and dolphins in their natural habitat.
Seagate Beach
Seagate Beach is a lovely place to sit in the quiet and watch the sunrise or sunset. Unlike Lowdermilk Park, Seagate has very little parking, no restrooms, and virtually no tourists, so it's a wonderful place to escape and simply be at peace with the surrounding beauty. Locals love it for its "tucked-away" feel and occasional glimpses of manatees.
Naples Pier Beach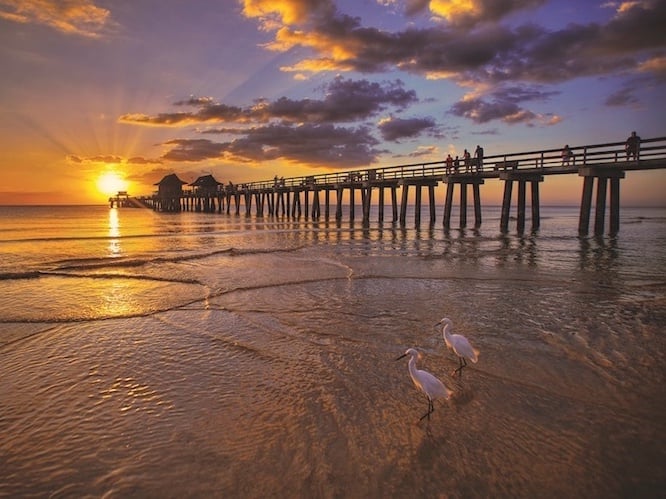 Naples Pier Beach is the perfect relaxation spot after a day of shopping. Not far from a classy hot spot filled with beautiful shops and restaurants, you can take a stroll along the famous Naples Pier or even grab a place in the shade beneath it.
Bring a picnic lunch and have a bite in the covered eating area, or you can take advantage of the beach's concession, the Cosmos Cafe and Pizzeria.
One of the amazing perks of Naples Pier Beach is that you can fish right off the pier without a fishing permit, as the beach provides a bulk fishing license which covers everyone, 24 hours a day.
3rd Avenue Beach
3rd Avenue Beach is a relaxed, quiet retreat not far from elegant, downtown Naples.
Here, there are remnants of an old pier, clean, grassy areas, and great surf-side views which make for the perfect atmosphere to unwind. Make sure to bring your camera, because there are some great photo opportunities here with breathtaking sunsets.
Clam Pass Beach Park
For a secluded beach experience, you can wander through the mangroves on Clam Pass' mile-long boardwalk. The tree branches stretch over and above, making a shady tunnel around the wooden bridge.
Parking for this beautiful beach is located behind the Naples Grande Hotel. You can board a free tram or walk, enjoying the scenery on your route. At this beach, you'll find plenty of amenities, including kayak rental and other water equipment.
You'll have access to outdoor showers, public restrooms, a snack bar, and picnic areas. The shelling is great here, and the lagoon is the perfect spot to wade and fish.
---
World-class beaches are only one of the many perks of living in beautiful Naples, Florida. As the owner of an award-winning home in Mediterra's luxury community, an active, healthy lifestyle on the white sands can be a refreshing part of your everyday routine. Connect with us to see what makes Mediterra one of the most acclaimed communities in Naples.