Maybe it's the fact that Naples, FL is the happiest, healthiest city in the U.S., or that it was named the cleanest city in America, but more and more people are discovering the jewel that is Naples, and we've got the new construction home options to help you get moving to our slice of paradise.
If you're beginning your search for the perfect home in Naples, the first step you should take is finding an ideal community to match your lifestyle. Luxury amenities, like-minded individuals, and home designs to fit your family are a great place to start. At Mediterra, our residents enjoy an array of lifestyle amenities, including the member-owned Club at Mediterra with two Tom Fazio-designed championship courses and the private 10,000-square-foot Beach Club on the Gulf of Mexico. Our onsite amenities include themed neighborhood parks; eight miles of walking and jogging trails; a fitness complex with tennis and bocce courts, swimming pool and spa services; and the 29,000-square-foot clubhouse offering formal and casual dining prepared by a staff of award-winning culinary experts.
Available home sites for your new construction home can be found in select neighborhoods, with a number of opportunities existing for new model homes designed and constructed by America's Best Builder, London Bay Homes, and furnished by the award-winning team at Romanza Interior Design. Both single-family and maintenance-free villa neighborhoods are available, and each can be fully customized to fit your needs. Explore our luxury neighborhood options to find one that suits you:
Caminetto
The Caminetto is London Bay Homes' newest neighborhood featuring single-family luxury estate homes ranging from 3,500 square feet to more than 5,000 square feet. This boutique neighborhood offers 15 new home opportunities with picturesque views of fountained lakes and nature preserves. Just a short walk away is Mediterra's lush Parterre Gardens with formal gardens, sitting areas, and a large reflecting pond with waterspouts. Two brand new model homes, the Carmela and the Sonoma, are currently under construction.
Learn more about the homes in our Caminetto neighborhood.
Lucarno
Lucarno, offering maintenance-free luxury villas in Naples, offers charming views of sparkling lakes, glorious gardens, and majestic fountains surrounding its 71 home sites. As with our Caminetto neighborhood, Mediterra's Parterre Gardens is located within walking distance of the homes in Lucarno. London Bay Homes, the exclusive builder in Mediterra, offers luxury lake view homes ranging from 2,500 to more than 4,000 sq. ft. Each plan is designed with numerous options that allow buyers the opportunity to customize their home by extending lanais and garages, adding bedrooms, dens or studies, and selecting indoor and outdoor fireplaces, summer kitchens, loggias, porticos, and wine cabinets.
The Capriano model home is now open for viewing and a second model home, the Palmero, is currently under construction.
Learn more about the homes in our Lucarno neighborhood.
Cabreo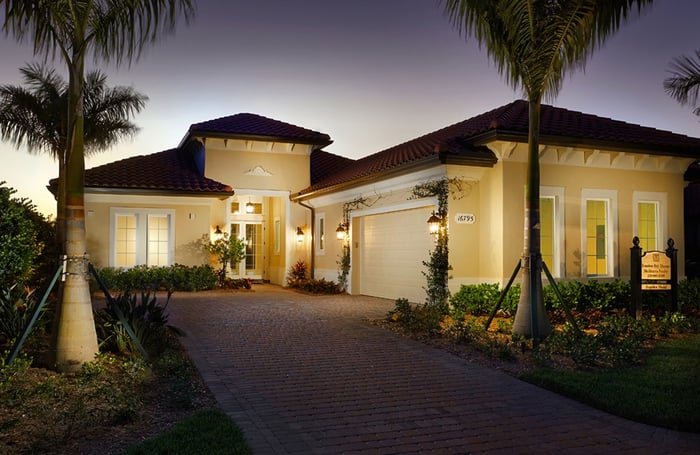 Cabreo is one of London Bay Homes' luxury villa neighborhoods and lies adjacent to miles of landscaped strolling trails. A 23-home site neighborhood, Cabreo offers quaint villas with sparkling lake and nature preserve views to complement its rustic Mediterranean look. Floor plans range from 2,500 square feet to more than 3,200 square feet and offer multiple elevations for classic Mediterranean-inspired architecture with arched windows and entries, decorative medallions, and cast stone detailing, or more clean-lined facades with rectangular windows and shutters.
One model home is available for viewing in Cabreo with two more model homes currently under construction to showcase all three of the new construction home options available.
Learn more about the homes in our Cabreo neighborhood.
Terrazza
Terrazza at Mediterra features 22 luxury maintenance-free home sites with picture-perfect views of lakes, preserves, or wooded areas. Upon entering the neighborhood, homeowners and guests are treated to an entryway that accentuates the Tuscan region and brick-paved streets that bring about an Old World charm. Most of the homes in this neighborhood also feature full-sized courtyards to welcome the carefree lifestyle as befits such a relaxed Mediterranean setting. Homes in Terrazza are more than 5,000 square feet and residents can enjoy single-family living with a maintenance-free lifestyle. Two new construction homes are currently being built by London Bay Homes, the Catania and the Salerno, and will showcase the two home design featured in this neighborhood.
Learn more about the homes in our Terrazza neighborhood.
Cortile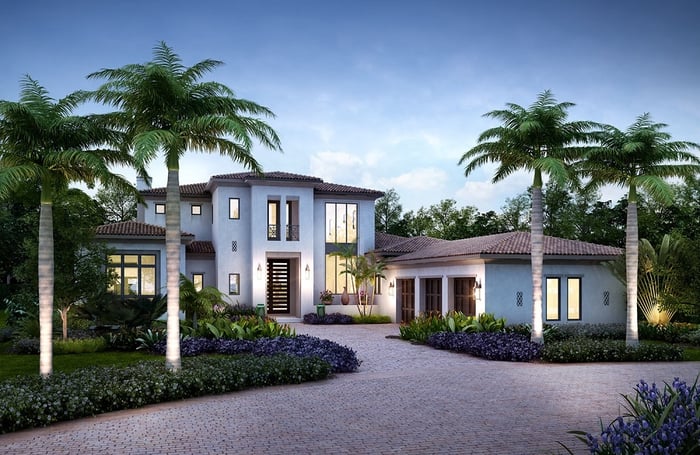 Cortile in Mediterra is a luxury single-family home and villa neighborhood located at the heart of Mediterra. It consists of 18 estate home sites and 14 luxury villa home sites set against golf, lake and preserve views, with only a select few remaining for new construction home options. Single-family estate home designs can range from 4,000 square feet to more than 8,000 square feet, each fully-customizable to meet your needs. Multiple model homes will be available for viewing upon completion, including the Catalina and the Sardinia estate homes. The Cordoba estate home and the Capriano villa home are currently open for viewing.
Learn more about the estate homes and villa homes available in our Cortile neighborhood.
Il Cuore
Il Cuore is best described as a private, gated enclave almost entirely surrounded by more than 50 acres of lush preserves, naturally encompassing homeowners with complete privacy. The entry gates transform this neighborhood into a gated community within the already stunning gated community that is Mediterra. Once those gates open, guests are welcomed by an extension of the classic Mediterranean elegance of Mediterra and are introduced to the only two home sites that reside in this luxurious neighborhood. The minimal availability of home sites offers exclusivity that is unmatched and a level of privacy that is heightened to extraordinary proportions. The first home site has already been sold, while the second home site, sitting at 1.51 acres, is currently available. It represents the sole opportunity to building a One-of-a-Kind estate model on one of the largest home sites in a Naples, FL gated community. Homes will be built at a minimum of 8,000 square feet under air with no maximum limit set to design your dream home and both homeowners will come together to create a Homeowners' Association specific to Il Cuore.
At Mediterra Naples, you can Have It All with a community that has been honored with the Collier Building Industry Association's Community of the Year 10 times and award-winning Mediterra homes for sale in Naples. Discover paradise and embrace the Florida lifestyle.