It's not just the lush beauty of the Mediterranean region of Europe scattered throughout the 1,700 acres of Mediterra. It's not just the nature preserves, lakes, parks, and open space. It's not even about the growing number of luxury amenities or the luxury homes in this country club community. What makes Mediterra so special is the combination of all of these things and more. Mediterra was created with a commitment to excellence and as time has passed, this mindset has been the catalyst leading to three Distinguished Emerald Club Awards, nine awards for CBIA's Community of the Year, the award for No. 1 Community in Florida for retirees by Best Retirement Destinations, and so many more. Discover Mediterra and discover what it feels like to Have It All.
The Mediterra experience begins with the 1,700 acres of nature preserves, lakes, parks, open space, and no more than 950 luxury homes upon completion. From the elegant fountain at the entrance to Mediterra to Il Coure - the exclusive crown jewel and the most private home site in the community - every design detail was thoughtfully executed to reflect the beauty of a Mediterranean wonderland. This is evident in the eight miles of trails and pathways linking to three themed parks. Parque Celestial highlights astrological elements for an intimate neighborhood park; Parterre Garden offers formal, sculpted gardens for a serene environment ideal for a romantic picnic or an afternoon of reading; and Calusa Play Park is an interactive children's park with an active play area with grassy hills, play equipment, a basketball half court, and a story-telling circle with a raised seat-wall and low bonfire pit.
To earn the title of one of the Naples area's most exclusive and sought-after country club community addresses, Mediterra features two Tom Fazio-designed golf courses, a prestigious and private 10,000 square foot beach club, and a 25,000 square foot Clubhouse, which is currently being expanded to 32,000 square feet. The Club at Mediterra its a dining and social gathering space that allows members to socialize in an environment fit for their luxury living lifestyle. Residents at Mediterra can revel in fine and casual dining prepared by an award-winning staff and exquisite service by team members that not only know your name, but also know your favorite wine or cocktail by heart. The member-owned Club's recent expansion includes al fresco seating options, a new outdoor fire pit and terrace, a redesigned Grille Room, and delicious pizza at The Tavern, and if that's not enough to boost camaraderie, the Club's regular and active calendar of events are sure to please.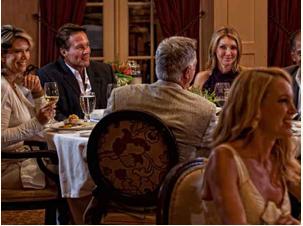 Adjacent to the Clubhouse is the Sport Club, where members can partake in more than 30 classes per week, a variety of programs, state-of-the-art equipment, and a friendly, knowledgeable, and professional staff. Whether you want to unwind in a yoga class, hit top speed in a spin class, take a dip in the pool, or get competitive with a tennis match on one of the seven Har-Tru tennis courts, the Sports Club has something for you. If you take a more laidback approach to fitness, you can also take advantage of the Club's Bocce program. This program was created in 2010 and now more than 500 members take part in the program annually, bringing together sports and golf members in a fun, social atmosphere. Mediterra members of all skill levels take part in Bocce with the use of the luxury golf community's beautiful, nationally recognized 'Bocce Garden' facility, set beside the Sports Club.
Yet another way to unwind while taking part in a sports activity is going out on the greens of our two Tom Fazio-designed championship golf courses. These golf courses are challenging, yet rewarding, and membership is limited to just 225 members per 18 holes to ensure tee time availability for members. Members can also enjoy the benefits of the Golf Learning Center, which offers the latest in technology and instruction.
Aside from the onsite amenities of our new home community, Mediterra also boasts of a 10,000 square foot, two-story Beach Club just a short drive away. At this unique facility, members can take advantage of 200 feet of private shoreline, a second-floor pool overlooking the Gulf of Mexico, casual indoor and outdoor dining, and exquisite concierge service so you don't have to lug everything to the beach. You can soak up some sun, splash around in the Gulf of Mexico, and have a delectable lunch without needing to plan ahead. The Mediterra Beach Club has taken care of all of the details for each and every one of them.
With Mediterra being more than 95 percent sold out, there are limited opportunities to live in the luxury home community. The remaining Naples Florida luxury homes in Mediterra are located among seven of the community's 21 neighborhoods. Less than seven homes are left in the remaining single-family estate neighborhoods and they all range from 4,000 square feet to more than 6,000 square feet, with the exception of Il Cuore which will house a fully custom design of your choice from 8,000 square feet to more than 15,000 square feet. View all of the fully-customizable floor plans, as well as a few of London Bay Homes' previously built, one-of-a-kind estate homes.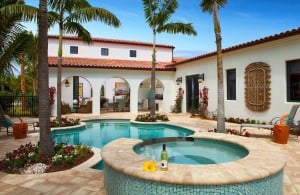 Most of the home sites available in Mediterra are for maintenance-free villa homes surrounded by glorious nature. These home sites can be found in Lucarno, Cortile, Terazza, and Cabreo. Lucarno and Cabreo offer the most available home sites, and each neighborhood offers a charming and sophisticated atmosphere with sparkling lakes and lush nature preserves. View all of the fully-customizable floor plans for Lucarno and Cabreo.
Whichever home site you choose, you'll be building with the best. London Bay Homes has designed and built many of Southwest Florida's finest luxury homes and brings an unparalleled level of customization and exquisite craftsmanship to each and every home built. Having just celebrated its 25th anniversary, this Naples custom home builder is well-equipped to design and build the home of your dreams with its in-house team of architectural and design experts and its signature Private Label Living process. This process ensures your new home is a perfect reflection of your distinct tastes and unique personality.
Find out for yourself how you can Have It All at Mediterra by scheduling your private tour. You can also download our brochure to learn more.