Mediterra was designed to replicate the lush beauty of the Mediterranean region of Europe and every inch of the new home community's 1,700 acres is reflective of that, including the luxury homes built and designed by our trusted partners: London Bay Homes and Romanza Interior Design. These award-winning teams are currently building and designing several Move-In-Ready model homes for prospective clients, but we were able to pull them away for a few minutes to bring you the hottest fall home trends for 2015. If your home is in need of some sprucing up or you're looking for a Mediterra home that is already designed for the times, let Romanza Interior Design guide you towards your happy place.
Let Your Accessories Tell Your Story
When done correctly, collectibles and antiques can bring sophistication to your home design and the latest fall trend allows you to show off your style with curated items presented in a way that reflects the life you have lived. Display your great grandmother's serving dish or your great grandfather's vintage humidor with pride or decorate the room with authentic souvenirs from your travels, like the copper coffee set from Turkey or the traditional Venetian mask from Italy. The accessories can be the focal point of a room, as illustrated by the study in our Capriano model.
The Art of Texture and Pattern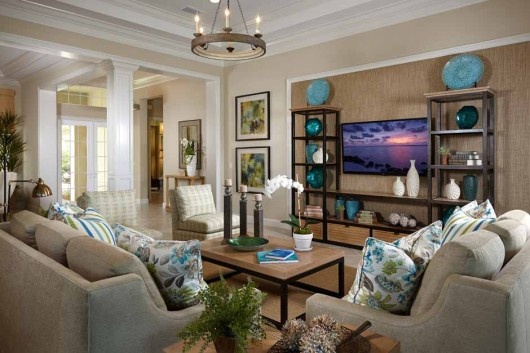 Coming out of spring and summer styles always leaves us with an abundance of color, but our design experts say that this season is all about textures and patterns. A neutral palette can be brightened up with bold patterns on throw pillows, rugs, or paintings for a great fall design; however you don't have to limit the patterns and textures to the accessories. In Mediterra's Bettina model, depth is added to the living room with a textured wall behind an entertainment center complete with wicker baskets to deepen the textural elements.
Neutral is the New Color, But Not the Only Color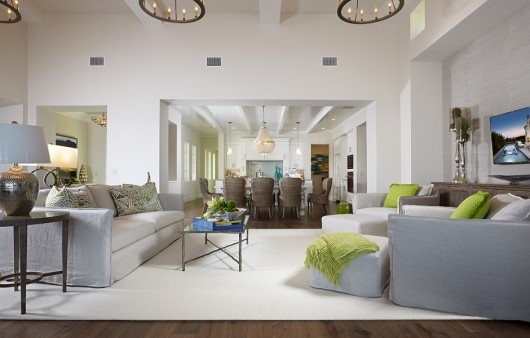 Remember all of the color left over from spring and summer? Don't throw everything out just yet! Fall trends are leaning towards a bounty of white and neutrals with just a pop of color, so feel free to reuse those bright candles and pillows to breathe life into your room. The living room of our Capriano model illustrates this technique with ivory paint and furniture, a shiny silver finished cocktail table, and an antique-silver finished chandelier brightened with the use of periwinkle and green in throw pillows, blankets, and accessories. Texture – remember that aforementioned trend? - is also brought into this room with the grasscloth wall behind the two armchairs.
One Great Piece of Furniture May Be All You Need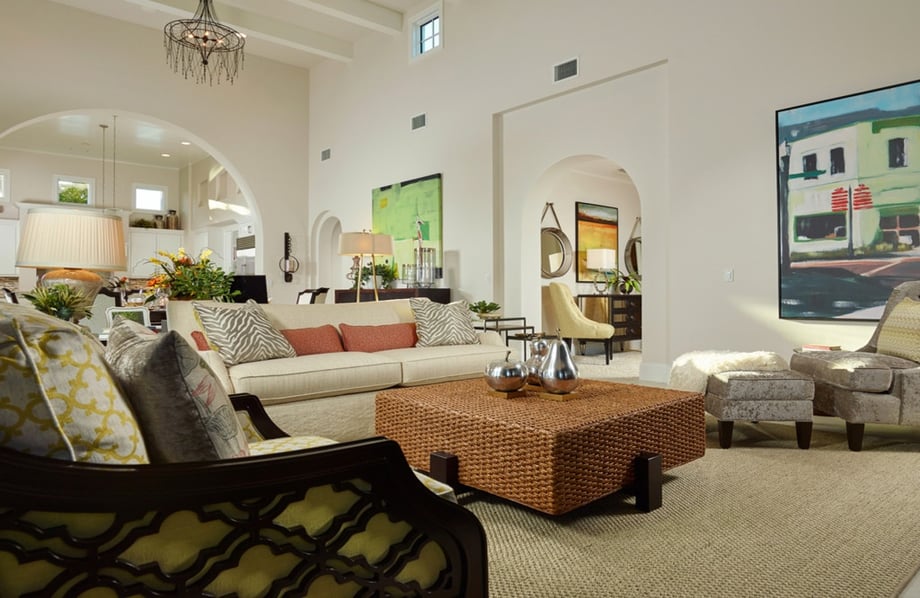 Another great fall trend is creating a focal point with the use of one or two amazing pieces of furniture that celebrate hand-craftsmanship, distinct design, or both. Our recently completed Eloro model home features a wicker coffee table that catches your eye the minute you walk into the family room, as well as a distinct armchair with a carved wood design and a bold and bright pattern on the cushion.
Fall is just around the corner, so if you're ready to make a change, the professionals at Romanza Interior Design are always available to assist you in your custom design needs. Like what you see in our Available Homes? Schedule your tour with our knowledgeable Sales Executives at Mediterra. We even have an unfurnished Angelica model that is waiting to receive a luxurious interior home design from its new owner.