Tennis, tennis, and more tennis! Mediterra's seven award winning, Har-Tru tennis courts are getting quite a workout with two great USTA events taking place within one month of each other, in addition to the full calendar of events put together by Naples' premier golf and beach club community.
On July 16, 2014, the USTA presented the U30 Slam Series event, "A Night at Wimbledon Cardio Tennis," for tennis players under 30. The event was the first of three events the USTA is hosting this summer to attract young adults to the wonderful world of tennis.
"The best thing about these events is that the concept was created by under 30 tennis professionals," said Laura Bowen, director of marketing at USTA Florida. "We asked them what we needed to do differently to attract younger players. They came up with the idea and we're simply providing the support."
Another great event will be held on Saturday, August 9, 2014, when the USTA will host the 1-Day Tiebreak Tournament at Mediterra. This tournament is designed to cut a two-day tournament down to 4-5 hours by setting up each match to be best of three "Match Tiebreaks," which is first 10 points.
"Many adults don't have the time to devote an entire weekend to play a tournament," said Mediterra's Director of Tennis Michael Baldwin, a member of the USTA Florida Adult Competition Special Project Team tasked with creating competitive events that are more practical and convenient to accommodate today's busy lifestyle.
"There's the cost factor too with travel and hotel expenses. One often drives a long way to play a match and if you lose and there's no consolation, that's it. If you win, your next match might be the next day. Many people like the whole tournament experience. I still love playing tournaments, but for many people it just isn't feasible. Unfortunately, many players therefore don't get the thrill of competition, the challenge and fun of playing new people, and the opportunity to earn a ranking. So our committee came up with some innovative formats that are basically compact tournaments played in about 4-5 hours rather than an entire weekend. And, players still get ranking points."
Play will include most levels (3.0-5.0 NTRP) divided by age (under-45 and over-45) and each player is guaranteed a minimum of two matches, with a goal of at least three matches for all players.
To learn more and to register, visit the USTA's Tennislink website and in the "Find a Tournament" search type "Mediterra." You can also call the Sports Club at Mediterra at (239) 254-3037.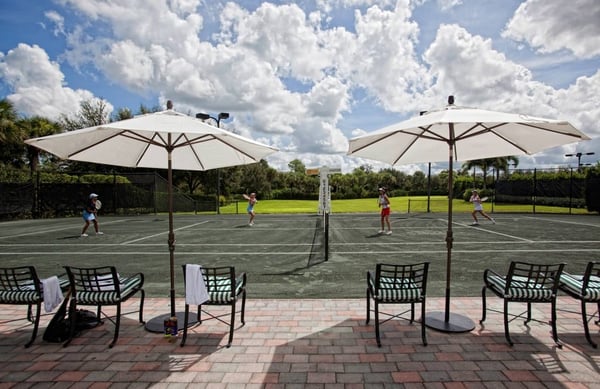 The Sports Club at Mediterra, named one of America's Healthiest Clubs by Prevo Health Solutions, was honored during the 32nd annual USTA Outstanding Facility Awards Program, which recognizes excellence in the construction and/or renovation of public and private tennis facilities. Mediterra's tennis facility includes seven full-size Har-Tru clay courts and a busy schedule of league play, round robins, lessons, clinics, and special events, including an EleVen tennis clinic hosted by Venus Williams in 2012. Aside from its seven soft 'Har-Tru' sub-surface irrigated courts, the luxury home community boasts many other amenities, such as themed neighborhood parks; eight miles of walking and jogging trails; a fitness complex with tennis and bocce courts, a pool and spa services; and the 32,000-square-foot clubhouse offering formal and casual dining prepared by a staff of award-winning culinary experts. The member-owned Club at Mediterra also features two Tom Fazio-designed championship courses and a private 10,000-square-foot Beach Club.
Download our brochure to learn more about Mediterra.