Grab your map and some comfortable shoes: It's time for the 2015 Parade of Homes season.
The first quarter of the year in Southwest Florida is high season, therefore this time of year is always earmarked for Parade of Homes events. During these events, prospective homeowners and guests will be able to view Move-In-Ready homes from Naples custom homebuilders and exquisite styles and furnishings. There is always a lot to take in, so we're getting you prepared for the task with our tips to make the most out of any Parade of Homes.
1. Get a Map
Not just any map will do, when you are planning on touring all of the homes in a parade, the association hosting the event will always put together a map that lists the homes available for viewing. Pick up your map a couple of days before the event so you can plan accordingly.
2. Plan Your Route
Now that you have your map, plan the best route. If there is a specific community that you prefer, start there and work your way through, plotting each home on your desired course. Planning ahead will allow you to hit every home in the most efficient way possible, taking into account that the Parade of Home covers multiple neighborhoods with multiple homes in each one. Mediterra is Naples' premier golf and beach club community, so make sure you make your way to see us!
3. Be Prepared for Any Type of Weather
Southwest Florida is known for its beautiful weather. The sun is almost always shining and there is not a flicker of snow anywhere, except for the winter festivals where they have snow machines shooting out shaved ice for our children's entertainment. It's always a good idea to wear cool clothing when you are going to venture outside, especially when you are going to be doing any type of physical activity.
Another good idea is to have an umbrella at your disposal. A rain cloud can stroll in quickly and shower us with a sprinkle or a heavy rain, albeit for five minutes or two hours. Remember to have an umbrella handy for such occasions.
4. Wear Comfortable Shoes
Making sure you see every model home in every community is going to take some time and great amounts of walking. Comfort is key when your feet are getting put to the task. Plan on wearing your most comfortable athletic shoes for the journey. Your feet will thank you.
5. Arrive Early
If you have a specific home or community in which you are especially interested, plan on arriving there first. Arriving early will ensure you get a parking space close to the homes and will allow you to avoid the larger crowds that tend to come during peak parade times (about one to two hours after the start of the parade).
6. Ask Lots of Questions
Each model home will have a sales executive or representative available to answer any and all questions you may have about the home. This is your time to take advantage of the wealth of knowledge available during these events. Ask about the developer/builder, the community, the design, unique features of the home, green building techniques, and any other questions you may have about the community, the home, and the team behind it. Most importantly, don't hesitate to speak to one of Mediterra's knowledgeable sales executives for all of the details on our highly-anticipated upcoming models.
7. Take Notes
As previously mentioned, there are a variety of homes showcased during a parade. Keeping a notepad and pen handy, or your smartphone for electronic notes, will allow you to take notes of the model homes that are of special interest to you. Remember to write down the name of the model, the builder, and the community in which it is found, as well as any highlights of the home. It is also helpful to write down the name of the sales executive with which you spoke so you can contact them after the tour with any follow-up questions.
8. Compare and Conquer
Once you return from your home viewing adventure, go through all of your notes and list the pros and cons of the homes you liked the best. Write down any follow-up questions you may have and call the sales executive to schedule a private tour of your favorite homes and decide which one is best for you.
To see the models already completed, take a peek at the 2015 Parade of Homes schedule: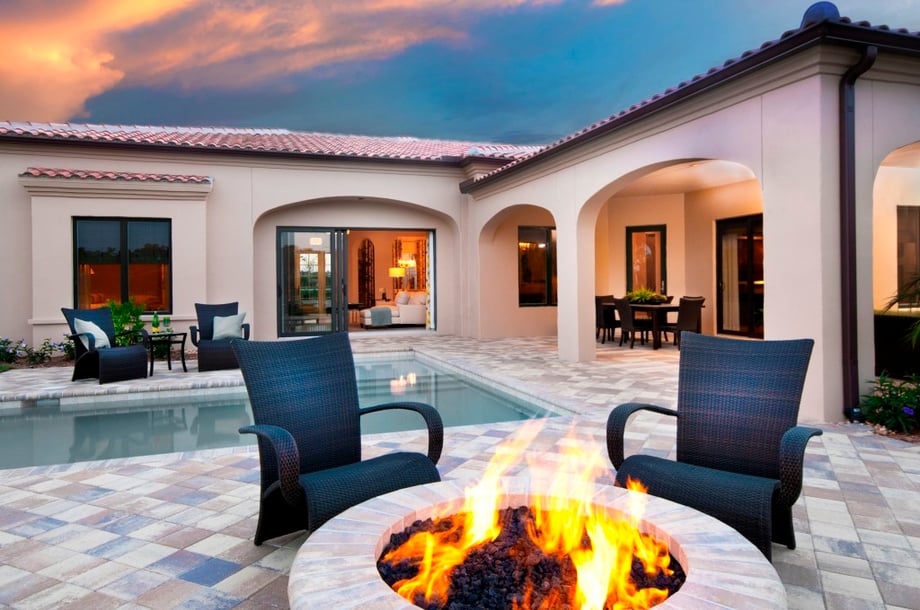 Lee BIA Parade of Homes
Parade: Every Thursday through Sunday starting February 12, 2015 and ending on March 1, 2015.
Model Homes: Angelica and Bettina at Mediterra
Note: Mediterra model homes will only be available for viewing from 10am-5pm on Saturdays and 12pm-5pm on Sundays.
Collier Building Industry Association Parade of Homes
Parade: Every Friday-Saturday (10am-5pm) and Sunday (12pm-5pm) starting March 13, 2015 and ending on March 22, 2015.
Model Homes: Angelica and Bettina at Mediterra
Note: Mediterra model homes will only be available for viewing from 10am-5pm on Saturdays and 12pm-5pm on Sundays.
Contact us to learn more about our homes for sale in Mediterra or for more information on any Parade of Homes event in which we are participating.