Prospective Mediterra homeowners will get another opportunity to reside within walking distance of Mediterra's beautiful and lush gardens with London Bay Homes' new Caminetto neighborhood.
Located just moments from Mediterra's picturesque Parterre Garden, the new Caminetto neighborhood will offer 15 single-family home sites when it formally opens for sales in October 2016. Each home site will provide a view of natures preserves and the fountained lakes for which the Garden Neighborhood in Mediterra is known. With nature as the design's main focus, the new custom homes located in this luxury community neighborhood will be constructed around the natural landscape and preserve, starting with the Carmela and Sonoma model homes in early fall 2016.
In addition to the floor plans shown in these model homes, there will be three more floor plans available for a total of five floor plans offered in the new Caminetto neighborhood by Naples custom homebuilder, London Bay Homes. Floor plans will range from 3,500 to 5,000 fully-customizable square feet and homeowners will be able to choose from three architectural styles, including transitional interpretations of Mediterranean and coastal styles.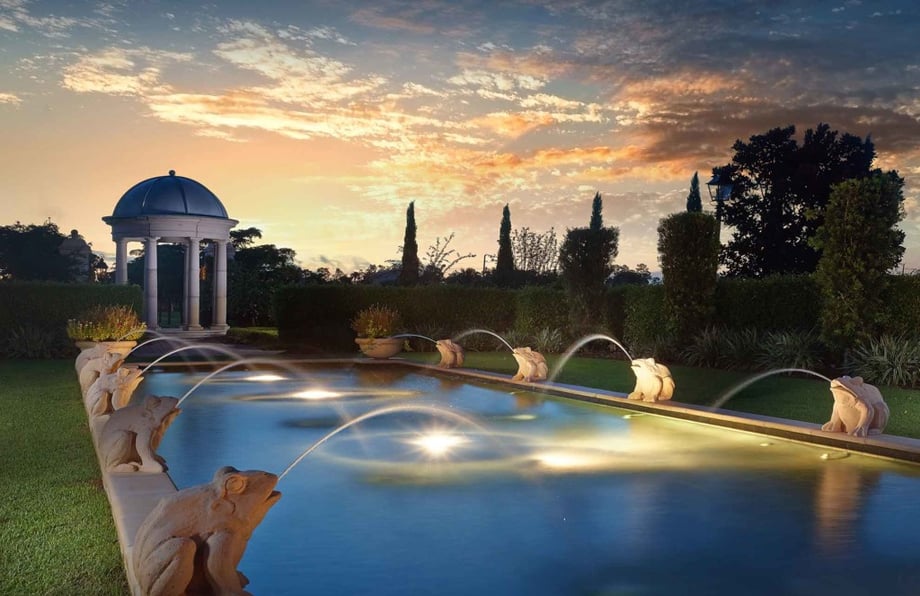 Homeowners will find peace and tranquility being located in the Garden Neighborhood with the community's three themed parks accentuating the Mediterranean-inspired design of this luxury community. The nearby Parterre Garden is Mediterra's largest neighborhood park and offers formal gardens, fountained lake views, sitting areas, and a large reflecting pond with decorative stone frog waterspouts. Parque Celestial highlights astrological elements for an intimate neighborhood park and Calusa Play Park is an interactive children's park with an active play area with grassy hills, play equipment, a basketball half court, and a story-telling circle with a raised seat-wall and low bonfire pit.
Also adjacent to the Garden neighborhood's themed parks are London Bay Homes' Lucarno and Cabreo neighborhoods. Lucarno is a maintenance-free luxury villa neighborhood located in the Naples premier golf and beach club community. Each home site is situated on one of the neighborhood's glistening lakes with a view overlooking lush gardens. The distinctive Old World flavor of Lucarno has been matched by London Bay Homes' charming villa floor plans, ranging from 2500 sq. ft. to more than 4,000 sq. ft. The homes' outdoor balconies, private patios, covered loggias, and courtyards offer an outdoor lifestyle suited to the majestic views associated with this tranquil 71-home neighborhood in Mediterra.
Adjacent to miles of landscaped strolling trails, Cabreo is just one of the maintenance-free villa neighborhoods in Mediterra, nine-time winner for Community of the Year. Featuring only 23 home sites, Cabreo offers three brand-new floor plans offering 2,500 to more than 4,000 sq. ft. Each home will feature sparkling lake and natural preserve views to complement the rustic Mediterranean look of Cabreo.
Contact us to learn more about the new Caminetto neighborhood in Mediterra, or schedule your tour to see the luxury community for yourself and choose your favorite home site.