When you're building a luxury custom home, you want to be sure you are building it with an experience luxury home builder that will cater to your needs, meet your expectations, and deliver a home that is suited to your luxury living lifestyle. Part of Mediterra's success as a new home community stems from partnering with reputable home builders that do just that, like our preferred custom home builder, London Bay Homes.
London Bay Homes' goal is to provide clients with a home that perfectly reflects their distinctive tastes and individual personalities, while catering to their specific lifestyle. Their Private Label Living process ensures each client's new home will be as unique as they are with the true luxury of a tailored fit for every maintenance-free villa, single-family estate home, or one-of-a-kind custom home for our clients. This is why their most recent homeowners chose to build their luxury custom home with them; they were confident that London Bay Homes could meet the unique requirements of their highly custom home and execute the design and build process with a high level of quality.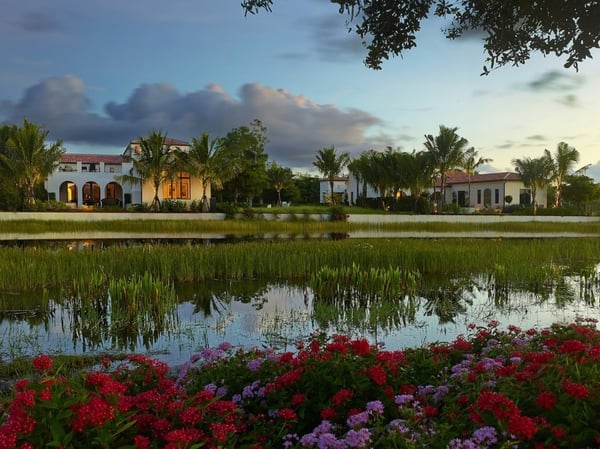 Their clients, a couple with a young child and an adopted dog, had lived in their home for years, but found that it was lacking due to its age and the lack of garage space they needed. When they decided an upgrade was in order, they figured out exactly what they wanted in their new home and began searching for a community that was still in their child's school district, fit their home criteria, and already featured luxury custom homes from experienced luxury home builders.
For their new home, the new homeowners chose a modified version of London Bay Homes' Isabella floor plan, a fully-customizable floor plan that features an expansive outdoor living space. The open great room was perfect for entertaining during the frequent visits of family and friends and the homeowners loved that, as experienced luxury home builders in Sarasota and Naples, London Bay Homes modified the floor plan to add bedrooms and a play room for their child.
Since the homeowner runs a vintage auto racing group and loves to tinker with cars at home to spend more quality time with his family, the Isabella also got an upgrade in garage space, adding two three-car garages to accommodate the homeowner's extensive fast car collection and provide a basketball court for the fun-filled basketball games between family members. The first garage is equipped to fit a total of six cars (three on the ground and at least three more on lifts) and the second garage has a 22-foot ceiling and a sport floor with a basketball half-court to create a fun and safe environment in which their child and his/her friends can play. A 30-foot wide by 10-foot high sliding glass door opens the basketball court to the lush preserve and small pond view found at the rear of the 3/4 acre home site in their new home community and allows refreshing breezes to flow through the space. The basketball court is flanked by an added weights room on one side and a row of bleachers on the other to make those basketball games even more exciting with "fans" cheering from the sideline.
Guests will not have to compete with the athletes of the family for parking space as the homeowners and John Orgren, the architect at London Bay Homes that worked on this project, designed a second driveway so guests can park in an open-air, landscaped auto court between the two garages at the grand entrance tower.
When the homeowners are not shooting hoops or working on a vintage model, they will be able to relax and spend quality time with each other in their new four bedroom, four bath single-family home. The custom Isabella home features contemporary styling with clean lines and generous glass areas that allow the family to take in the peaceful preserve views from the back of the home and tranquil lake views from the front.
The custom home also features an oversized office for two that has a view of the pool, lake, and adjacent preserve, a play room with built-in storage and play cabinetry for their child, built-in dog den cabinetry perfect for storing Fido's well-earned treats and toys, and a generous covered outdoor living area with a summer kitchen to make the most out of every summer vacation.
[embed]https://youtu.be/6qiM8iXc_Ng[/embed]
The luxury custom homes built by London Bay Homes fit in perfectly with the luxury style and amenities featured in our award-winning community. Mediterra is a nine-time winner of the CBIA's Community of the Year award, a three-time recipient of the Distinguished Emerald Club award, the 2013 Aurora Award winner for Best Residential/Mixed Use Land Development in the Southeast Region, the recipient of the No. 1 community in Florida for retirees by Best Retirement Destinations, as well as a recipient of many other prestigious awards. We currently offer an array of luxury amenities, including the two Tom Fazio-designed golf courses, private 10,000-square-foot Beach Club on the Gulf of Mexico, and 25,000 square-foot, member-owned Clubhouse. The member-owned Club at Mediterra offers fine and casual dining; unique, planned social activities; a first class Sports Club with fitness trainers, seven Har-Tru tennis courts, a fitness center, bocce courts, a smoothie bar and a full schedule of classes; and an outdoor bar and clubhouse. Other amenities include themed neighborhood parks; eight miles of walking and jogging trails; a fitness complex; and swimming pool and spa services.
Schedule your private consultation with one of our knowledgeable sales experts to learn more about how London Bay Homes can design and build the home of your dreams at Mediterra, where you can Have It All.