In 2014, the USTA recognized that many tennis players do not have the time to devote an entire weekend to a tournament, leaving many of them without the thrill of competition and the challenge and fun of playing new people. Tasked with creating competitive events that are more practical and convenient to accommodate today's busy lifestyle, the USTA Florida Adult Competition Special Project Team designed a tournament that would cut a two-day event down to 4-5 hours. The USTA 1-Day Tiebreak Tournament was born.
"Mediterra was the first to ever host a USTA-sanctioned Tiebreak Tournament last summer. Since then, the best of three, 10-point tiebreak format has rapidly gained popularity around the state," said Mike Baldwin, Mediterra's USPTA director of tennis. "This type of tournament is really fun and guarantees that each player will have at least two matches. Players also appreciate the convenience of a one-day tournament rather than a weekend tournament with incurred travel and hotel expenses."
More than 80 players in south Florida came together for the second annual Tiebreak Tournament, all competing for division championship titles and more than $1,500 in prize money. Play included most levels (3.0-5.0 NTRP) divided by age (under-45 and over-45) and each player was guaranteed a minimum of two matches, with a goal of at least three matches for all players. Players from 12 years old up to in their 70s showed up for their turn on the court.
"Many who participated made new friends in the process and looked forward to participating again next year," added Michael Baldwin, Mediterra's Director of Tennis. "It was great to hear players excited about the tournament and requesting that Mediterra hold more of these events."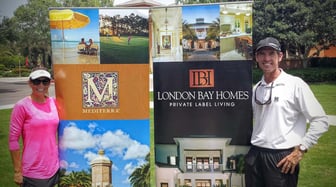 Mediterra strives to create a fun environment for members and guests to live a healthy and active lifestyle, a fact made evident by its growing list of luxury amenities. Its tennis program alone has been honored with the designation of top new outdoor tennis facility in the country by the United States Tennis Court & Track Builders Association and Tennis Industry magazine. It was further honored during the 32nd annual USTA Outstanding Facility Awards Program, which recognizes excellence in the construction and/or renovation of public and private tennis facilities. The tennis facilities include seven award winning Har-Tru tennis courts, five of which are lighted. One of the tennis courts is a unique rounded court surrounded by grass-layered stadium seating, lush landscaping, and stone detailing. This court not only allows for more physical playing room, but it also allows Mediterra to host larger tennis matches, like the USTA-sanctioned event just held. Mediterra also boasts a comprehensive tennis program created by Mediterra's Director of Tennis, Michael Baldwin. Whether you are just learning the game, introducing your children/grandchildren to the sport, or taking part in some friendly competition, the tennis program will fulfill your every need with leagues and lessons for all ages and abilities, as well as special events such as social mixers, junior tennis camps, clinics, and tournaments. Venus Williams even hosted an EleVen tennis clinic in 2012. If you are a little rusty, you can always sign up for private and semi-private lessons, have a crack at the ball machine for extra practice, or get a video analysis of your play to refine your skills.
Tour Mediterra and see why it was given the title of one of America's Healthiest Clubs, ranking it among the top 10 percent of private clubs for its commitment to fitness and wellness for members and staff. You can also learn more about the tennis program, as well as the many other luxury Mediterra amenities by contacting us.