The Club at Mediterra has announced that our Naples FL golf course was recently recognized - and made history - for one of the many renovations and improvements made to the exclusive new home community's luxury amenities.
Mediterra Naples' Tom Fazio-designed golf course has become the world's first 36-hole, private Audubon International-Certified Silver Signature Sanctuary to regrass its tees, fairways, and roughs with Platinum TE paspalum turf grass. Overseeing the renovation and regrass were Tom Fazio, who initially designed the courses in 2001, and Tim Hiers, Mediterra Naples' Director of Agronomy.
For those who do not know what Platinum TE paspalum turf grass is, it is a naturally selected, certified, and licensed emerald-green turf grass that delivers unsurpassed playability and appearance with the darker green color for exceptional striping, better greens speeds for exceptional ball setup and putt-ability, and superior tolerance to low light intensity conditions for cloudy weather. It also has excellent salt tolerance and an efficient use of nitrogen, which cuts down on maintenance costs, and a deeper root system and very vibrant rhizome system that recovers from divots rapidly. This all translates to a better golfing experience for all of our golf members.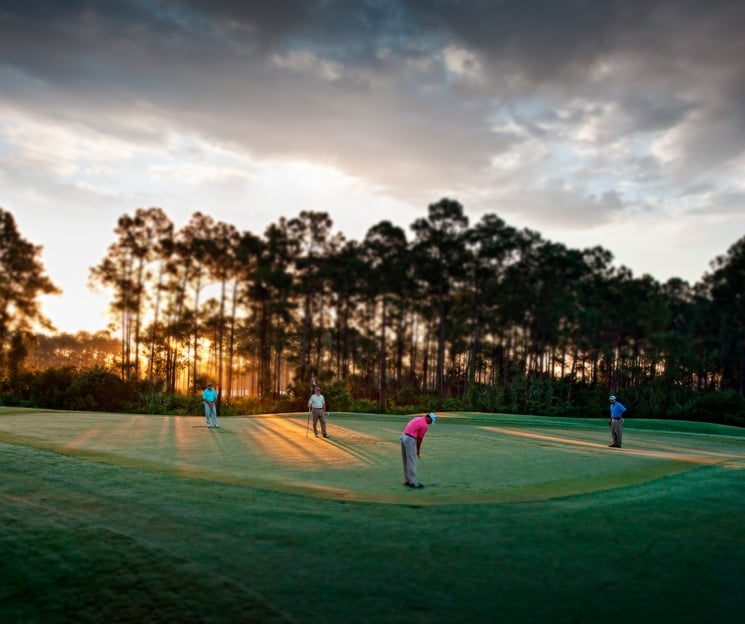 Residents of our exclusive new home community will be able to enjoy the new Platinum TE paspalum turf grass, in addition to the new irrigation system, new bunkers, two new pump houses, an improvement of airflow and sunlight, and improvements to the driving range made as part of our recent renovations to the Club at Mediterra's luxury amenities.
Golf membership at Mediterra Naples is limited to just 225 members per 18 holes to ensure tee time availability and members can also enjoy the benefits of the Golf Learning Center, which offers the latest in technology and instruction. Currently, the waiting time for a golf membership is one year when you purchase an existing home in Mediterra. However, if you purchase a new construction home, Mediterra has reserved a membership opportunity just for you! Find your new dream home and have instant access to your golf membership opportunity and the exquisite new improvements to the Tom Fazio golf courses, as well as the many other projects encompassed in Mediterra's complete renovation.
Download our brochure to learn more about Mediterra, or schedule your private tour of our exclusive new home community and its award-winning luxury model homes.