Living in a golf club community is a dream for many people, especially if you enjoy spending your days with a club in your hand and a ball sailing over the fairway and landing on the green. Of course, playing a round of golf whenever you want isn't the only benefit homeowners receive from living in a community with a stellar golf course. Here are a few other reasons prospective homeowners are seeking a golf course home address, as well as a little more information on why you'll want to play golf at any given time.
Landscaped Luxury
When you live in a pristine community, HOAs are put in place to maintain the look and feel. Well-maintained landscape and a common architectural and design theme will create continuity and a clean aesthetic to uphold the level of luxury you come to expect from a private club community. At Mediterra, much care is put into maintaining the lush and beautiful landscape designed to reflect the Mediterranean region of Europe and the community's three themed parks accentuate that design by offering dedicated spaces to enjoy its beauty. Parque Celestial highlights astrological elements for an intimate neighborhood park; Parterre Garden offers formal, sculpted gardens for a serene environment ideal for a romantic picnic or an afternoon of reading; and Calusa Play Park is an interactive children's park with an active play area with grassy hills, play equipment, a basketball half court, and a story-telling circle with a raised seat-wall and low bonfire pit.
Clubhouse
Whenever there's a golf course, you can be sure that a clubhouse is not that far behind. The clubhouses for these types of communities are always a convenient place to gather with fellow residents and friends for great food, refreshing drinks, and a plethora of activities. The Club at Mediterra consists of 58,000 square feet of dining and social gathering space that allows members to socialize in an environment fit for their luxury living lifestyle. Residents at Mediterra can revel in fine and casual dining prepared by an award-winning staff and exquisite service by team members that not only know your name, but can also serve your favorite glass of wine without you saying a word. The Club has recently expanded to include al fresco seating options, a new outdoor fire pit and terrace, a redesigned Grille Room, and delicious pizza at The Tavern, and if that's not enough to boost camaraderie, the Club's regular and active calendar of events are sure to please.
Additional Luxury Amenities
For those residents that haven't been bitten by the golf bug, communities with golf course homes and a luxurious clubhouse will almost always have many luxury amenities to keep you happy while engaging in a variety of activities. If you don't want to take a swing, but still want to keep your heart healthy, the Sports Club is where you can go to achieve a fit and active lifestyle with over 30 classes per week, a variety of programs, state-of-the-art equipment, a friendly, knowledgeable, and professional staff, and nearly 300 participating members. Whether you want to unwind in a yoga class, hit top speed in a spin class, take a dip in the pool, or get competitive with a tennis match utilizing our top-rated tennis program on one of the seven Har-Tru tennis courts, the Sports Club is sure to please. If you take a more laid-back approach to fitness, you can also take advantage of the Club's Bocce program where members of all skill levels take part in fun with the use of the luxury golf community's beautiful, nationally recognized 'Bocce Garden' facility, set beside the Sports Club.
Exercise is important, but it isn't everything, so the community's 10,000 square foot, two-story Beach Club will help with that full day of relaxation by encompassing beach resort living through 200 feet of private shoreline, a second-floor pool overlooking the Gulf of Mexico, casual indoor and outdoor dining, and exquisite concierge service.
Did We Mention You Can Play Golf Anytime?
Yes, the first thing that comes to mind when discussing golf club communities is the convenience of playing the sport itself. Golf communities provide instant access to their golf courses and usually have optimal tee times for their members' benefit. Mediterra features two Tom Fazio-designed championship golf courses that are both challenging and rewarding. Membership is limited to just 225 members per 18 holes to ensure tee time availability and members can also enjoy the benefits of the Golf Learning Center, which offers the latest in technology and instruction.
Luxury Golf Course Homes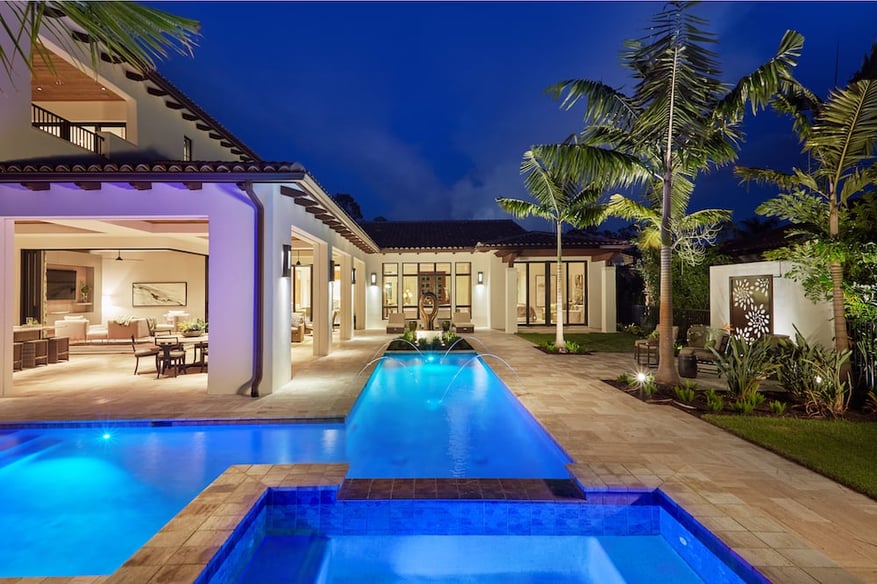 Owning a golf course home is usually synonymous with owning a luxury home, so an almost instant benefit of researching a golf community is the increased odds of finding a home that matches your luxurious lifestyle and is built by a respected home builder. Mediterra's preferred builder, London Bay Homes, has built many of Southwest Florida's finest homes and was chosen as America's Best Builder in 2008. Celebrating more 30 years of continued excellence, this Naples custom home builder offers many luxury villa and estate floor plans that are all fully-customizable to reflect your needs and wants. If a One-of-a-Kind home is what you have in mind, their in-house team of architectural and design experts will develop a home that will be as unique as you are.
Start your search for an ideal home in a private golf club community or download our brochure to learn more about Mediterra.