Ask any Realtor and they will tell you that water views are coveted in almost any geographical area. Homeowners love the backdrop a pond, lake, or ocean creates and they also love the uptick in their property value when the words "waterfront" or "lake view" adorn their property's description. If the increase in property value to this limited resource isn't enough to sway you, the sheer beauty and tranquility of the setting may just change your mind.
Lake view homes take the aesthetics of your luxury home and expand upon it with an outstretched view of sparkling water. This mesmerizing setting complements your outdoor living area to create a tranquil environment for entertaining guests, escaping the hustle and bustle of city life, and ensuring privacy in a society where homes seem to butt up against each other to make room for additional abodes.
Living on a lake will also introduce real nature sounds for enhanced serenity, as opposed to the electronic versions offered at any department or drug store. Take advantage of nature's radio as the gentle breeze not only cools you down, but also creates soothing sounds with the water lapping against the lake's edge. You'll also be able to hear the sounds and enjoy the sights of animals as birds soar through the sky singing their joyous song and fish swim and jump out of the water in hopes of snatching their lunch from the air. Yes, fish and birds will snack on the insects and their eggs, offering a natural repellant against those pesky bugs.
Lakeside Living in Lucarno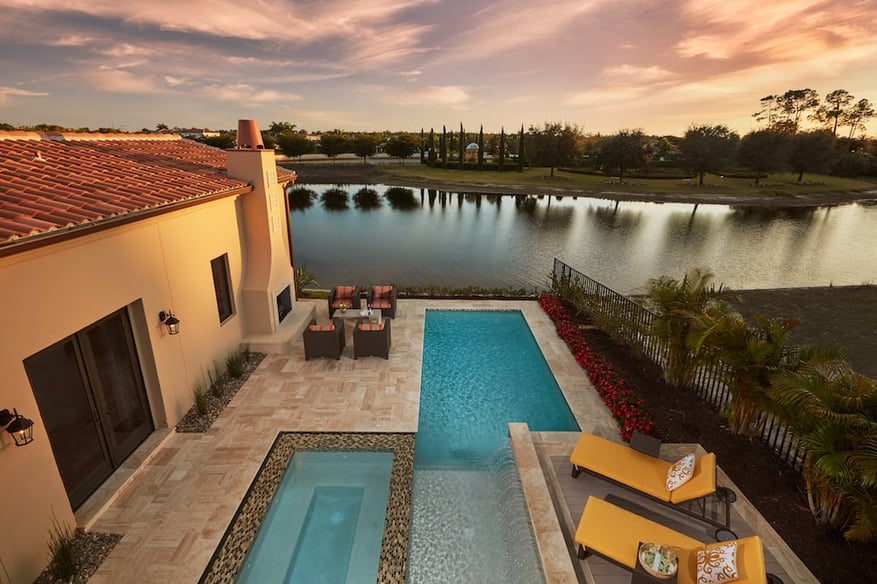 Lucarno, a maintenance-free, luxury villa neighborhood in Mediterra, offers all of these benefits and more with sparkling lakes, glorious gardens, and majestic fountains. For example, Mediterra's Parterre Gardens is located within walking distance of the homes in Lucarno and includes formal sculpted gardens, reflection pools, fountains, and quiet sitting areas poised perfectly to sweeping vistas. You'll have ample time to enjoy it all too with landscaping and lawn care covered through the homeowners association.
London Bay Homes, the exclusive builder in Mediterra, offers luxury lake view homes ranging from 2,500 to more than 4,000 sq. ft. Each plan is designed with numerous options that allow buyers the opportunity to customize their home by extending lanais and garages, adding bedrooms, dens or studies, and selecting indoor and outdoor fireplaces, summer kitchens, loggias, porticos, and wine cabinets.
Currently, London Bay Homes is building a new move-in-ready home in the peaceful setting offered at Lucarno. View photos and floor plans for the Tortuga.
Download our brochure to learn more about Mediterra or schedule a private tour to view the magnificent lakeside setting in Lucarno, Cabreo and Caminetto.