Two prestigious Distinguished Emerald Club Awards, the 2013 Aurora Award for Best Residential/Mixed Use Land Development, eight CBIA Sand Dollar awards for Community of the Year, and various other recognitions of excellence make Mediterra the most sought after Naples luxury community. Although these titles aren't news to anyone familiar with Mediterra, they do offer some of the reasons it is now more than 95 percent sold out.
Available home sites can only be found in seven of the community's 21 neighborhoods, with a number of opportunities existing for new model homes designed and constructed by America's Best Builder, London Bay Homes, and furnished by the award-winning team at Romanza Interior Design. Both single-family and maintenance-free villa neighborhoods are available, but the time to find your perfect home is running out, as several of the remaining neighborhoods are selling out.
Single-Family Estate Options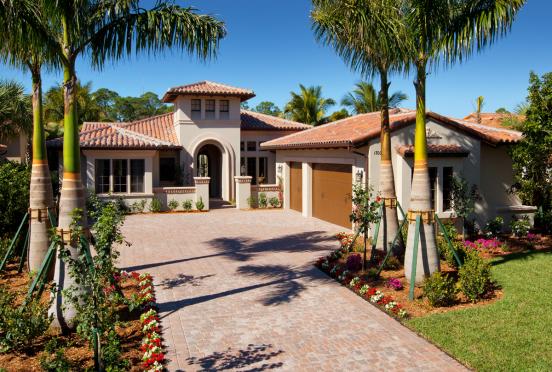 Among the single-family neighborhoods available are Cortile, Serata, Verona, and Il Cuore. Cortile offers the most available single-family home sites with only seven out of the neighborhood's 46 villa and single-family estate homes remaining. Each home site overlooks a lake, golf course, or nature preserve and is highlighted by maintenance-free living. Il Cuore offers the utmost in privacy with a second gate at the entrance of this two-home neighborhood. One home site is already sold, but the remaining Il Cuore home site is Mediterra's largest available property: a 1.5-acre site surrounded by more than 50 acres of nature preserves.
Homes in the remaining single-family estate neighborhoods range from 4,000 square feet to more than 6,000 square feet, with the exception of Il Cuore which will house a fully custom design of your choice from 8,000 square feet to more than 15,000 square feet. View all of the fully-customizable floor plans, as well as a few of London Bay Homes' previously built, one-of-a-kind estate homes.
Villa Home Options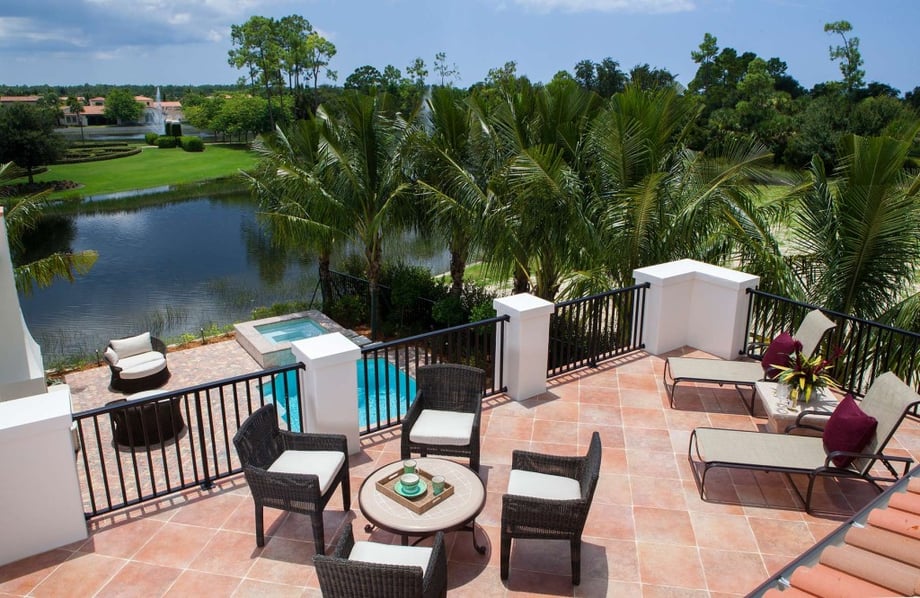 Most of the home sites available in Mediterra are for maintenance-free villa homes surrounded by the glorious nature in Mediterra. These home sites can be found in Lucarno, Cortile, Terazza, and Cabreo. Only four villa home sites are left in Cortile and all of them are planned for model homes, including the two Girona models currently under construction. Lucarno and Cabreo offer the most available home sites, and each neighborhood offers a charming and sophisticated atmosphere with sparkling lakes and lush nature preserves.
Lucarno is a 71-home luxury villa neighborhood with a distinctive Old World flavor. Homeowners have flocked to this maintenance-free neighborhood with cobblestone streets, lakes, and gardens, allowing it to achieve its 42nd sale and marking it as 70 percent sold. Floor plans in Lucarno range from 2,500 square feet to more than 4,000 square feet. The homes' outdoor balconies, private patios, covered loggias, and courtyards offer an outdoor lifestyle suited to the majestic views of this tranquil neighborhood. London Bay Homes currently has two model homes in Lucarno: the recently completed Eloro and the soon-to-be-completed Capriano. View all of the fully-customizable floor plan options for Lucarno.
Cabreo is London Bay Homes' newest villa neighborhood and lies adjacent to miles of landscaped strolling trails. A 23-home site neighborhood, Cabreo offers quaint villas with sparkling lake and nature preserve views to complement its rustic Mediterranean look. Floor plans range from 2,500 square feet to more than 3,200 square feet and offer multiple elevations for classic Mediterranean-inspired architecture with arched windows and entries, decorative medallions, and cast stone detailing, or more clean-lined facades with rectangular windows and shutters.
Two model homes are available for viewing in Cabreo with a third currently under construction to showcase all three of the new floor plan options available.
Build with the Best
London Bay Homes is the exclusive builder in Mediterra and is honored as one of only two companies named America's Best Builder by Builder Magazine in 2008. The secret to their success is their design and construction process aptly named Private Label Living. This refined process was developed from their commitment to the highest possible level of personal service for every client they serve.
Learn more about London Bay Homes.