If you're searching for your dream home in Naples, FL, take advantage of the Collier Building Industry Association's (CBIA) 2017 Parade of Homes, where Mediterra is featuring four luxury new model homes for your viewing pleasure.
Parade of Homes events are the perfect opportunity for prospective homeowners to view luxury model homes designed and built by luxury custom homebuilders in the area. Find your perfect home during this multi-site event by visiting Mediterra Naples, 10-time winner of the CBIA's Community of the Year award on Saturday from 10:00 a.m.-5:00 p.m. and on Sunday from 12:00 p.m.-5:00 p.m. Get your sneak peek by reading about our Mediterra homes for sale before coming to view them in person, and make sure you write down any questions you may have on the home so you can ask our friendly and knowledgeable staff during your visit.
The Bettina at Mediterra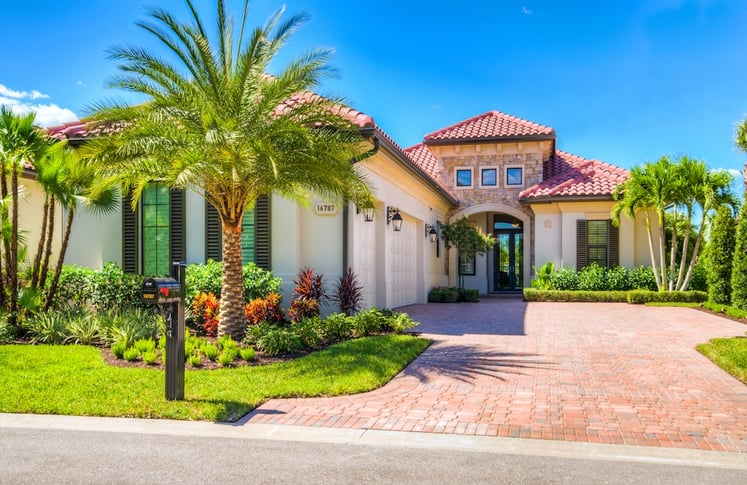 The Bettina is a lakefront villa home in the Cabreo neighborhood at Mediterra and is located just a short walk from Mediterra's formal Parterre Gardens with lush flora, multiple water features, relaxation benches, and walking paths. It features four bedrooms and four bathrooms in its 3,110 square feet of air-conditioned living space. The fully-furnished villa model emphasizes openness, combining the great room with the adjoining dining room, kitchen and café. Sliding glass doors in the great room and café lead to the covered outdoor living area that includes ample sitting and dining areas, in addition to a summer kitchen.
The Capriano in Cortile at Mediterra
There are two Capriano models available for viewing during the 2017 Parade of Homes, and this particular model is located in the coveted Cortile neighborhood at Mediterra and was a finalist for the CBIA's Overall Excellence in Construction and Design award in the $3,501,000 - $4,000,000 category. The maintenance-free villa home features 4,493 A/C square feet an open floor plan with four bedrooms, four bathrooms, a great room, an adjoining wine bar, and a library with pocket sliding glass doors that open to an outdoor living and kitchen area. This version of the home also showcases the floor plan's connection with outdoor areas with views from the great room including the custom pool's cascading waterfall fountain and spa, nature preserves, fire pit, and pergola adjacent to the pool deck. The second floor sun deck also offers views of the pool and preserve.
View the Capriano model home in Cortile.
The Capriano in Lucarno at Mediterra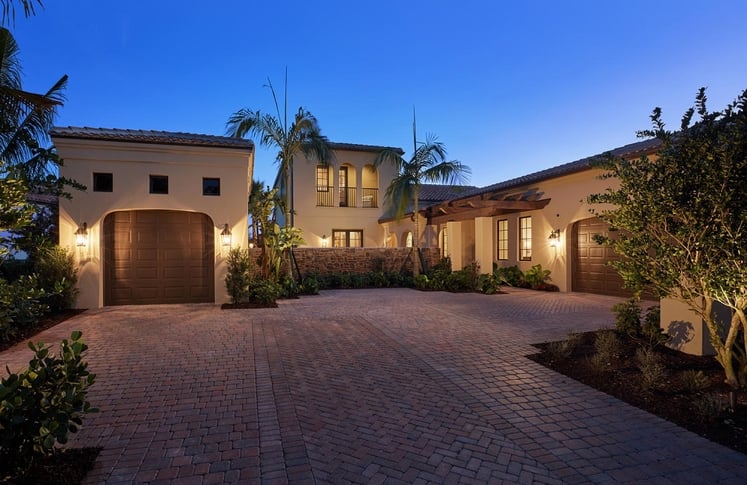 As the winner of the CBIA's Overall Excellence in Construction and Design award in the $2,501,000-$3,000,000 category, the second Capriano in the 2017 Parade of Homes is a luxury, two-story villa model featuring four bedrooms and four bathrooms in its 4,402 square feet of living space. It is located in Lucarno, a 71-home maintenance-free villa neighborhood in Mediterra that is reminiscent of an intimate European village with cobblestone streets, lakes, and gardens. The Capriano home features a soft contemporary look created by Romanza Interior Design's Jennifer Stevens, who used furniture forms, lighting fixtures, wood and metal tones, and bright accents of green, orange, melon, and yellow to create a tranquil environment in the home's open spaces. Gold lighting fixtures, a patterned area rug, and bright orange, melon, and green cushions add to the appeal of the unique contemporary design in the home's main living space.
View the Capriano model home in Lucarno.
The Isabella Two-Story at Mediterra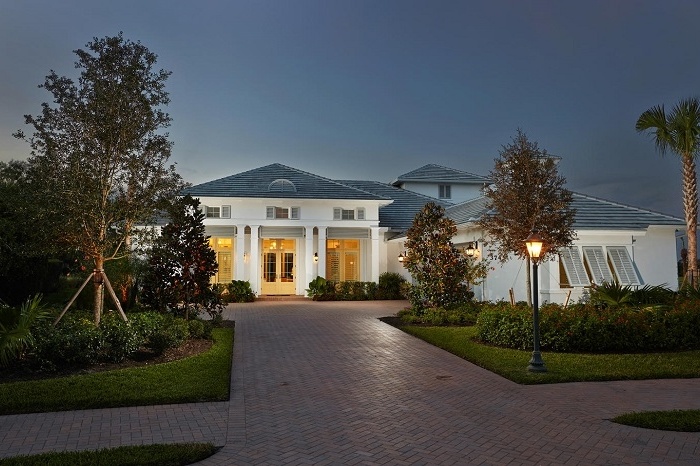 One of London Bay Homes' most popular floor plans, the Isabella II, has been a prime choice for many London Bay Homes clients due to its comfortable design and expansive outdoor living space. This version of the floor plan takes it to another level with a second story that adds even more space and luxury than ever before.
With the new second story, this Isabella Two-Story is equipped with a fourth bedroom and a serene sitting area with a covered balcony for those relaxing nights where a glass of wine and a good book is all you need to unwind after a long day of invigorating activities at Mediterra. The additions will allow for 4,265 square feet under air and a total of 6,353 square feet once the Florida-friendly outdoor living space and three-car garage are added.
Find your dream home during the 2017 Parade of Homes, or schedule your tour to learn more about these and other Mediterra homes for sale.