Those tediously tiring stairs. That noise from clomp stompers on the second floor. Two-story homes have been getting a bad rap since before they were popular, but homeowners from all over the nation still opt for the grand appearance and spacious setting found in these two-story plans. So what is the draw? London Bay Homes and Mediterra seem to have it all figured out as they have chosen to add not one, but two new model homes with a second story.
More Space
Building up allows for more space, both inside and outside. With the additional square footage on the second floor, homeowners will not need to use more yard space to build out their home. This one benefit can mean so much more in terms of the other benefits two-story homes provide.
Bigger Bedrooms and Closets
The added space in your two-story home may also equate to bigger bedrooms and closets. You can turn a simple master bedroom into a grand master suite and throw in a giant walk-in closet of your dreams. That bigger closet just means more shoes!
More Rooms
More space can also mean more rooms. Did you ever dream of having a theatre room, a game room, or just a bonus room where you can design a cozy sitting area? With the added space of a second floor, you can have any of these, or any other room you can't live without.
Balconies
Building a two-story home also means you can have that balcony! Every home for sale in Mediterra has a beautiful lake, preserve, garden, or golf view and having access to such a backdrop is reason enough to sit back and enjoy it any chance you can get. Lap up the luxury from your custom home at a height that makes it much more expansive.
Privacy
Bedrooms located on the second story offer more privacy than all of the bedrooms being on one floor. Some homeowners enjoy the idea of having that aforementioned grand master suite on the second floor away from guests, while others prefer to house the children upstairs for when they need their sleep and you're just not quite ready to turn in.
If these sound like they match up with the list of must-haves for your next home, we've got you covered. London Bay Homes is currently building two new model homes in Naples' premier beach and golf club community.
Isabella Two-Story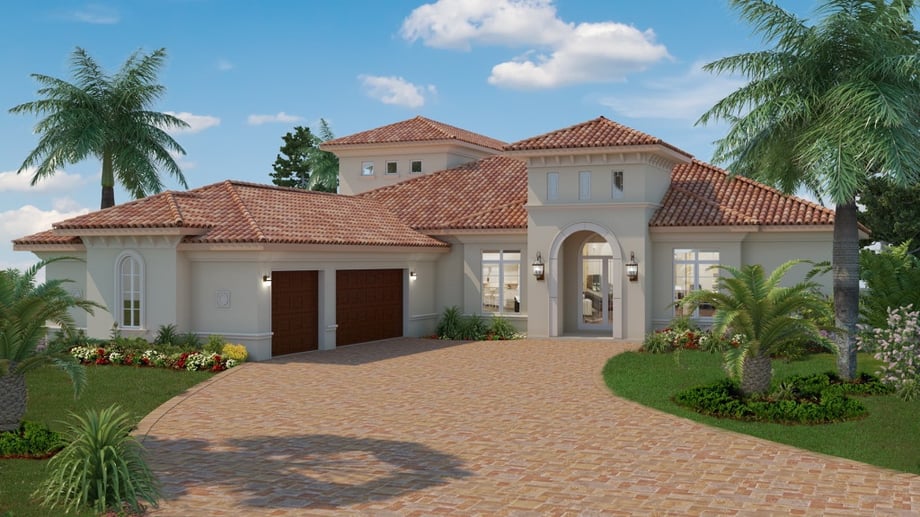 One of London Bay Homes' most popular floor plans, the Isabella II, has been a prime choice for many London Bay Homes clients due to its comfortable design and expansive outdoor living space. With the increasing popularity of second story homes, we decided to take it to another level, adding even more space and luxury than ever before in the new Isabella Two-Story.
With the new second story, this stunning home will now be equipped with a fourth bedroom and a serene sitting area with a covered balcony for those relaxing nights where a glass of wine and a good book is all you need to unwind after a long day of invigorating activities at Mediterra. The additions will allow for 4,265 square feet under air and a total of 6,353 square feet once the Florida-friendly outdoor living space and three-car garage are added.
View the Isabella Two-Story floor plan or contact us to learn more about the Isabella Two-Story.
Cordoba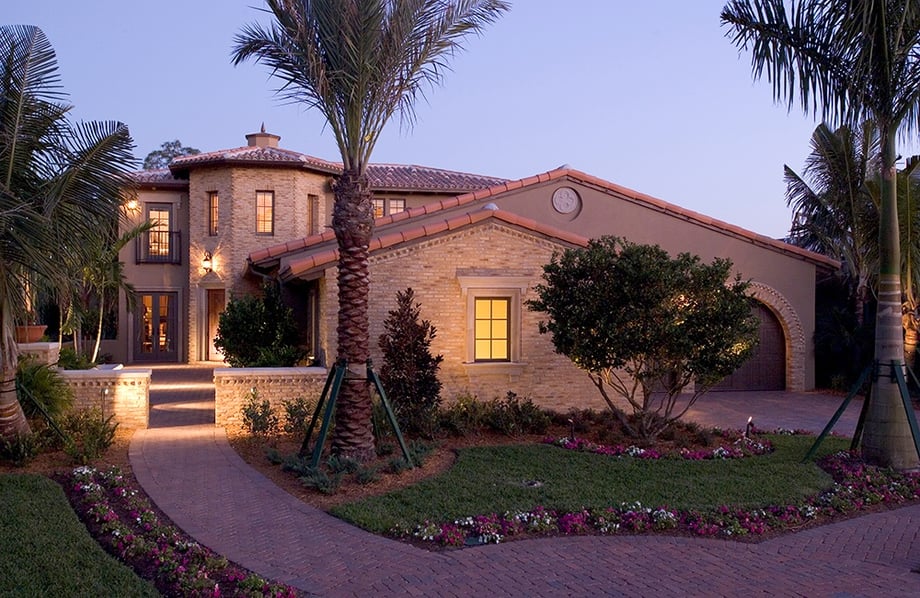 The Cordoba is an Italian-inspired single family home in the Cortile Estates at Mediterra. The exterior of the home features a stone façade reminiscent of the Italian countryside and the floor plan was created to complement that design. The three bedroom, five bath home features stone walls and wood beams throughout its more than 5,300 A/C square feet and a relaxing courtyard located at the center of the home. Of course, no Italian-influenced home can be complete without a formal dining room with a wine cellar, but the design was advanced further with a second catering kitchen, a private study, and a second-floor game room. Adding to the architectural design is the interior styling of the award-winning Romanza Interior Design.
As a secondary outdoor space, the Cordoba features an outdoor living area with a kitchen, sparkling pool and spa, and a pool bath. These exterior design choices combined with the three-car garage bring the Cordoba to a total of 9,516 square feet.
View the Cordoba floor plan or contact us for more details on the Cordoba.
London Bay Homes also has a variety of one-story homes at Mediterra for prospective homeowners that feel a two-story home does not suit their needs. You can view all of the London Bay Homes' floor plans at Mediterra, one-story or two-story, by visiting Our Homes.