Drive through the gates of Mediterra and you'll find 1,700 acres of nature preserves, lakes, parks, open space, and no more than 950 luxury homes upon completion. You'll notice that the streets are perfectly manicured and wind through the neighborhoods in an effort to showcase every vibrant flowering plant, every bushy green tree, and every meticulously designed home. The design of this verdant oasis replicates the lush beauty of the Mediterranean region of Europe and the luxury homes built were plotted to complement the scenery, following through with their Mediterranean-inspired exteriors.
Over the years, The Club at Mediterra has expanded and renovated the luxury home community to keep the design fresh and accommodate their growing number of members. London Bay Homes, which manages all new home construction sales and marketing for Mediterra, has now added an exciting new collection of contemporary floor plans and elevations to accompany the many invigorating changes at Mediterra.
"What we've been working toward, from an architectural design standpoint, is a reinterpretation of what already exists in this gorgeous community," added Mark Wilson, president and CEO at London Bay Homes. "So, while the architecture is contemporary, it also co-exists harmoniously with the style of the other homes in each of these distinctive neighborhoods."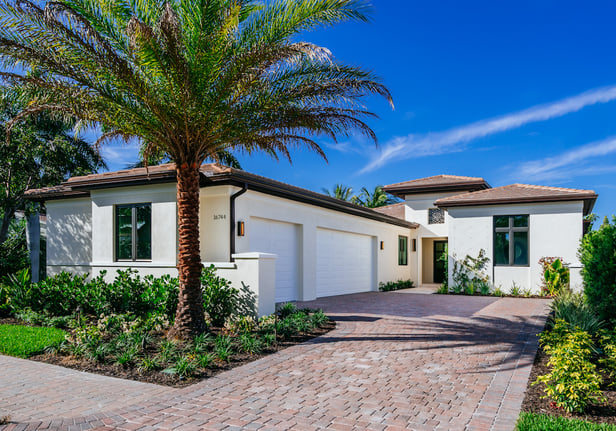 The new floor plans feature an open-concept design and are available in the Caminetto, Cabreo, and Lucarno neighborhoods of Mediterra. Starting in the low-$900's with home sites starting in the mid-$200's, homes featuring these latest floor plans will boast spacious outdoor living areas with optional outdoor kitchens, a fireplace, custom pools, and spas. Finish selections can be made in London Bay Homes' Selection Studio, where clients can find the latest design trends in the building industry and can experience each and every room to see and touch the selections, not just choose items from a catalog or online store.
"We are excited to be offering these floor plan choices in Caminetto, Cabreo, and Lucarno," said Wilson. "We've launched something that is new and exciting with the latest floor plans and elevations. It's about choice. Now we have more choices with contemporary exterior and interior styles that present a new take on luxury at Mediterra. We've also worked hard to streamline the buying process to allow purchasers to move into their new homes in a more timely fashion. By pre-pricing every aspect of the new plan choices, homebuyers can choose their home, the design, and make their choices at the Selection Studio while getting instantaneous feedback on pricing. It is a different method that allows buyers to make their decisions more efficiently during season and to avoid repeated visits to Naples during the summer months that have historically been involved. As buyers get fully engaged in the streamlined process, we can initiate permitting and begin construction more quickly. The result is a faster turnaround from concept to completion while providing a luxurious London Bay home at an extremely attractive price point."
These new contemporary floor plans are designed specifically for the neighborhood in which they will reside. If you would like to live in an intimate enclave of just 15 luxurious single-family homes, Caminetto is the neighborhood for you. Homeowners will be able to choose floor plans ranging from 3,204 square feet to more than 4,300 square feet and include a choice from three architectural styles, including transitional interpretations of Mediterranean and coastal styles. These homes feature a peaceful integration with their natural surroundings, with picturesque views of sapphire fountained lakes and nature preserves. This neighborhood is also within walking distance to the Parterre Garden, a sanctuary of formal gardens, sitting areas, and a reflecting pond with waterspouts.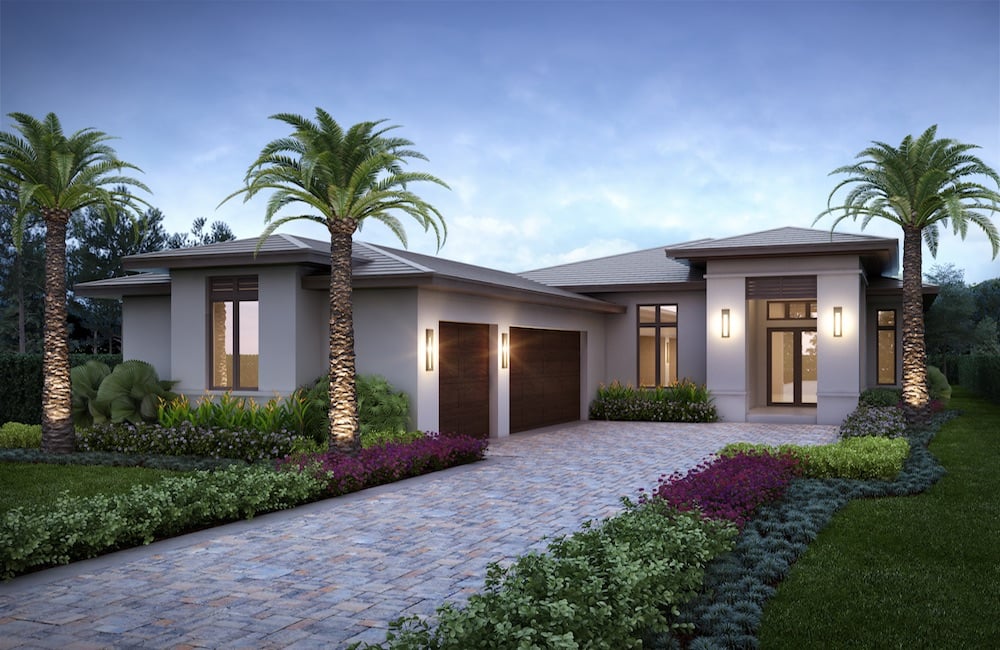 Guests wanting to explore the maintenance-free, luxury villa lifestyle and live adjacent to Mediterra's landscaped walking trails and within comfortable walking distance of the community's extravagant gardens will find four open-concept floor plans in Cabreo. These floor plans range from 2,894 to 3,020+ square feet under air and can be built on home sites measuring 65 to 70 feet by approximately 145 feet. Each home site on the single-loaded streetscape offers lake view, preserve views, or both.
The new contemporary single-story home choices in Cabreo feature attractive covered entries, wide foyers, spacious great rooms, island kitchens, and dining areas, a study, three or four bedrooms, three bathrooms, master suites with large walk-in closets and elegant baths, and three-car garages. One of the plans, the Langston, offers a formal dining room in lieu of the study. Each of the plans can include an optional pool bath and two of them can be modified to include a fourth bedroom.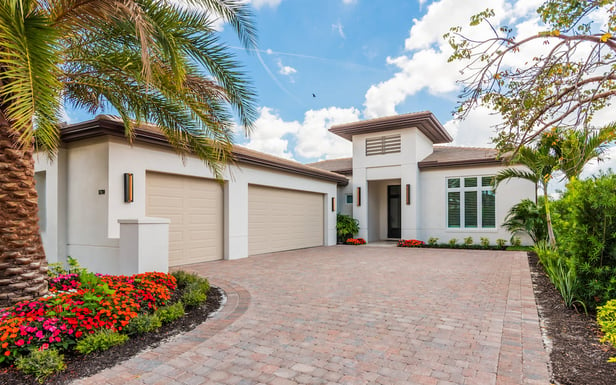 Visitors wanting to find their perfect home in a lake-side neighborhood featuring double-loaded one-way cobblestone streets, sparkling lakes, glorious gardens, and majestic fountains will find them in our Lucarno neighborhood. Featuring 71 lakeside villa homes, Lucarno offers six new one and two-story open-concept home choices ranging from 3,170 to 3,844 square feet under air. The floor plans feature spacious great rooms, island kitchens, and dining areas, a study or formal dining room, optional wet bars, three or four bedrooms, three or four baths, second floor lofts in the two-story plans, large walk-in closets and bathrooms in the master suites, and two or three-car garages.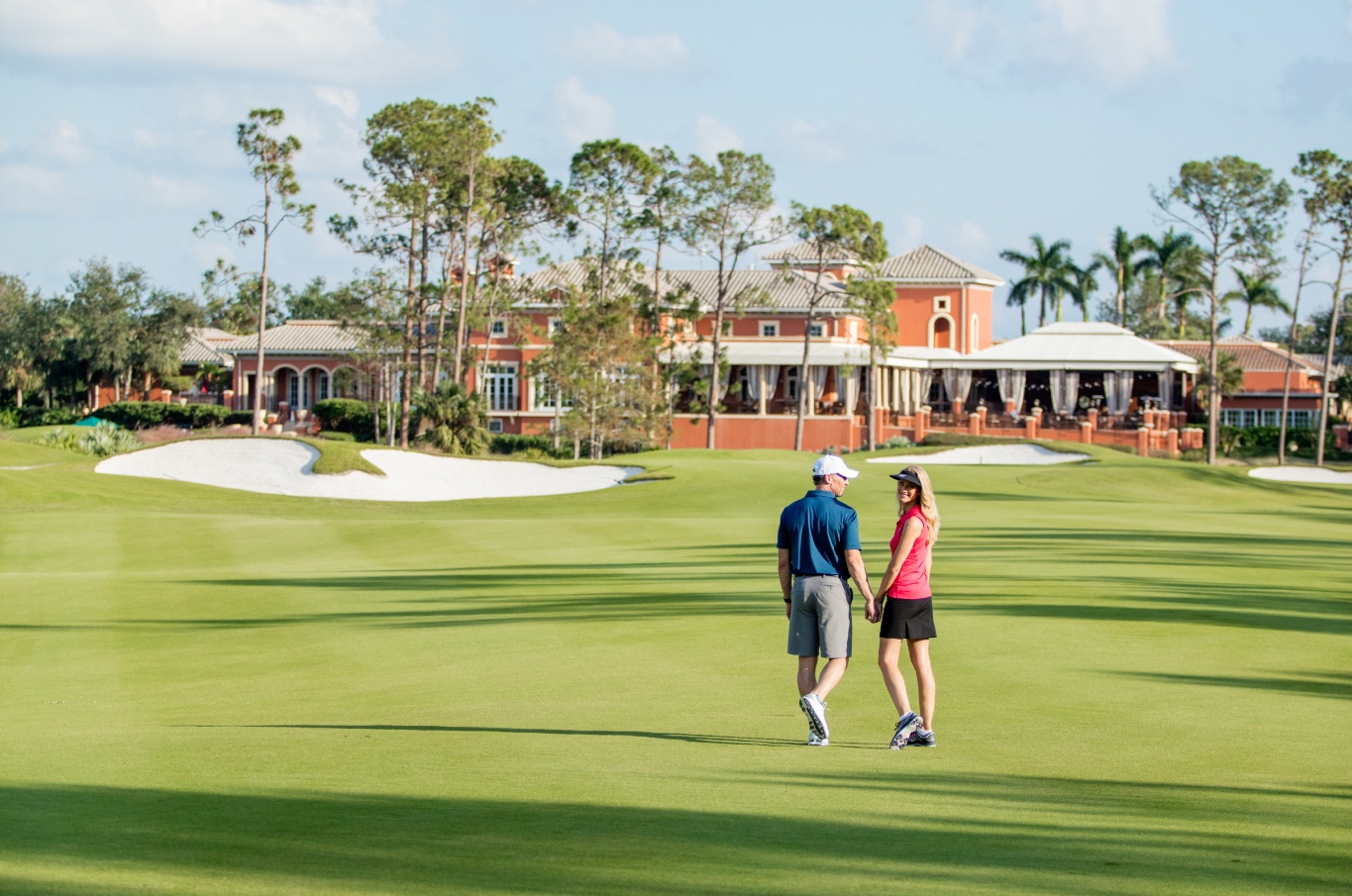 London Bay Homes clients also have the added luxury of securing a full golf membership immediately rather than being placed on the membership waiting list as a Limited Golf Member. Membership opportunities in Mediterra are limited to just 225 members per 18 holes to ensure tee time availability for members. Currently, the waiting time for a golf membership is one year when you purchase an existing home in Mediterra, but if you purchase a new construction home, Mediterra has reserved a membership opportunity just for you.
Contact us to get more details on London Bay Homes' new contemporary floor plans, or download our brochure to learn more about Mediterra.