Eight-time winner of "Community of the Year," Mediterra surpasses its counterparts because it not only provides residents with incredible homes, but also with unforgettable experiences. Mediterra's premier pool and spa options and the exclusive Mediterra Beach Club allow for beach resort living every day.
Relax in the Capriano

The Capriano villa includes a gorgeous outdoor living area complete with a pool, tiered spa, covered patios and courtyards, and an outdoor fireplace located near the pool, allowing homeowners to enjoy this space late into the evening. Overlooking the awe-inspiring scenery of Mediterra's lake and golf course, this outdoor space is the perfect oasis during a warm Florida day.
In order to bring the beauty and peace of this outdoor living area indoors and evoke a tranquil beach atmosphere, the furniture and accessories in this furnished villa include vibrant aqua accents, grey-washed beams, and furniture pieces mixed with deep, rich woods. The Italian countryside motif that adds to Mediterra's charm is also brought into the space with rich merlots set against neutral taupe and white backgrounds. Overall, the tropical-transitional design of this space captures the essence of Italy's Amalfi Coast.
Take it Easy in the Eloro
The Eloro villa includes a large courtyard and a spacious pool located just outside the Great Room. Overlooking beautiful views of the community's nature preserves, the pool elicits a blissful vibe that makes for perfect summer days and evenings. Residents will enjoy the wall of sliding glass doors in the great room, which showcase the luxury outdoor living space and the lakefront setting of the villa.
Palm trees and small flower gardens surround the corners of the pool, which connects to a tiered spa that is accented with aqua waterline glass tiles. The Eloro's secluded master suite enjoys direct access to the pool courtyard and covered outdoor living area, allowing for effortless leisure at any time of day.
Unwind in the Annalisa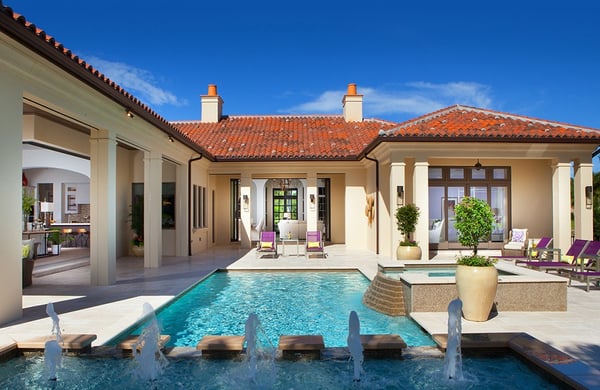 The Annalisa has over 1,000 square feet of scenic outdoor living space, including an impressive custom pool. Surrounded by a grand patio and lanai, the pool features a tiered spa, a raised fountain with multiple bubblers, and glass mosaic tile accents. Inspired by luxury resort style, the pool deck is finished with pearl marble pavers and offers six chaise lounge chairs accompanied by glass-topped tables allowing for sunbathing in style.
Wide-planked, random sized driftwood was incorporated into several facets of the Annalisa's elegant yet rustic coastal-inspired design, including the ceiling beams, flooring, cabinetry, and the bead board ceilings of the home's al fresco areas. Punctuated by bright citrus green and purple accents, the Annalisa's design truly brings the style of a luxury beach resort home.
The Mediterra Beach Club: Naples Resort Living at its Finest
At Mediterra's Beach Club, residents enjoy a beach experience unlike any other. Catering to every need, the club offers impeccable service, casual indoor or outdoor dining options and cabanas and private locker services.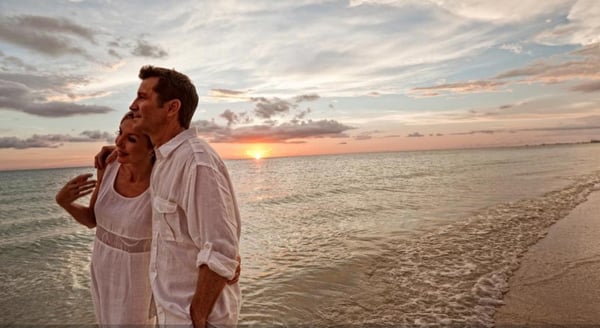 Also included is a second-floor pool overlooking the beach and the Gulf of Mexico. With Mediterra, it is easy to indulge in Naples beach resort living every day.
Visit Mediterra to see how you can experience beach resort living in Naples, Florida year round. Download our interactive brochure for more information on our collection of elegant luxury homes and award-winning community amenities.