Dining al fresco on a summer night—there's nothing better. And at Mediterra in Naples, homeowners get to repeat the experience every day of the year. The new homes in Mediterra provide stunning outdoor living spaces with options that make them entertainment ready; making it easy for families and friends to reinforce life-long bonds over a few glasses of vintage red wine.
Here are a few unique features that make entertaining al fresco effortless at Mediterra:
Open-Concept Living Spaces
Floorplans at Mediterra have been designed to blend indoor and outdoor living spaces into a single fluid experience through subtle features including multiple sliding-glass doors and covered lanais. The great room of the Bettina flows directly onto an expansive patio overlooking the custom pool and spa, allowing guests to navigate an al fresco gathering with ease. The home's interior design by Romanza pulls in blues and greens to impart a cohesive coastal theme, inside and out.
Custom Summer Outdoor Kitchens
Premium outdoor kitchens are an option in Mediterra's custom new homes, allowing homeowners to cook and mingle with guests at the same time. The outdoor kitchen in the Girona features a large stainless-steel built-in gas grill with hood vent, marble backsplash, and sink to ensure that al fresco meals taste as good as their accompanying atmosphere looks. The openness of the Girona and its connection to the surrounding outdoor spaces captures the essence of Florida lifestyle.
Grilling, Mediterra Style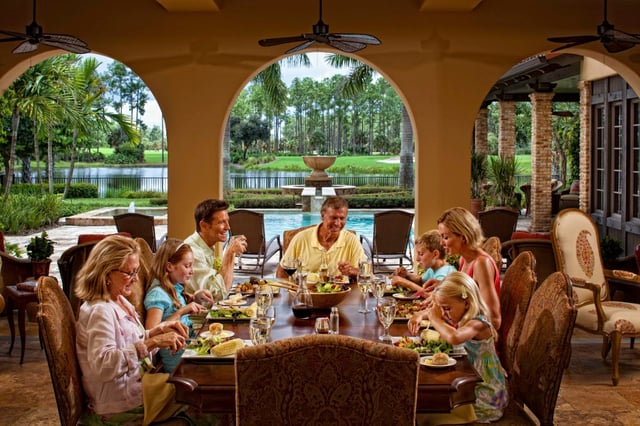 Make elegant evenings effortless with these recipes from the Mediterra team:
Salmon: Uncomplicated
From Lawrence Middleton, Mediterra Sales Executive
Ingredients:
2 pound fillet salmon, skin on
Chopped garlic and fresh herbs, to taste
Lemon juice
Marinate the salmon with a mixture of garlic, your favorite herbs, and a splash of lemon juice for at least 30 minutes. Wrap the salmon in foil and grill on a low heat for 20 minutes. Serve with grilled asparagus, crusty bread, and Pinot Noir.
Terri's Pork Tenderloin
From Terri Speach, London Bay Homes Realtor Liaison
Ingredients:
¼ cup soy sauce
¼ cup bourbon
2 Tbsp. brown sugar
3 lb. pork tenderloin
For the Sauce:
1/3 cup sour cream
1/3 cup mayo
1 Tbsp. dry mustard
2-3 green onions, chopped
Mix the soy sauce, bourbon and brown sugar, and marinade the pork tenderloin for several hours, turning occasionally. In the meantime, mix the sauce ingredients until smooth. Grill the pork tenderloin, basting with marinade, to your desired doneness. Pour the sauce on top of the tenderloin to taste. Serve with a green salad with vinaigrette and a white Bordeaux.
Discover how you can experience the entertainment-ready floorplans of Mediterra. To learn more, download our interactive brochure.