Your path to a carefree, luxury Florida lifestyle begins with a beautiful luxury custom home in a coveted Naples address. Mediterra Naples is your award-winning luxury beach and golf club community with the lush beauty of the Mediterranean region of Europe scattered throughout 1,700 acres, luxury amenities to keep you healthy, active, and entertained, and gorgeous Mediterra Naples homes for sale with the quality, opulence, and allure you'd expect from a luxury home community.
There are new Mediterra homes currently available in six exclusive luxury neighborhoods, each with its unique appeal. If you are searching for your beautiful home in Naples FL, schedule your tour with one of our knowledgeable Sales Executives and tour all of our luxury model homes from London Bay Homes to find the style you covet in a luxury home community where you choose how you want to live with luxury amenities for every lifestyle.
Caminetto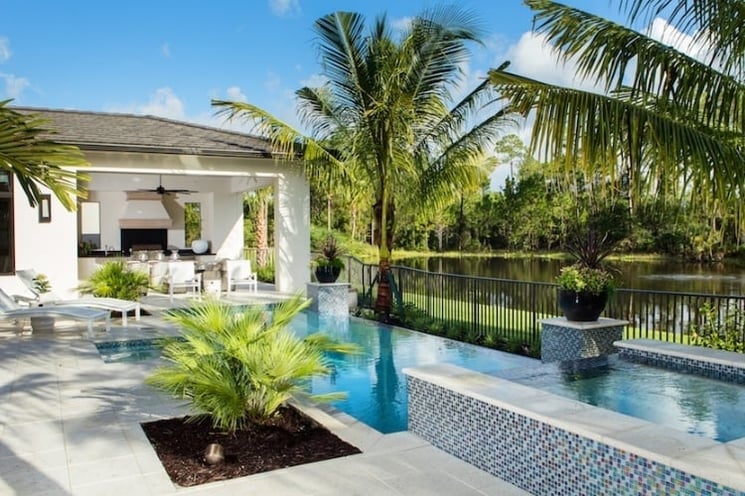 Caminetto is London Bay Homes' newest neighborhood featuring single-family luxury estate homes ranging from 3,500 square feet to more than 5,000 square feet and a choice from three architectural styles, including transitional interpretations of Mediterranean and coastal styles. This boutique neighborhood offers 15 new construction home sites with picturesque views of fountained lakes and nature preserves. Just a short walk away is Mediterra's lush Parterre Gardens with formal gardens, sitting areas, and a large reflecting pond with waterspouts, one of the most beautiful spots in our Naples luxury community.
Visit Caminetto and tour The Carmela and The Sonoma, two luxury custom homes built by London Bay Homes and furnished by Romanza Interior Design.
Lucarno
Lucarno is a 71-home luxury villa home neighborhood with distinctive Old World flavor. Homeowners love that this maintenance-free neighborhood features home sites nestled against the neighborhood's glistening lakes overlooking lush gardens. Floor plans in Lucarno range from 2,500 square feet to more than 4,000 square feet. The homes' outdoor balconies, private patios, covered loggias, and courtyards offer an outdoor lifestyle suited to the tranquil and majestic views.
Lucarno features two Mediterra Naples homes for sale, The Capriano and The Palmero, with The Falerno model home currently under construction.
Cabreo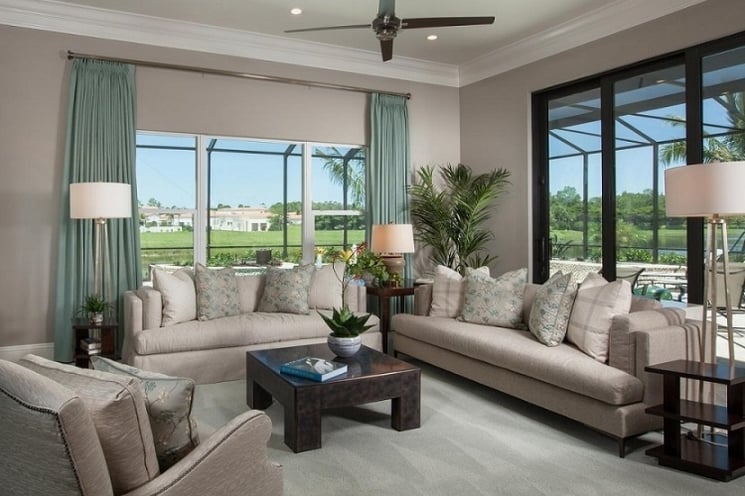 Adjacent to miles of landscaped strolling trails and moments away from beautiful, lush parks, Cabreo is just one of the maintenance-free villa neighborhoods in Mediterra Naples. It features 23 home sites with a choice of three floor plans ranging 2,500 to more than 4,000 sq. ft. with multiple elevations for classic Mediterranean-inspired architecture. Each home will feature sparkling lake and natural preserve views to complement its rustic Mediterranean look.
The three luxury model homes in Cabreo represent the three floor plans offered in this villa home neighborhood: The Angelica, The Bettina, and The Clara.
Terrazza
The Terrazza neighborhood features 22 luxury maintenance-free home sites with picture-perfect views of lakes, preserves, or wooded areas. Upon entering the neighborhood, guests are treated to an entryway that accentuates the Tuscan region and brick-paved streets that bring about an Old World charm. Most of the homes in this neighborhood also feature full-sized courtyards to welcome the carefree lifestyle as befits such a relaxed Mediterranean setting.
Two luxury model homes are currently under construction in this neighborhood. Contact us to learn about The Catania and The Salerno.
Cortile
Cortile at Mediterra is a luxury single-family home and villa home neighborhood located at the heart of Mediterra. It consists of 18 estate home sites and 14 luxury villa home sites set against golf, lake, and preserve views, with only a select few new construction home options remaining. Homes in this neighborhood feature tumbled stone driveways, grand entries, courtyards, secluded patios, and popular open floor plans designed for formal entertainment and casual gatherings.
Visit Cortile and view the few remaining opportunities for new construction homes, including The Capriano, The Catalina, and The Cordoba.
Il Cuore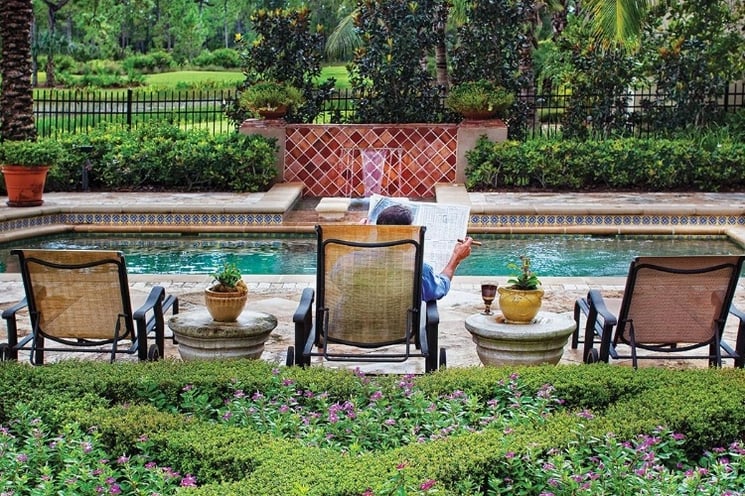 If you are looking for the most exclusive home site in Mediterra Naples, it can be found in Il Cuore. Il Cuore can house a fully custom design of your choice from 8,000 square feet to more than 15,000 square feet, as well as offer the utmost in privacy with a second gate at the entrance of this two-home neighborhood. One home site is already sold, but the remaining Il Cuore home site is Mediterra's largest available property: a 1.5-acre site surrounded by more than 50 acres of nature preserves.
With beauty, luxury, and style in every luxury estate and villa home neighborhood in Mediterra Naples, you'll find your place in a luxury home community that has been awarded Community of the Year 11 times. Download our brochure to learn more about Mediterra Naples.