When hurricane season approaches, home maintenance jumps to the top of the priority list to ensure our safety during any storm that heads our way. Homeowners in Southwest Florida tend to check the structure of their roofs more often, review their hurricane preparedness plans, and maybe even stock up on some supplies like flashlights, batteries, and other items that may make things easier should disaster strike. Most of the time, Southwest Florida stays clear of major storms, but Hurricane Irma struck in September 2017 and it reminded us of how important it is to be prepared.
Related Blog: London Bay Homes' Teamwork Makes the Custom Home Building Process a Dream
After the storm, residents of Mediterra living in a London Bay home were pleased with their decision to choose the Southwest Florida luxury home builder for their luxury custom home. London Bay Homes ensures our homeowners' safety by providing reassurance that the homes they build grant quality structural design and durability against major storms. Rick Cantor, a resident of a private lakefront neighborhood in Mediterra Naples, was confident his London Bay home would keep him and his family safe. Cantor had already endured Hurricane Sandy in 2012, one of the deadliest and destructive Atlantic hurricanes, and understood that the circumstances and structural quality of his London Bay home in Naples were far different than those surrounding the hurricane in New Jersey.
"I had all the confidence in the world that our London Bay home in Mediterra would be completely fine and safe," said Cantor. "My daughter and her family were evacuated from Sanibel and came to our home to hunker down," said Cantor. "We all gathered in the living room while the grandkids played; we could see the heavy wind and rain all around us but couldn't hear a thing because of the sound barrier structure, which also precludes the need for shutters. We felt comfortable."
Cantor's preparation for Hurricane Irma mirrored several other Mediterra residents living in a London Bay home. The quality standards put in place by the Southwest Florida home builder allows residents to put trust in their home. During the full course of construction, London Bay Homes' quality control manager is on-hand to conduct more than 40 inspections on each home using their 500-point quality control checklist. This quality control process allows them to stand out from their competitors because they use their checklist as a proactive tool during the course of construction and not just something that's used when the home has been finished. They believe in the core values set forth by the London Bay Homes corporate culture and follow through by completing a final white glove inspection and making sure their clients receive a high-quality home every time.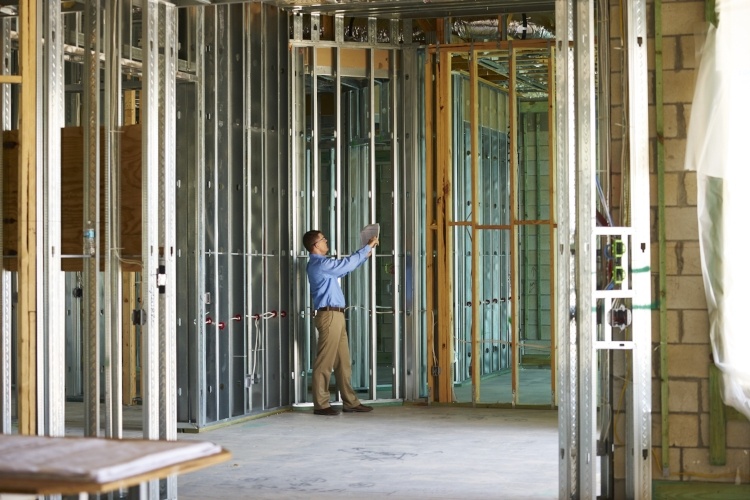 Those inspections cover every aspect of the home, ensuring the highest structural standards and a defined list of hurricane-resistant features, as well as the home's sustainability against any hurricane. These features include impact-resistant windows and glass doors that won't shatter from high winds. Withstanding winds of up to 150 miles per hour, the impact-resistant windows also act as an additional buffer – windows may break but not shatter, preventing flying debris to enter into the home or an influx of wind pressure that can result in excess pressure on the roof and separation of the trusses.
One of the first things residents should do when preparing for a storm is check for any possible compromises to the roof or house since any gaps or weakness will become a prime target for string winds. London Bay Homes tackles that aspect of destruction by not only building roofs to the newest building code and home reinforcement standards, but also incorporating oversized truss hangers to keep roof systems anchored to walls, which include cement blocking and multiple construction ties to the floor system for structural stability and wind damage prevention. London Bay Homes combines top-quality building science practices with numerous diagnostic testing measure to assess waterproofing, intrusion and prevention, as well as air-quality. Performance checks and ongoing monitoring are also conducted to ensure all homes not only meet hurricane code standards, but exceed them.
"London Bay has always been committed to building advancements and incorporating the best materials to improve our homes," said London Bay Homes' president, Mark Wilson. "Florida's rainy season and high humidity create many challenges for builders. We have specialized materials designed to withstand strong winds and hurricanes, as well as incorporated a barrier system to protect the interior building frame against water and air intrusion and mold growth."
After Hurricane Irma in 2017, their team was dedicated to assessing any damage their homes may have received, spreading out throughout town to check on some of our previous builds and single-site homes throughout downtown Naples, as well as in Miromar Lakes. We were pleased to witness that, although there were numerous trees and debris scattered throughout Mediterra Naples, there was virtually no damage to their homes. "It was a testament to the quality and fortress-like structural, as well as architectural integrity of our homes," said Wilson, whose company manages all new home construction sales and marketing for Mediterra Naples.
This post-hurricane response catapulted into the implementation of post-storm recovery response efforts and maintenance checks and repairs to quickly resolve any issues that may arise. "While you can never predict exactly what will happen when a hurricane approaches," said Wilson, "I'm confident that the quality design and construction of our London Bay homes will be prepared to handle it."
This dedication to high quality standards and preparedness adds an extra layer of protection to our residents, and reminds us why we are pleased to have London Bay Homes as our luxury partner.
Schedule your appointment to view our available homes and discover the quality and design behind London Bay Homes.