Smiling faces and a wealth of knowledge await you when you visit our sales experts at the Mediterra Sales Center. Lawrence Middleton strives to make sure every client finds their dream home and enjoys a pleasant home buying experience.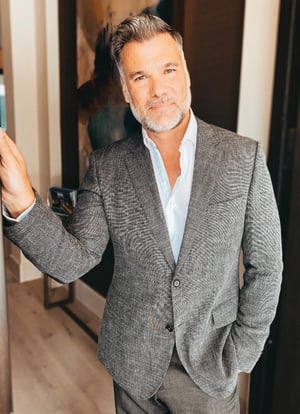 Lawrence Middleton is Mediterra Naples' Sales Manager and a Florida licensed REALTOR® with more than 20 years of experience in Sales and Marketing. He has held two group sales Directorships and received recognition from The Institute of Luxury Home Marketing. He has also received the Million Dollar Guild Recognition owned by The Institute for Luxury Home Marketing. HND in Business Management.
Born in Birmingham, England, Lawrence was also elected by a committee as a Fellow of The Institute of Sales Marketing & Management, the UK's only professional body for salespeople that promotes standards of excellence in sales and sales management. In order to become a Fellow of the ISMM you must have at least ten years in sales or marketing, including seven years business experience at management level, or complete an ISMM Diploma in Strategic Sales or an MA in Sales Management at Portsmouth Business School. The Institute of Sales & Marketing Management (ISMM) is the UK's only professional body for salespeople. The ISMM was founded in 1966 to promote standards of excellence in sales and sales management and to enhance the status and profile of sales as a profession. Lawrence was also honored with being granted a Freedom of the City of London, which is the equivalent of being handed the Key to New York City.
Although he has received these awards, and many others throughout his professional career, his real passion is his family and friends and he loves spending time with them. Don't mess with his teenage daughters (triplets) though, Lawrence also holds a First Degree Black Belt in Lau Gar Kung Fu.
Lawrence is inspired to find the perfect home for each and every client, whether it's a luxury villa home in the Lucarno or Cabreo neighborhoods, a single-family home in Cortile, Serata, and Caminetto, or a one-of-a-kind home on any of our large home sites. including Il Cuore. They can't wait to show you the many gorgeous Mediterra homes for sale with equally beautiful views of lakes, nature preserves, parks, or golf courses in our luxury home community and the luxury amenities that seamlessly blend with our luxury living lifestyle, including the member-owned Club at Mediterra with two Tom Fazio-designed championship courses and the private 10,000-square-foot Beach Club on the Gulf of Mexico.
Schedule your tour to meet Lawrence and discover the beauty of Mediterra.