Searching for a new home can be a tiresome process of trekking from address to address looking for a place that has everything you want and need. At Mediterra, we try to eliminate the stress of buying a home by working with the professional team of experts at London Bay Homes. London Bay Homes has been designing and building some of Southwest Florida's finest custom homes for more than 25 years and can ensure you find exactly what you need by designing and building your home from the ground up using the latest and greatest luxury home trends.
Don't know where to start? Check out London Bay Homes' top trends for Naples luxury homes in 2016.
Luxury Kitchen Islands with Purpose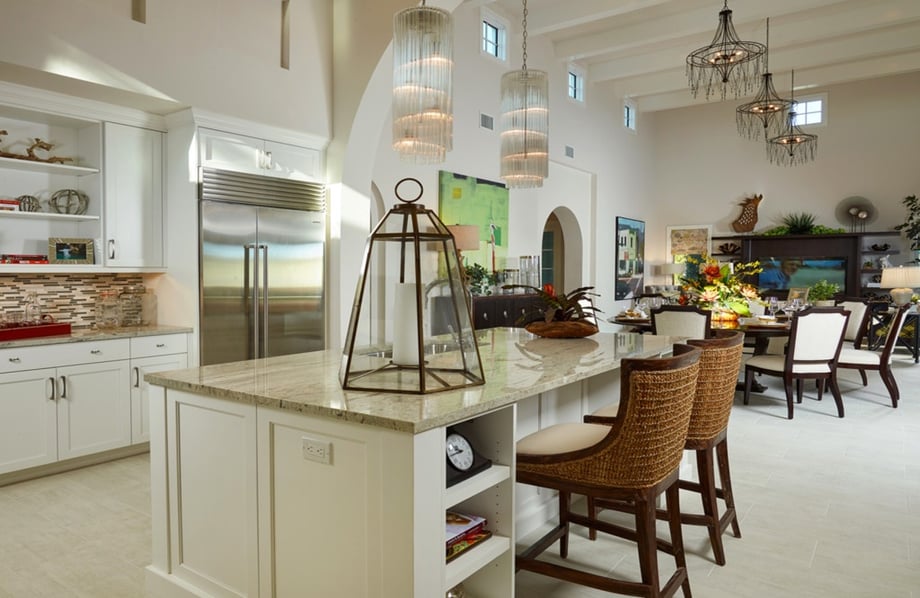 The kitchen has evolved from a one purpose room to a place where families gather to chat about their day while preparing a wholesome breakfast, lunch, or dinner. The latest kitchen trend facilitates that interaction with luxurious kitchen islands complete with a lot of counter space, seating options, and room for storage. An example of using a multi-purpose island in a luxury home can be found in our Eloro model in Lucarno at Mediterra. The Eloro's kitchen island has all of the necessary ingredients for building a bond over hot coffee and tasty scones.
Formal Dining Rooms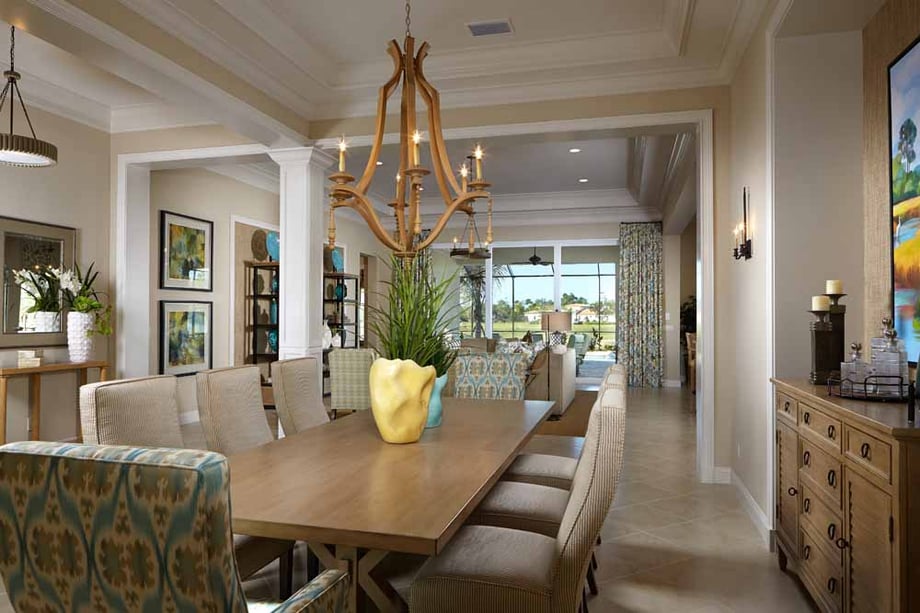 Just off the kitchen is another luxury home trend that is resurfacing after a long hiatus: the formal dining room. In the past, no meal could have been consumed without the proper place settings in a large, formal dining room, but as the more casual generations came into play, homeowners continued to opt for less formal uses of the additional square footage. Now it seems as though we are returning to our roots with more and more formal dining rooms popping up in Naples luxury homes, as in our Bettina model in Cabreo. The three bedroom, three-and-one-half bathroom Bettina features a dining room that offers the perfect environment for a peaceful meal in a dedicated space with beautiful design accessories from Romanza Interior Design.
The Tech-Less Living Room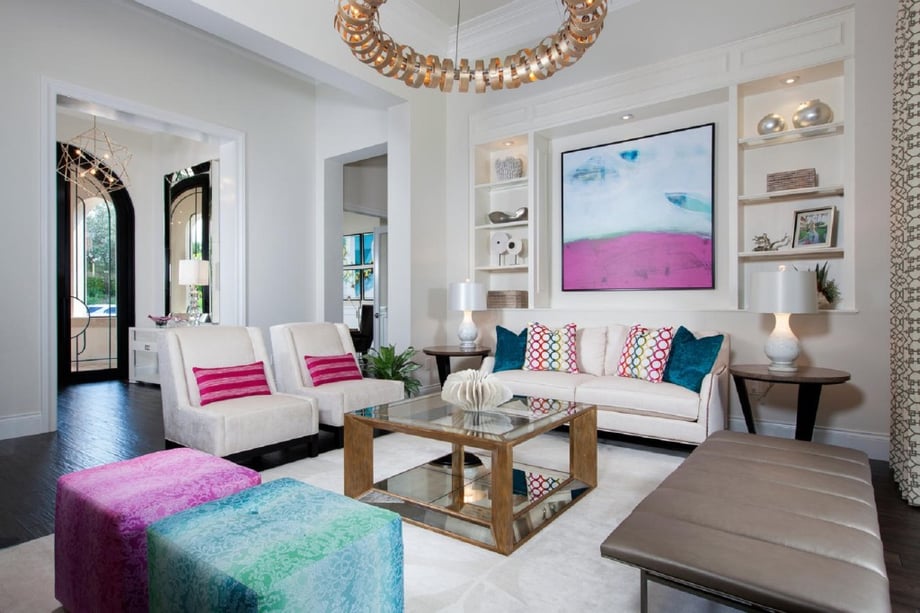 Oh, the simple life. Our fast-paced world is in definite need of a slow-down button which is why the luxury home trend of eliminating technology in the living room is perfect. Our Mediterra homes are going back to the basics with no television, radio, or anything else that will distract families and friends during their quality time. At least, that will be the case for the lucky homeowner that purchased the gorgeous Delfina model home Serata. The bright and colorful living room in the four bedroom, four-and-one-half bathroom Delfina is perfect for a casual afternoon of conversation. Of course, homeowners need not worry about missing their favorite shows as family rooms still feature our beloved televisions.
Bathroom Spa Retreats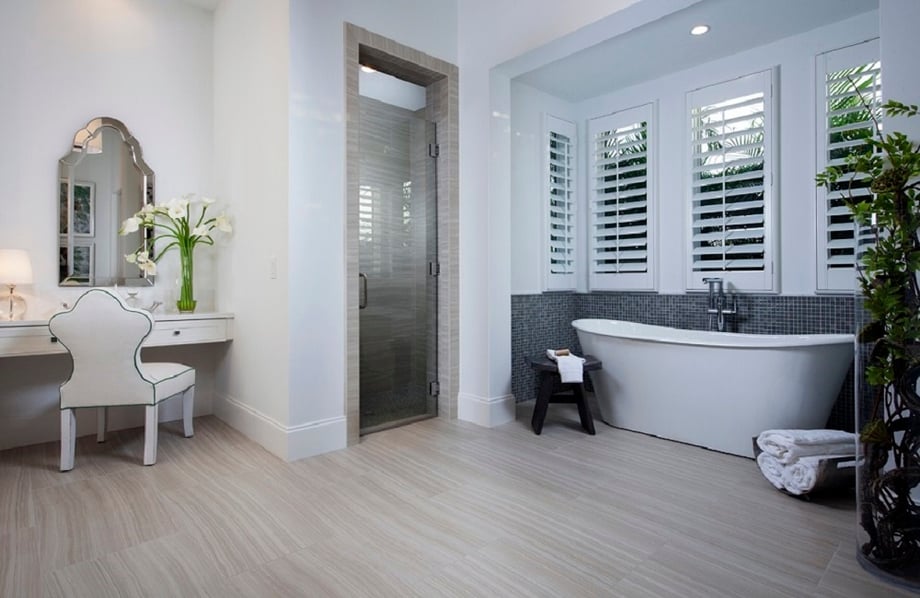 A day at the spa is great when you have the time to unwind and get a great massage, but in between spa visits homeowners are starting to take advantage of spa day rejuvenation in the comforts of their own homes. The new trend of spa-like master bathrooms takes your standard bathroom to new levels of tranquility with warm towels, essential oils, and a crisp white setting to remind you of the lovely facilities at the best resorts. Who wouldn't relax in a bathroom like the one in our Capriano model in Lucarno at Mediterra? With its quaint vanity, large tub, and functional white shutters, this master bathroom will let you destress in less time than it would have taken you to drive to a day spa.
Blending Indoor and Outdoor Spaces
The last luxury home trend we have on our top trends list makes the most out of your home's square footage by integrating your indoor living space with your outdoor living area. All of our model homes come equipped with this luxury to take full advantage of the beautiful weather in Naples FL, as well as the gorgeous lake, golf course, and preserve views at Mediterra. Whether it be through beautiful French doors or wall-to-wall sliding glass doors or even pocketing sliding glass doors, each one of our homes will allow you to relish in the Naples lifestyle with ease.
One model home in particular, the Isabella Two-Story, will leave you breathless with its expansive outdoor living space complementing the practical and beautiful floor plan. The Isabella II is one of London Bay Homes' most popular floor plans and it was recently taken to new heights with a two-story option. The model is currently being built in Serata at Mediterra, but in the image above from a previous model, you can see that the outdoor living area will easily add another level of elegance and style to your air-conditioned living space.
The Naples luxury homes in Mediterra will surely fall into all of the top trend categories listed here, but if you find that you are interested in something more, give us a call. Our knowledgeable and friendly Sales Executives are ready to take you through London Bay Homes' signature Private Label Living process to ensure you arrive at your forever luxury home.
Contact us to set up your appointment.