Unless you have successfully dodged the arrival of your extended family and friends this holiday season, you will more than likely be spending a lot of time in the kitchen preparing a feast to satisfy the rumbling bellies of your houseguests. That means you'll be multiplying quantities, as well as place settings, and putting a lot of work into both to make sure everyone has a place and a full plate when it comes time to eat. Here are our surefire ways to have dinner go off without a hitch:
Plan Ahead
Don't expect to throw together a full dinner for your guests the way you prepare a last minute dinner for yourself. Cooking for a large group takes time and planning. Prepare a guest list to make sure you have space, as well as plates and cutlery, to accommodate everyone on that list. You may find that your guest list is so long that you have to rent some tables, chairs, and possibly dinnerware to make it work.
Choose Your Food
What are you going to cook? Are there going to be vegetarians at your feast? Go through your guest list to see if anyone has food aversions or allergies and prepare a meal that will apply to the masses, as well as a plate for those picky eaters on your list. When choosing your recipes, we would also steer clear of trying new recipes. When you're feeding a crowd, it's best to stick with the tried and true recipes in your arsenal.
Timing
Once you have your recipes picked out, plan the day around the preparation and cook times for those dishes. You do not want to find yourself overstuffing your oven as that will add to the original cook time and mess with the timing of the meal. If you don't think you'll have enough time to complete every desired recipe, consider buying some pre-made items or choosing similar recipes that you can make-ahead. You'll also want to consider leaving some "free" time in your schedule to accommodate for any cooking or timing issues you come across.
Get Organized
Once the day is planned out around the dishes being cooked, you can go through the recipes and make a grocery list encompassing everything you need. This is a good time to look at the servings for your recipes and ensure they are the quantities you need. If they are not, break out the calculator if you must, but be sure to make the appropriate changes to the ingredient list and cook times so you prepare enough food for everyone.
Have Fun
Once you have properly planned for your feast, the last thing you will need to do is cook it! If you love cooking the way we do, this will be the most fun you will have during the whole process. Well, that and when your guests rave about how wonderful everything is!
If you're reading this article and find yourself longing to have a beautiful luxury kitchen in which to cook such a feast, consider upgrading your home to one in beautiful Mediterra. Our Move-In-Ready luxury custom homes features gorgeous luxury kitchens that will make you want to invite guests over for dinner every night.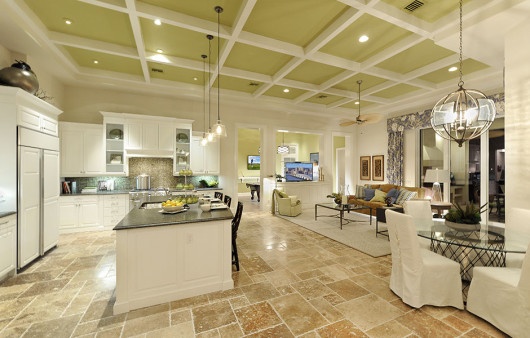 For example, our recently completed Delfina model home is a four bedroom plus den, four and one half bathroom single family home that offers the perfect space for entertaining. It comes ideally equipped with a large family room that resides directly next to a gorgeous luxury kitchen and living room, all of which open up to the outdoor living area or verandah. Food and relaxation come together for some fun in the optional, adjoining game room.
If you're looking to go even bigger, Mediterra's preferred builder, London Bay Homes, can design and build a beautiful custom home that has everything you need for constant entertaining, including a separate catering kitchen. Their fully-customizable Cordoba plan is equipped for a personal chef, catered party, or wine tasting with a large catering kitchen aside from the floor plan's standard kitchen. Adjacent to the catering kitchen is the laundry room/pantry, built with extended countertops to facilitate the delivery of the catered cuisine. Then there's the dining room with an adjoining wine cellar. All in all, this house has all of the ingredients for one amazing dinner party.
Explore all of our Move-In-Ready Mediterra homes or contact us to set up your appointment with our preferred Naples home builder.