Ask any golfer about their first time stepping up to a tee along Mediterra's two championship courses and they'll describe the experience to, well, a tee. Early morning sunlight erasing the last signs of dew, wildlife awakening from slumber, a setting so beautiful it necessitated a pause before the inaugural drive. Then, they'll recount their game, the challenges, the victories, and the camaraderie.
Golf members at The Club at Mediterra enjoy an elite experience – one praised worldwide for its award-winning Tom Fazio-designed courses, a setting immersed in nature, a casually elegant 32,000-square-foot clubhouse and the exclusivity of only 450 memberships that allow them to play when they want.
Golf at Mediterra is so revered, there's a year-long waiting list for golf membership – except for those who buy a new home through London Bay Homes. The builder has reserved 28 memberships for clients and offers the only opportunity for new members to play without delay.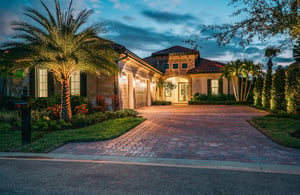 "Golf membership at Mediterra is a hot commodity," said Mark Wilson, president and CEO of London Bay Homes, which manages all new home construction sales and marketing for the community. "We know many homebuyers are looking for a home in a golf community because they want to play golf, and they're looking specifically in Mediterra because of its reputation for great golf. With a new home purchase, homebuyers can also buy a membership without the wait."
London Bay Homes offers luxury and custom single-family estate and villa homes, some maintenance-free for more time on the course. With fully furnished models ready for immediate move-in and a choice of floor plans for complete customization, new and future residents are discovering just how quickly they'll find a home and feel at home in Mediterra, Naples' 10-time Community of the Year.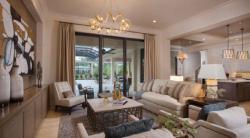 As a leading Naples custom home builder and developer in the luxury homes market for more than 25 years, London Bay Homes continually raises the bar on premier home amenities, including expanded outdoor living destinations and the newest life-enhancing technology. Its homes in Mediterra are priced from $1 million to more than $7 million and reflect the homebuilder's commitment to Private Label Living, embodied in its attention to detail and emphasis on quality and personal expression.
The same high standards are evident in Mediterra's golf experience – both on the course and off. The clubhouse offers gourmet cuisine and bistro fare and embraces the social nature of Mediterra's golf culture with special events, dinners and destinations for gathering with fellow golfers to relive the day's great shots.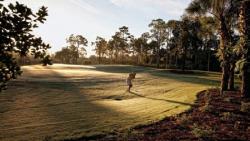 Recent renovations on both courses enhanced their playability. Enhancements included replacing irrigation, bunkers and re-grassing with Platinum TE seashore paspalum. Practice facilities and ranges were also renovated.
"From the tee box to the out-of-bounds area and each grain of sand, everything is brand new," said Carmen Mauceri, club general manager and chief operating officer. "The only thing we didn't touch were the greens."
"The grass was chosen for its color, cold-weather and low-light tolerance, playability and performance," said Tim Hiers, director of agronomy for The Club at Mediterra. "It has very deep roots and is the best on the market. We now have 200 acres of new grass on 36 holes."
The golf community's commitment to golf, health and wellness and continued improvement has been internationally lauded by BoardRoom magazine as a Distinguished Emerald Club, a designation given to only the top 4 percent of private clubs worldwide.
Golf members also enjoy state-of-the-art practice facilities, pro lessons, a learning center, and regular league and tournament play.
For more information about new homes and the exclusive opportunity to become a golf member without delay, log on to www.MediterraNaples.com, call 239-298-7600, or visit the newly redesigned Mediterra Sales Center, located at 15836 Savona Way, two miles north of Immokalee Road.