Design trends for homes continue to evolve and, with improvements in technology, there is a lot one can do with homes to add luxury. From smart house technology to lavish open spaces, luxury homes can have it all when you pair your design dreams with a reputable Naples custom home builder.
At Mediterra, we rely on luxury custom home builder, London Bay Homes, to provide luxury features to each and every home they build in our new home community.
London Bay Homes has been designing and building the finest luxury custom homes in Southwest Florida for more than 30 years and has evolved with every design trend to create high-quality homes with the most modern conveniences and design styles.
Lately, there have been a few features that have stood out above any others in our luxury community.
Smart Home Features
Smart home technology is a must-have in your luxury home, as it increases convenience and security through the use of network connected appliances, equipment, and systems.
There are a lot of aspects of your home that will benefit from the use of technology:
Motion sensor lightning that can respond to activity in the room.

Curtains that open or close at sunrise or sunset.

Smart thermostats that adjusts to your temperature needs, whether at home or away. They can save you money by learning from your behaviors and allowing you to control the temperature of your home from your smart phone device. They also show your energy consumption in real-time and can adjust themselves to control things like the humidity in your home.

Smart security systems that allow you to feel safe and relaxed, including cameras which are connected to the internet to allow you to check them while you're on vacation or in your northern home.

Locks on the doors that can be controlled by an app on your phone, so you don't have to wonder if you remembered to lock the back door or not.

Waterproof Bluetooth speakers in shower-heads for those who enjoy music during showers, as well as color lighting that changes with the music played. London Bay Homes has previously installed the Kohler digitally controlled super shower system in one of their luxury model homes. This high-tech system featured a programmable interface that set the rain-head and body jets to individual steam and temperature settings.

A Numi toilet is another smart home device that you may not even consider. This toilet offers personalized settings, which includes wireless Bluetooth music sync capabilities, heated seat and foot warming options, and ambient color lighting alternatives.
Spa Bathrooms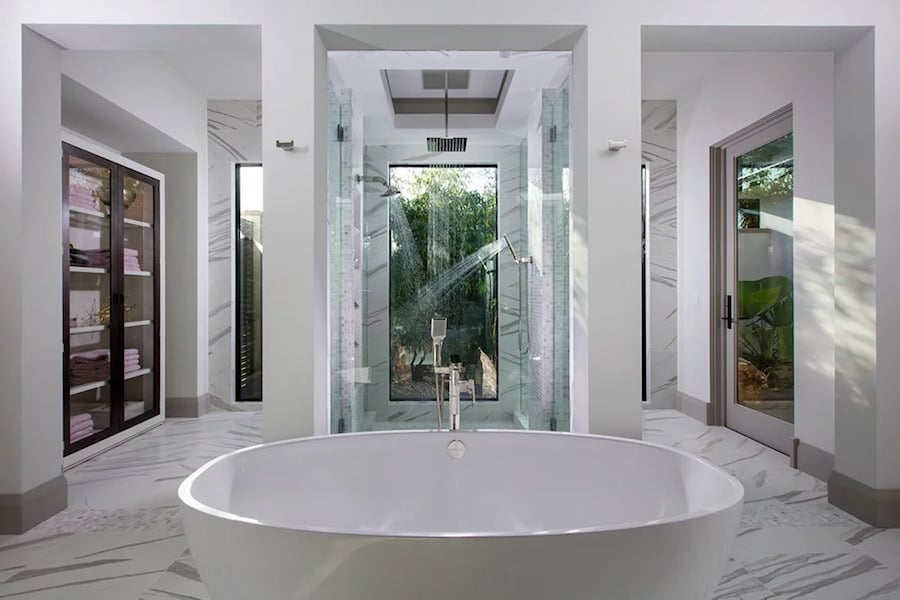 Homeowners often want to recreate the amazing feeling of calm from the best spas around the world in the privacy of their homes.
Nowadays, there is a lot of innovation when it comes to the bathroom experience, from heated floors, massive shower areas with head-to-toe jets of water, a relaxing soaker tub, and towel warmers. Many luxury bathrooms also come with saunas, steam rooms, and even waterproof screen mirrors that can function as TVs. What more could one ask for to escape the every day stress of life?
The Perfect Kitchen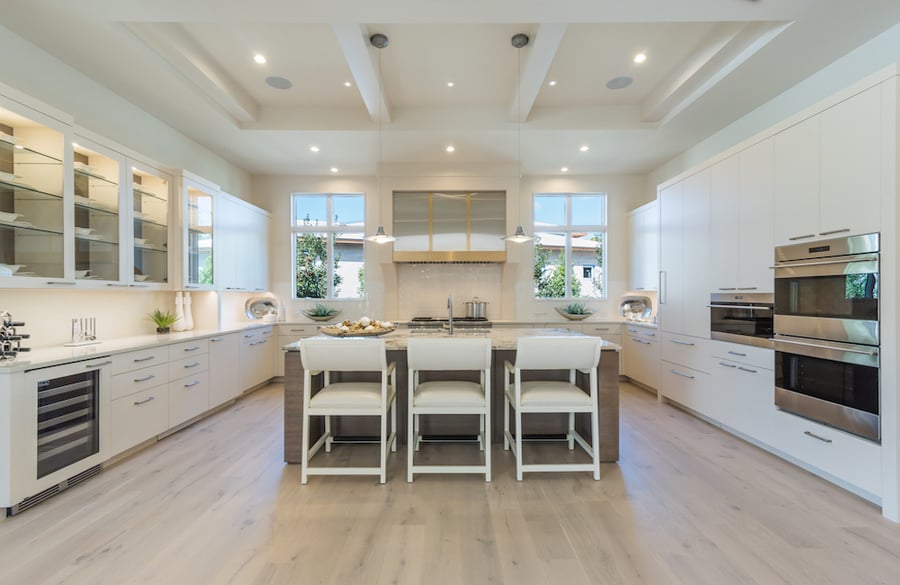 One of the most important features on which to focus when creating the perfect home is the kitchen. Every luxury home needs an open, organized kitchen.
A walk-in pantry, wine fridges, warming drawers, and high-quality appliances are just the start of the kitchen. You will also need to make sure it holds plenty of counter space, double ovens, and the must-have kitchen island with bar stools.
The perfect kitchen layout can empathize that the kitchen is the heart of any home, and will allow your friends and family to enjoy an entertaining evening with you, instead of having you closed up in the kitchen cooking while they are in a different room.
Rooms for Fun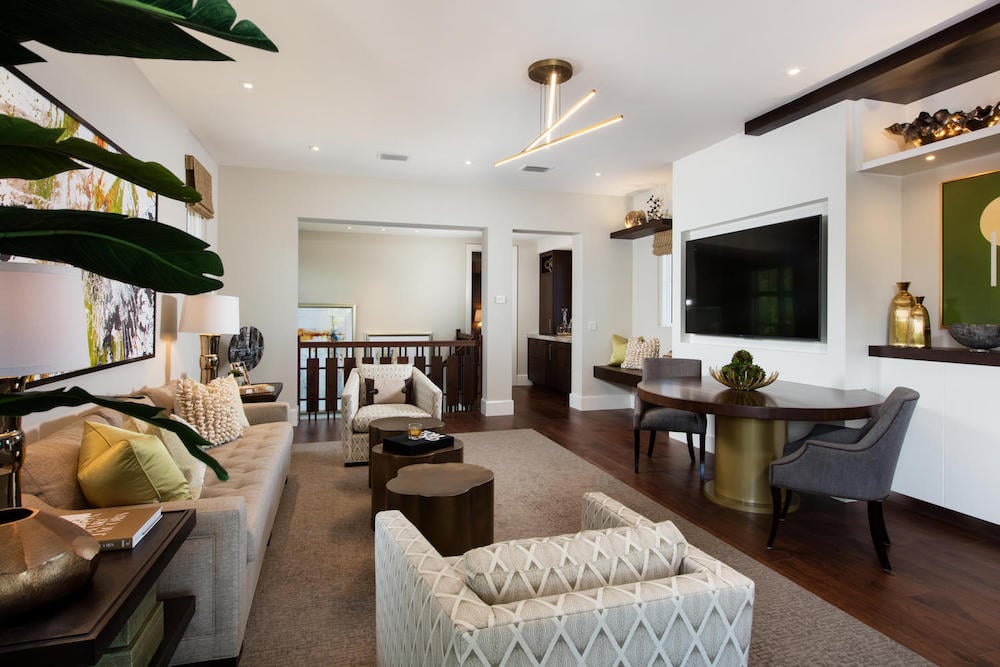 Every home needs bedrooms, but what about additional rooms for extra space, guests, or hobbies? An in-home theatre or game room can really elevate any home for the ultimate living experience.
The main goal is to create the experience of movie watching coupled with the comfort of one's home. Some homes also add a popcorn system and a fridge with chilled drinks to elevate the experience further.
A library is also an excellent addition to your home. It can be the perfect place to study, work, or just cozy up with a good book and a warm drink. Other homes also create space for a gym to stay fit and healthy.
Having room to indulge in your hobbies, whether it is reading or watching television, can allow for a stress-free place to entertain and enjoy your every day life, and our luxury homes will provide the opportunity to do so in style.
Expansive Walk-In Closets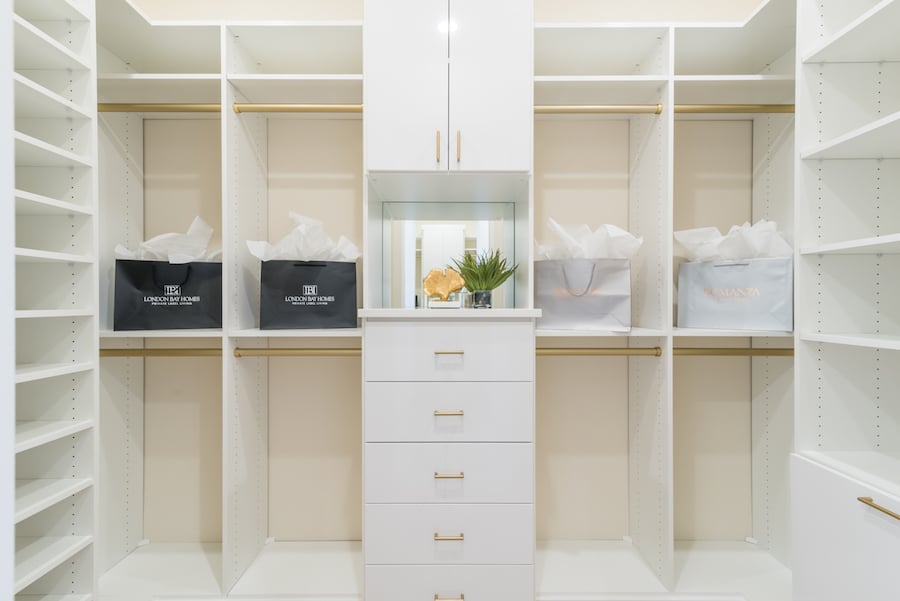 Large closet with plenty of organized space is a top priority in a luxury home. Cramped, disorganized closets can be off-putting, and when you can have well-designed dressing rooms, why wouldn't you?
The dressing room you need can be designed for all your specific needs, including different sections for vanity, accessories, clothes, shoes, and of course, mirrors to see how your complete outfit looks. This can all be customized to suit your needs and preferences, giving you the perfect start to your day.
Outdoor Spaces
Just putting thought into the indoor space doesn't complete your luxury home, especially when you live in beautiful Naples, Florida. Our luxury homes are complemented by the gorgeous golf course, nature preserve, and lake views of Mediterra, and homeowners revel in exquisite outdoor spaces complete with a custom pool and spa, an outdoor kitchen, outdoor living space, outdoor dining space, unique fire and water features, and much more.
Opulent gardens can also be the perfect relaxation spot and having a section open for a vegetable garden can result in great garden-to-table meals and a relaxing gardening experience.
Having a well-equipped outdoor living space will allow you to enjoy our great Florida weather and create wonderful memories with friends and family.
---
Design and build your luxury custom home with a reputable Naples custom home builder and you can be sure that, at the end of your home building journey, you will have a high-quality luxury custom home with all of the modern conveniences available. Contact us today to learn more.