You've chosen the location of your new home and may have even narrowed the neighborhood in which to build, now it's time to decide the type of home you would like for you and your family. Before you look at any of the floor plans offered by your Naples custom home builder, consider some of the specifics you need to ensure your new home fits your lifestyle.
Related Blog: 9 Most Popular Features for Homes in Naples
Size of Your Home
The first feature to consider when looking at floor plans is the size of the home. Specifically, you want to decide how many square feet you need to feel comfortable, which means you need to determine the number of bedrooms and bathrooms you need, as well as the additional rooms you need. For example, are you interested in having a den or a wine room? Will you need a family room in addition to a living room? How big do you want all of these rooms to be? Answers to these questions will allow you to calculate the square footage necessary to accommodate all of these features.
Type of Home
Now that you have a general idea of the size of the home you need, the next step is figuring out the type of home you can build with those specifications. Condos and villa homes tend to have smaller square footage numbers than that of luxury estate single-family homes and they all have varying lifestyles. Condos have shared walls with other residents, villas are large homes with exquisite outdoor living and sometimes even gardens, and luxury estate single-family homes are very large homes on bigger pieces of land. Find the right fit and you'll be one step closer to finding your new luxury home in Naples.
Home Design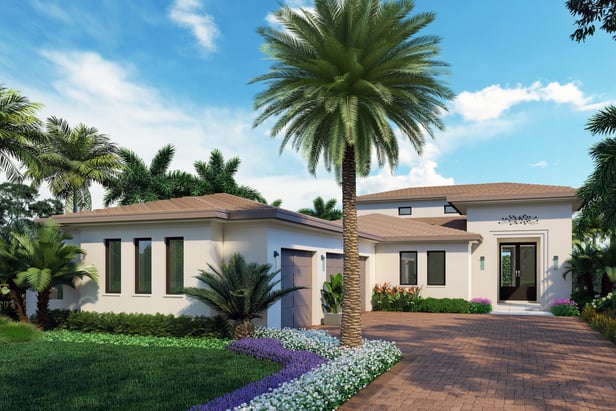 After you've settled on the size and type of home, you can get down to the details of what your living space will be. When looking through the floor plans offered by your Naples custom home builder, focus on every aspect of the layout. You'll want to consider whether you would like a more traditional compartmentalized layout where each area is secluded from the other or a more open floor plan where rooms blend and have no defining beginning or end. Does the floor plan show large windows or sliding glass doors that will let in a significant amount of natural light? Is the master bedroom located on the opposite end of the other bedrooms or guest suites or are all of the rooms on one side of the home? Both are good options, but the preferred layout will depend on your lifestyle. For example, homeowners with children may want the rooms to be close, while a retired couple with visiting relatives may want them on the opposite side of the home.
Make sure you ask your home builder if they have any model homes you can tour to get an idea of the layouts offered. Just make sure you focus on the actual layout specifics and not the fancy furnishings used in the model home.
Renovation and Customization
If you have looked through all of the floor plans offered by the home builders on your list and have still not found the perfect floor plan, consider customizing an existing floor plan or choosing a one-of-a-kind custom home designed and built just for you. Luxury custom home builders can utilize architects and designers to create a home that is reflective of your style and personality. Mediterra's preferred home builder, London Bay Homes, has fully customizable floor plans and an in-house team of architectural and design professionals that are ready to guide you through their Private Label Living process to ensure you get your dream home.
Choosing the perfect luxury home in Naples may seem like a lot of work, but the award-winning luxury homes in Mediterra will make it easy. Contact our friendly sales experts to begin your path to home-buying excellence in luxury home community that has been voted Community of the Year several times by the Collier Building Industry Association.